I was all set, it was just past 8 o'clock in the evening and both of the kids were now asleep. I was on fire. Brimming with determination I was going to wrap up the assignments that I was working on and then maybe even get a few more leads followed up before calling it a night. Three hours later, it's now pas 11 o'clock and I am the only one left downstairs. Staring blankly at my laptop the only thing that went through my mind is 'what on earth have I been doing these past few hours?'. That was the censored version of course, I will keep it nice and clean while I'm on Steemit. 😊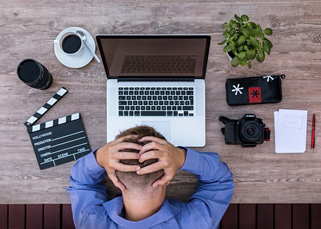 Now of course I had been spending my time working on the assignments, partially, but at the same time I got distracted by all sorts of things. Checking out this other copywriter's website I got sucked into one of his blogposts which I found interesting (interesting enough for it to be completely forgotten by now). Or what about the missus wanting to share some cute carpet for the living room she found online? I am sure this sounds familiar for many people, and what I want to do here is tackle the main issue: how to keep your focus!
So, you got distracted. It happens, and you're not the only one!
Right, I get that I am not the first and only person having this problem, most probably not the last one either. But having other people in my environment telling me only this, is not going to cut it for me. No, I need to know what causes my mind to wander, and even if I'm not all that unique I need a way to get it sorted. End of story. No wait, don't go now. I was just getting started!
Reasons for the mind to wander off AND how to fix it
A lack of focus, or a loss of concentration, can have multiple reasons. The most commonly known ones are shortlisted below based on my own experience with these.
• Distractions; of course I had to kick off with this one. Internet, a TV in the background, someone talking to you, good examples of how to get distracted from what you were doing.
Fix: I now work very early on the morning so I have literally nobody around when I'm firing away. I leave my phone on my nightstand (note to self: turn of the alarm next time, or the wife will be downstairs too at an early hour), and keep only the space where I work well lit. As for the office during daytime, I don't use my internet browser anymore unless I really need to and I only look at my mail three times a day. The only talk I have with colleagues during work hours is about… work and my phone is stuffed away somewhere in my bag. Minimizing the amount of distractions in your workspace is oddly satisfying actually, my advice is to make a conscious effort to clear out the distractions, only making the effort somehow already makes a difference in your mind.
• No priorities; both working for a boss as well as tending to my own projects, my agenda tends to get swamped from time to time. I usually have multiple things to take care off on the same day, which sometimes causes me to half-finish the tasks that I was working on.
Fix: an entrepreneur's nightmare. Not being active as an entrepreneur for that long, has made this my number one subject to tackle. The art of prioritization cannot be underestimated. I'm following a couple of experts in this field, attending webinars and have a few seminars coming up. This is big, if I cannot get my priorities straight, there's not much use in working on my own goals. My advice if you can't figure it out on your own, is to seek out someone who has been there and who can coach you through it. Preferably not a family member or any other relative for that matter.
• Eating habits; no, I am not going to promote becoming vegan or anything. I just want to point out that not feeding your body with nutrients produced by Mother Nature will cause a loss of energy. Your body simply does not have the reserves it needs to well, focus. My dinner tonight consisted of pizza and coffee, we're a couple of hours further and I still feel stuffed, and not in a good way.
Fix: last month was an absolute drag but no more. This week, I made a 180 switch in only eating healthy foods and pretty much throwing all high-on-sugar-snacks out. I once tried my hand at intermittent fasting, but that was no success (not sustainable for me), so I switched to Chris Powell's carb cycling method which has done well for me in the past. I'm actually excited to be back into this game again, and I can already tell it's giving me more energy! If you want to know more about carb cycling, my advice is to pick up one of Chris' books and see what works for you.
• Lack of sleep; normally you need 7-8 hours of sleep a night, no really you do. I have been running on 5-6 hours of sleep for a couple of weeks now and I start to feel the effects. Lack of focus is one thing, but being irritable around other people is a well-known side effect too. Scientific research has made clear, that not getting a good night's rest has the most significant effect on your selective attention. You're what now? Selective attention, being able to focus on one task while blocking out distractions (man, they are everywhere aren't they?).
Fix: ok, so this one still needs fixing as I'm still only getting about 5 to 6 hours a night. I have made an agreement with myself to meditate for at least 15 minutes each night before I go to bed, in order to get rid of that daily hurricane in my head. Meditation is king, now I know not everyone is into meditation (stiff limbs and everything…) so my advice here is to take 10 deep breaths. You start by inhaling through the nose for four seconds, then hold your breath for two seconds and then slowly exhaling (don't push the air out, let it flow) for about six seconds.
• Stress; while one of my colleagues has the affectionate nickname Stressley for me, I usually like to think I'm relatively carefree. Just writing this piece makes me realize I stress about more things than I let one. Stress and focus are linked, simply put: more stress means less focus.
Fix: there are two things that have worked well for me so far. One of them is building in mindful moments throughout the day. Every hour, I take five minutes just to clear my head, get a drink or just make a short walk. Movement is a great stress reliever, and therefore my second piece of advice on this one. If you don't do any sports, at least walk for at least 30 minutes per day. Make an agreement with yourself to do this for three weeks. Don't make it too hard on yourself or you will find it difficult to stay on it, if you skip a day simply pickup the next day as if the previous hiccup never happened.
I was going to put in a chaotic environment on this shortlist as well, but I'm pretty sure my wife reads these pieces as well…
Stay focused
I hope my own experiences and fixes help those who are sometimes stuck as well. If your reason for getting distracted is not on here, please share it in the comments. If you have other pieces of advice to give or hacks to regain your focus, please share these as well!
After all, focus on your targets is what separates the dreamers from the ones actually living their dream…
All the best,
Wes