The Use-a-Thon has now been running for 2 full weeks, and therefore it's time for the second weekly update in which we cover some general topics as well as take a look at the past week's blog posts of the participants.
Never too late to join the party!
We still see
new participants joining
, and so far the number has risen to 10 users. One very important thing to note is that participants that enter the contest late will still be judged on the use case they propose, how feasible and sustainable the project is and how well they manage to lay out a realistic plan for implementation and realization. So we expect more participants to join over the course of the next weeks too. All ideas are welcome, and we highly encourage bright minds, creative souls and innovative hearts to join the fun!
What makes Byteball unique?
Ever since the platform went live back in 2016, the number of features have grown steadily. So while the Byteball platform is of course also a cryptocurrency, it's so much more and I often like to refer to it as a huge box of Legos. There are several "blocks" from which you can design your own beautiful models.
One of such "blocks" is
Textcoins
. They are textual representations of money, that allow you to send any type of asset to anyone by text or through messaging apps. If the receiver doesn't have a wallet yet, he will be prompted to download and install the wallet and the funds will then be transferred to him. Simply go to your wallet's "Send"-tab and click the "Share via message" tab.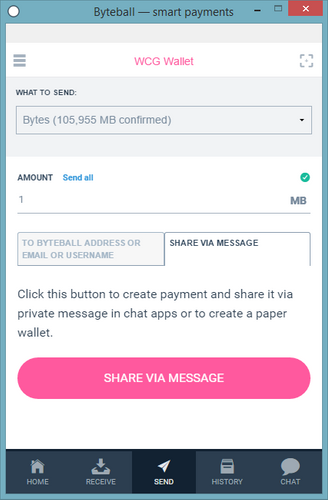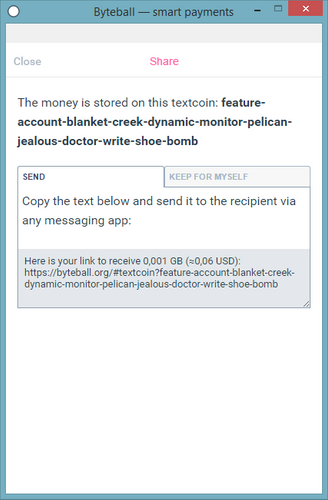 In case the receiver doesn't claim the textcoin, don't worry! Funds are not lost. You simply reclaim it from your wallet's History-tab and by clicking on the transaction where you created the textcoin. This reveals the transaction and a link you can click to "claim back".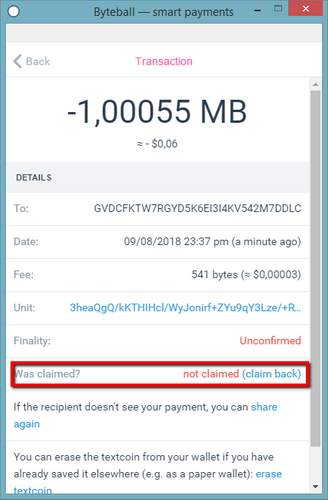 Works with any asset
Any asset on the Byteball platform, not only Bytes, can be sent to users through the use of these textcoins, making it a brilliant way to distribute funds to new users, hand out flyers with printed textcoins of a given amount of Bytes or even distribute it through mailing-lists as airdrops. The possibilities are vast and only your own imagination will be the limit to its use.
In next weeks update, we will cover another interesting feature that the platform has to offer: Tokens! We know you're all waiting eagerly to see what Smart Media Tokens (SMT) will bring to the Steem community. But why not start exploring the possibilities now? Unlike the Ethereum platform, Byteball offers an easy and user-friendly way to issue your own tokens. The simple process doesn't require you to program smart contracts. You issue the token on the Byteball Market website and by using the "Byteball Market" chat bot directly in your wallet.
Summary of this week's blog posts
We were eager to see how many of the participants would find time to write an update on their progress. We know that most of the participants work on their projects in their spare time, and having to write a blog post only takes time from their work on the project. Therefore, we were thrilled to see 4 new updates. 3 of those were from new entrants this week.
---
@drsensor
---
@chrisaiki
---
@altcoinb
---
@malos10
This week's winner of 1 GB
Every week, the Use-a-Thon jury votes to determine a winner for the best progress report of the week, and this week is no exception. We are therefore happy to announce that this week's winner of the 1 GB award for best progress report is…
---
Here is the 1 GB award being paid to his registered account.


And the corresponding Byteball transaction unit
Get more information
With a constantly growing community, there is a vast library of available resources. Here is a list of some of relevant resources:
Steem Use-a-Thon Wiki page
where all relevant information for the contest can be found.
Byteball Slack
where users can seek help, ask questions and collaborate - please state that you are a participant in the Use-a-Thon.
Byteball Wiki
contains information about all features, references to external sources etc.
Developer guides
for those wanting to build entirely new stuff.
Easy-to-use JavaScript library
to easily integrate Byteball features on websites without the need of headless wallets.
Byteball main GitHub repository
for those wanting to dig deep.