Disclaimer - This is an ongoing idea of a win-win situation for both referrer and referral for this Byteball Airdrop for Steemians. You are free to use any other referral link too.
Guys, I am sure you must already be aware of the posts making rounds on Steemit regarding Byteball Airdrop. The Byteball is givingaway free coins to steemit users with a specific reputation range as below -
Steem reputation above 30 repo: you get a $5 reward
Steem reputation above 40 repo: you get a $10 reward
Steem reputation above 50 repo: you get a $40 reward
Steem reputation above 60 repo: you get a $80 reward
Steem reputation above 70 repo: you get a $160 reward
This reward is just for downloading Byteball wallet and signing up with them. After that you need to verify your Steemit account and attest your account there for free to get this reward.
But there is also a referral amount that will be credited to the person who has referred you to download his wallet.
Here is the OFFER - If you will use my referral link, I will return back the referral amount that I will get back from your sign up. Below is the amount that you will get after using my referral link.

Please note that I'd be sending these bytes from the referral which gets credited to my account because of your new Byteball wallet activation. So I'll send bytes according to what i get from Byteball, irrespective of the market price in dollars.
If you complete the process with my link and opened it successfully, drop a message to me at comment section of this post with your wallet address. I will credit the referral rewards to your account.
How to claim your money?
Click on my referral link below and download Byteball Wallet based on your device OS.
https://steem-byteball.org/#D24GGE4SZQFCPRGPSMH6VA6XWACJH4EV
After you have downloaded the wallet:

Grant the permissions and name your device
Click on chat at the bottom right corner
Click on bot store and then click steem attestation bot (Please refer below image)
Click on Add Bot button
Click on receive option and copy your receiving address.
Enter your receiving address in the chat and send it.
Now bot generate a link for steem account verification, Click on the link and complete the process through
steemconnect.
After completing this process come again on chat and click on 'Public' (Please, not click on Private).
Then click on 'Please, prove ownership of your address by signing the message:' link.
That's is the complete process. Enjoy your Byteball and send me your wallet address for referral rewards.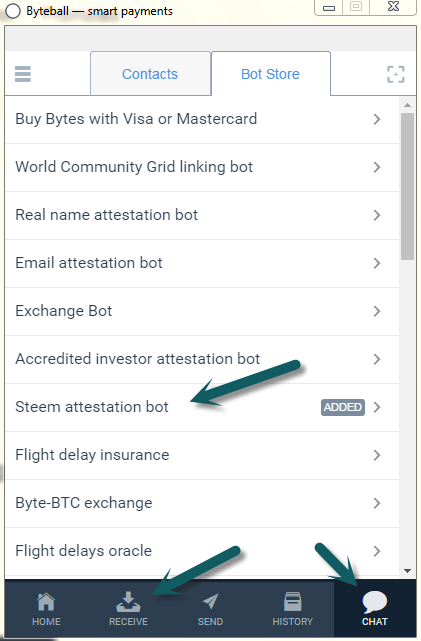 If you face any issues or have any doubts, please post in comments section and I will help you out with that.
Hope this helps. Enjoy Free Rewards.!!