Material contents :
2 pcs of egg yolk
250 ml of liquid milk
50 gr sugar
2 tablespoons of durian meat
1/2 teaspoon salt
1 tablespoon custard flour (me: skip)
1 tablespoon cornstarch (me: 1 1/2 tbsp)
1/2 teaspoon vanilla essence
.
Leather material:
1 egg
450 ml of liquid milk
1 tablespoon of vegetable oil
200 grams of flour
1 tbsp sago flour / starch
10 grams of cocoa powder
1/2 teaspoon salt
.
How to make contents:
~ Put all the ingredients in the pan and cook over medium heat while continuing to stir until it pops and thickens set aside.
How to make skin:
~ Mix and stir all ingredients until blended then stir and strain. .
~ Heat Teflon then spread butter (me: lsg pour without buttering), pour 1 teaspoon of small vegetable teflon and rotate round shape like making the skin risoles. .
~ Put Teflon d over medium heat until the skin is ripe. Lift. Do it until all the batter is used.
~ Take a piece of skin then fill it with filling material and fold it like an envelope. Serve. .
---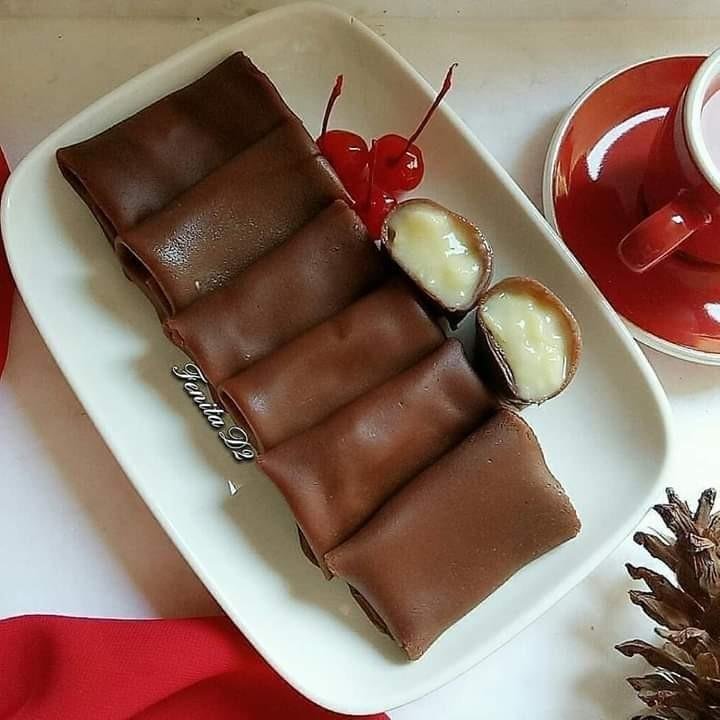 ---
Follow me @wahyu