A photo uploaded by a Texan mom went viral this week. Her 4-year-old son has a type of cancer called acute lymphoblastic leukemia (A.L.L.). For over a year, doctors have been pumping a cocktail of big pharmaceutical company products into her toddler, leaving Beckett weak, thin, bald, and constantly throwing up. The cancer continues to ravage his little body, and his family is falling apart.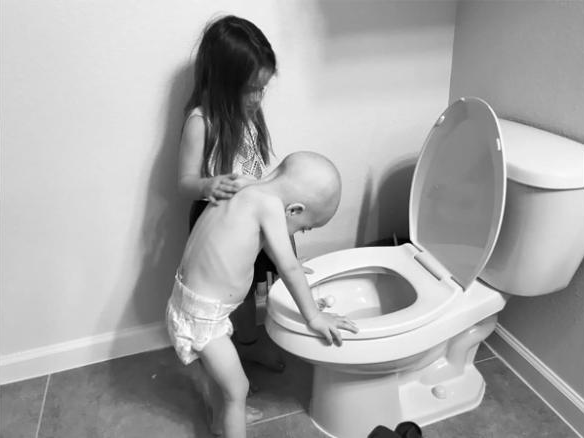 (Photo credit: Kaitlyn Burge, FaceBook. CNN's article here.)
A sick child is about the hardest thing most people can handle. This particular photo, with the sister comforting her little brother as he vomits from the chemo, is powerful - and you can see why it has been shared so widely. Some of us, like those of us who have had a seriously-ill little one, can begin to understand what this family must be going through. Cancer is a particularly evil nightmare.
To see no recovery after all this suffering and effort must be emotionally devastating. And for his energy and dignity to be stripped away by the "medicine" can only be like a kick when you're down.
There's hope!
The nausea, vomiting, weight-loss, nutritional deficiencies, pain, fatigue, and insomnia caused by traditional chemotherapy can be alleviated using a safe and natural plant-based medicine you can make at home. For decades, studies have shown that cannabinoids instantly prevent nausea and vomiting in children undergoing chemotherapy, with no negative effects. Most of Beckett's suffering could be over, TODAY!
What's more, for many years parents of kids with A.L.L. have been successfully treating - and curing - them with cannabis oil! Many cases of A.L.L. can be completely cured, with little or no unwanted effects, in just months, for a fraction of the cost of traditional treatments which usually don't work and themselves cause cancer.
Cannabinoids would improve, and possibly save, this little boy's life!
There must be a catch..
Essentially the only drawbacks to this safe and fast remedy (other than Beckett possibly craving Bob Marley tunes) are the stigma and the illegality of cannabinoids. Because some cannabinoids also cause a pleasant 'high' feeling, society has been manipulated into believing they are sinful, dangerous, immoral, and in need of prohibition. This was a huge lie. The 'war on drugs' was never meant to be won, but waged forever for profit. Find out who has been profiting, and you'll understand why and how this knowledge has been kept from the people for decades.
If Ms. Burge can get beyond the propaganda coming from big pharmaceutical companies, and look at the research done by leading universities around the world for decades, she'll realize that she may be delaying proper treatment for her son, shortening his lifespan, and reducing his quality of life - needlessly. At the very least, he could be eating properly, gaining weight, and playing with his sister again! And maybe his cancer will respond favourably to the cannabinoids, disappearing completely via apoptosis. There's almost no chance he'll have any unwanted effects. Cannabis even appears to be safe for breastfeeding infants, and the developing fetus!
This viral photo is everywhere in the mainstream right now, but I don't see any mention of these facts in those stories - or comments. Somebody, please get this mother the life-saving information she needs for her dying child!
Let's end cannabis prohibition, cannabis stigma, and cannabis disinformation! Cannabis cures cancer!
DRutter