Despite being 30 years old, our little caravan (see We bought a caravan!) arrived in a practically ready-to-go state. There are a few little things that need fixing, stuff like a missing bolt on one of the pop-up struts and some dodgy cupboard door handles. The fridge also doesn't run, but that's another story. For the most part, we could have set off on a caravan adventure the day we picked her up and all would have been good.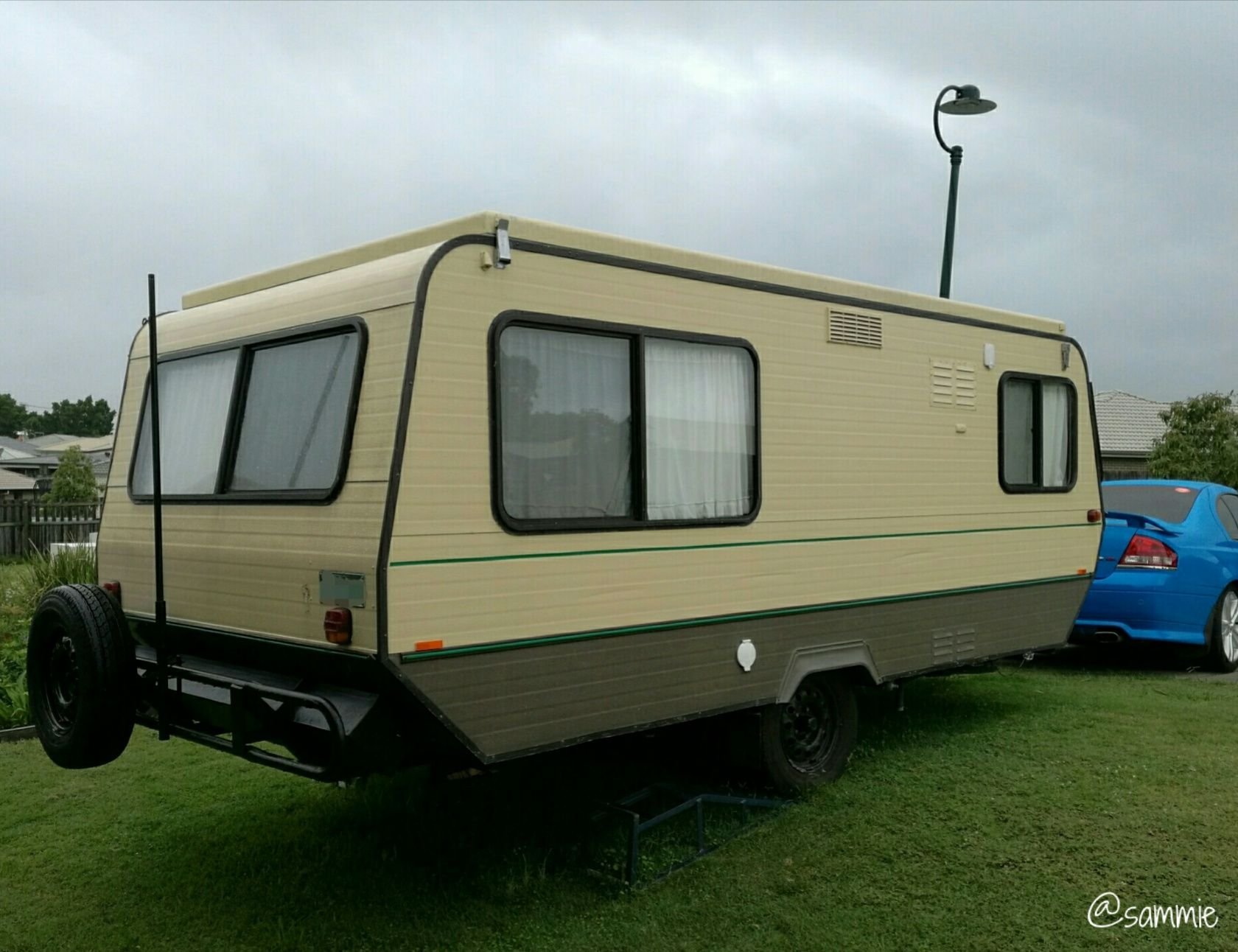 The day the caravan came home with us
You know what it's like though, you move into a new place and there's that urge to primp and clean and make it your own. Clara the Caravan was no different. (Yes, we've named her Clara. We thought it should be a 'C' name and that she felt like a girl, so our son came up with Clara after Doctor Who's companion.)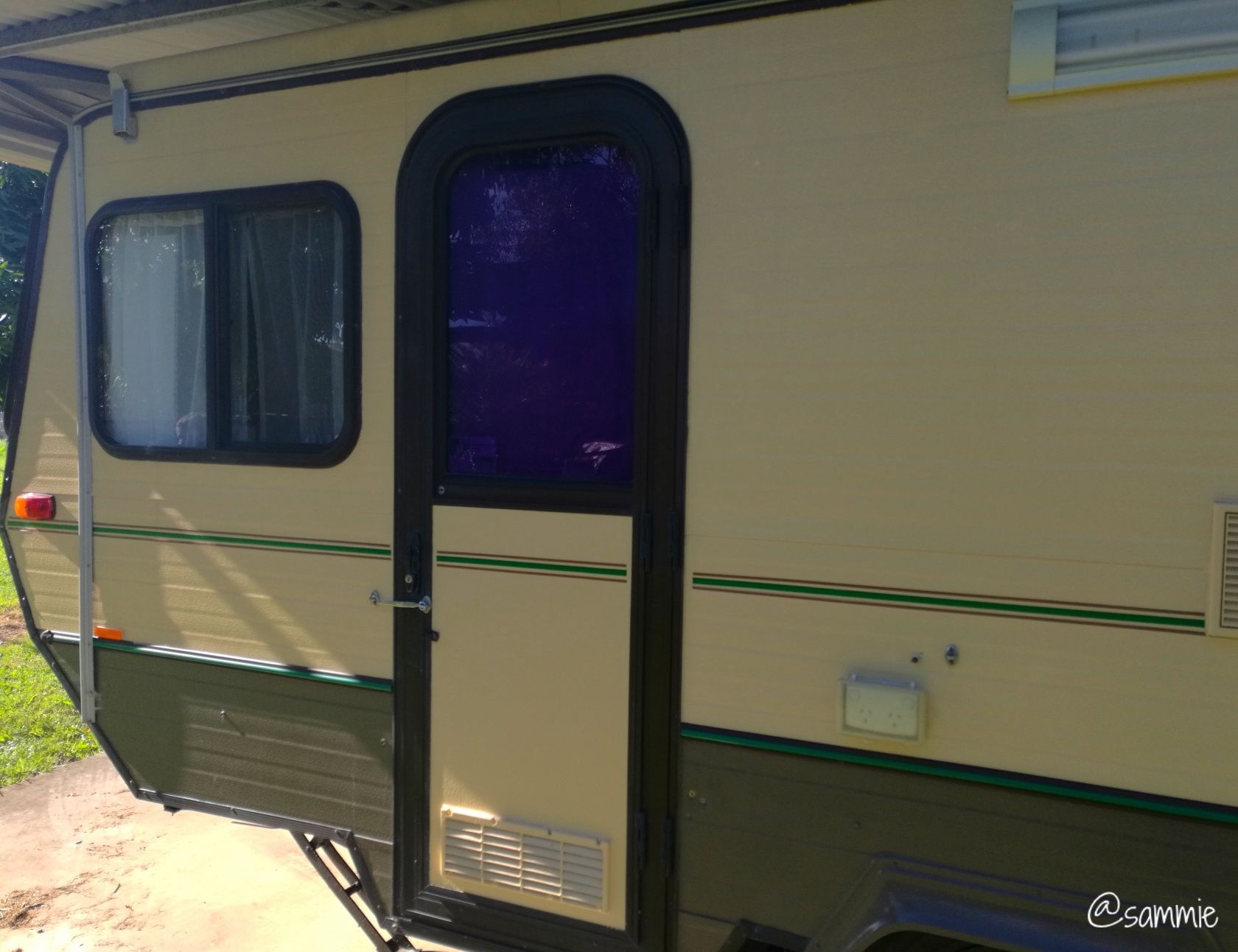 What's inside?
So Clara came home and was immediately subjected to a deep clean. Which was over and done pretty quickly because she was already sparkly clean! The only bits that really needed attention were the air-conditioner vents, and they're meant to get grubby.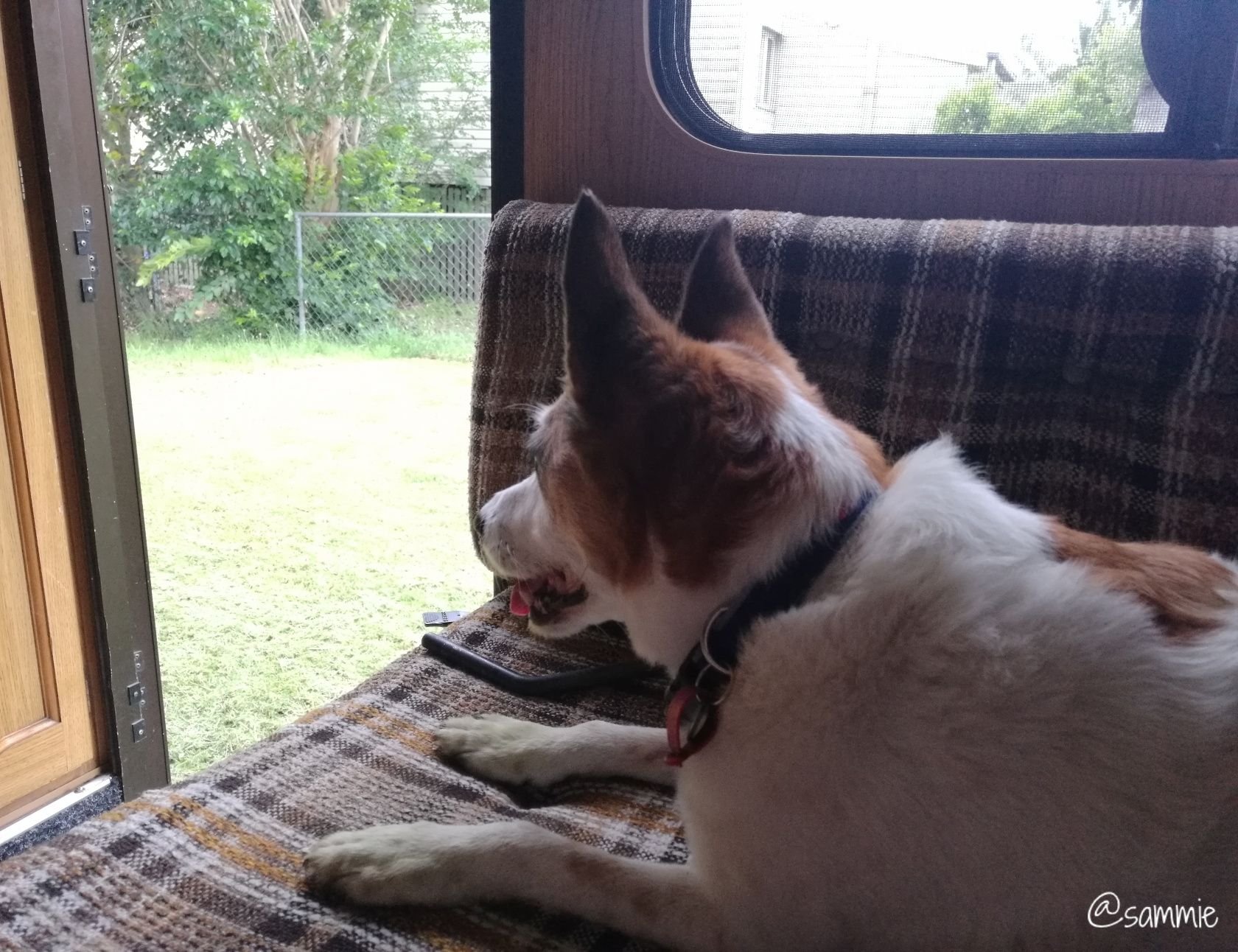 #Steemutt Eddie staking his claim
What to do next? She still didn't feel like we'd properly made a claim on her, although Steemutt Eddie had definitely made a claim on the seat nearest the door. Maybe we could wash the curtains. Hang on ... maybe we could ... CHANGE the curtains! And with that a large sewing project began.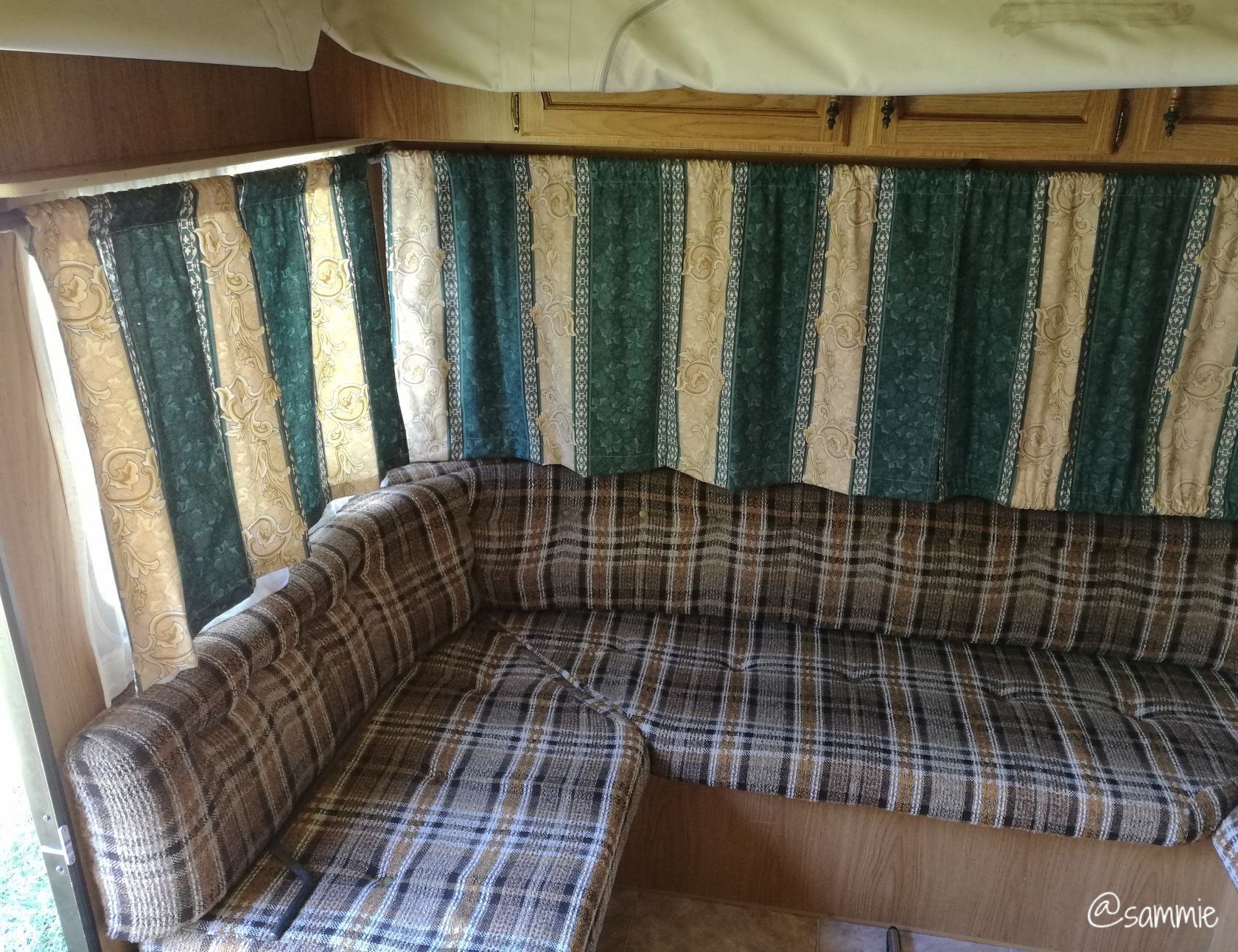 The original front curtains
The original curtains were in two layers - a white mesh curtain against the windows and a patterned thermal material on the inside. Each end of the van was hung with a different curtain pattern. On inspection the curtains were all okay, but had started to yellow a little.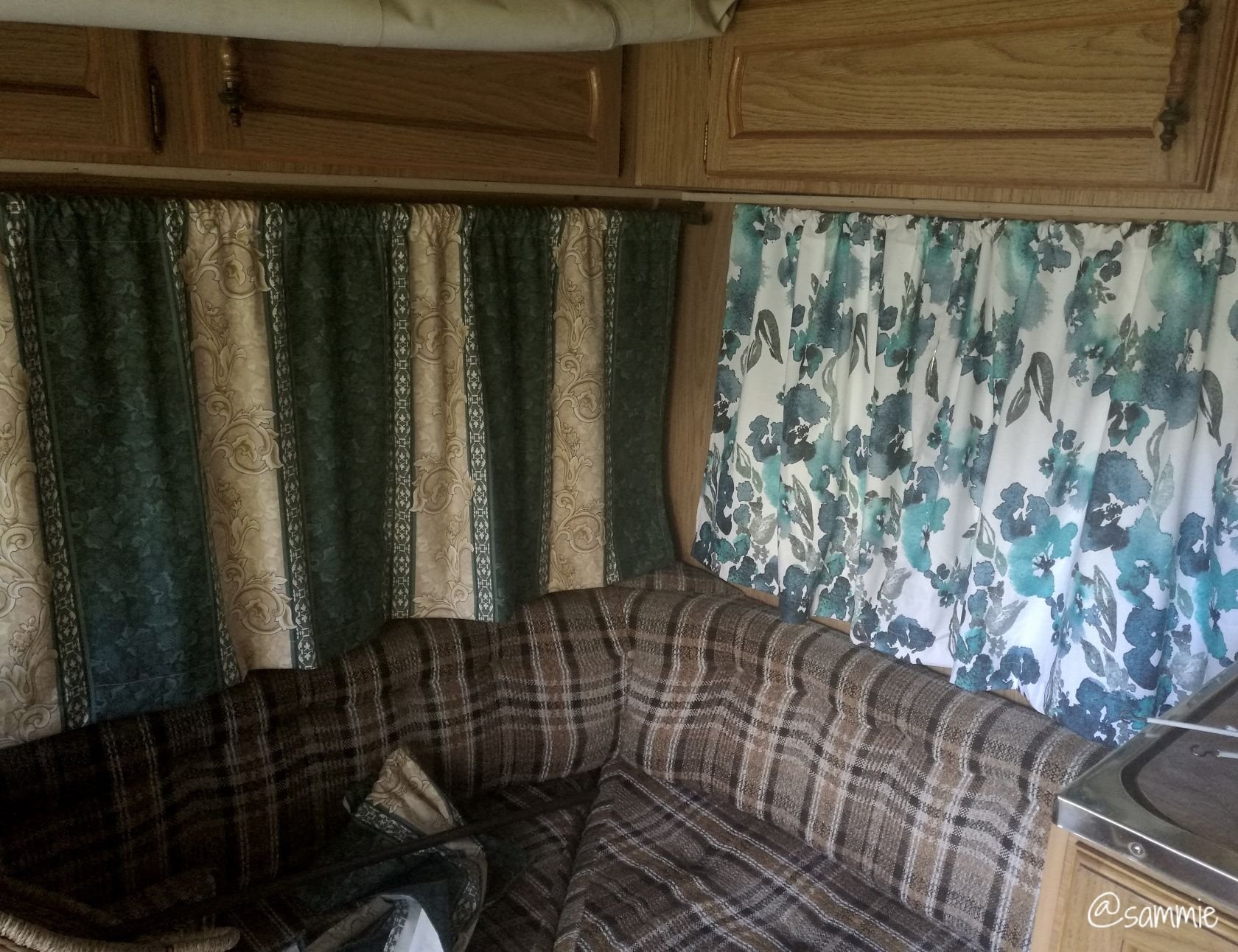 Curtain update in progress - old on the left, new on the right
The first step was to measure all of the windows. There's 6 windows in total plus the door. Of the 6 windows, there are 3 pairs of each size so that made things a little easier. An executive decision was made to do away with the two layer curtains and the curtain rods, replacing them with simple single layer caravan-style curtains on curtain wire. The best bit about this was that we gained a little extra space at the front and back of the van, including a little shelf at the front that had previously been hidden by the curtain.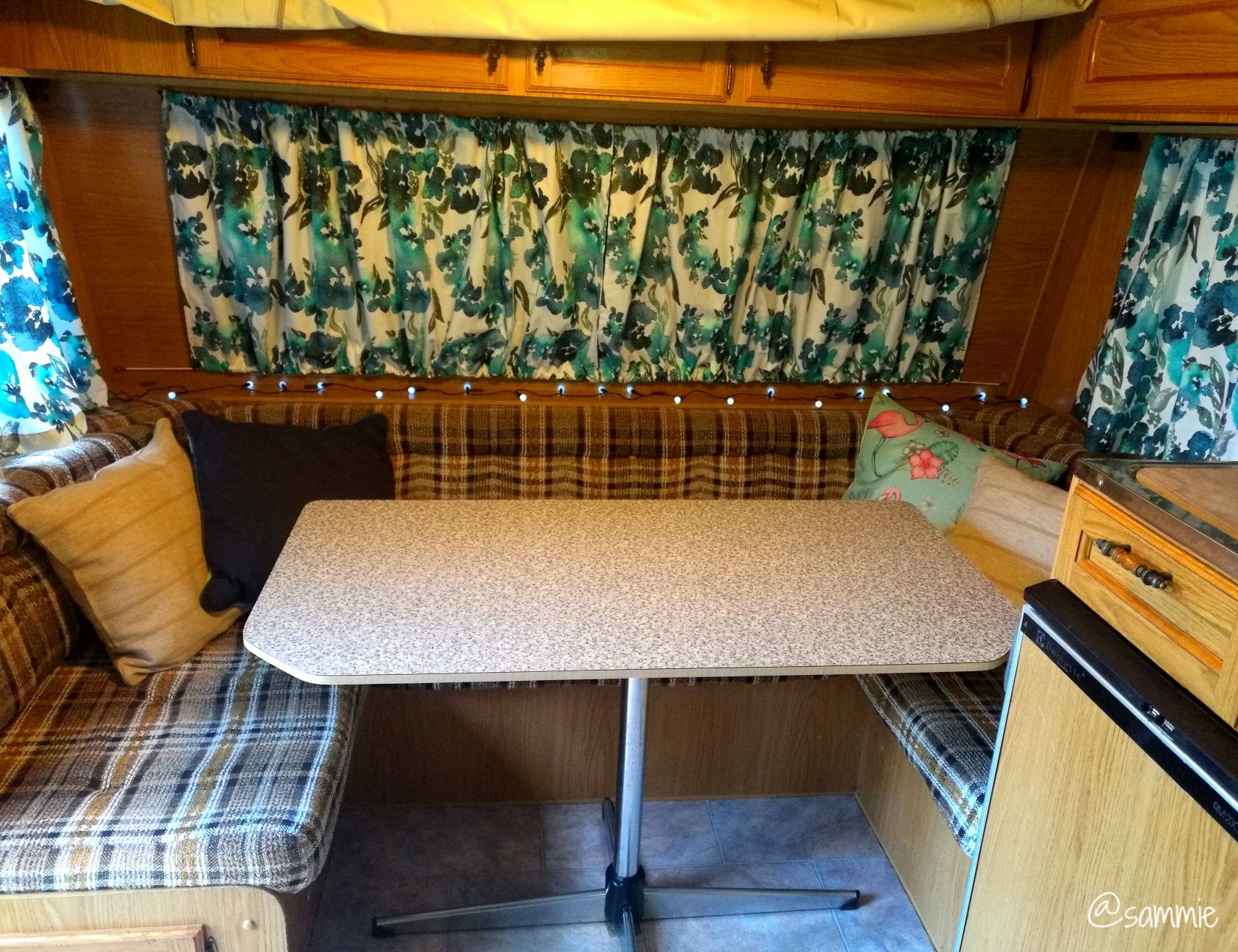 New front curtains in place (and a few new cushions too)
We found a nice blue floral thermal curtain material at Spotlight and managed to pick up 8 metres on sale. I set up my little Bernette 80e sewing machine and got to work. What followed was hours of measuring, cutting, ironing, and stitching seam after seam. That material seemed to go on forever ... The finished job isn't half bad though - the blue certainly gives the old girl a bit of flair inside!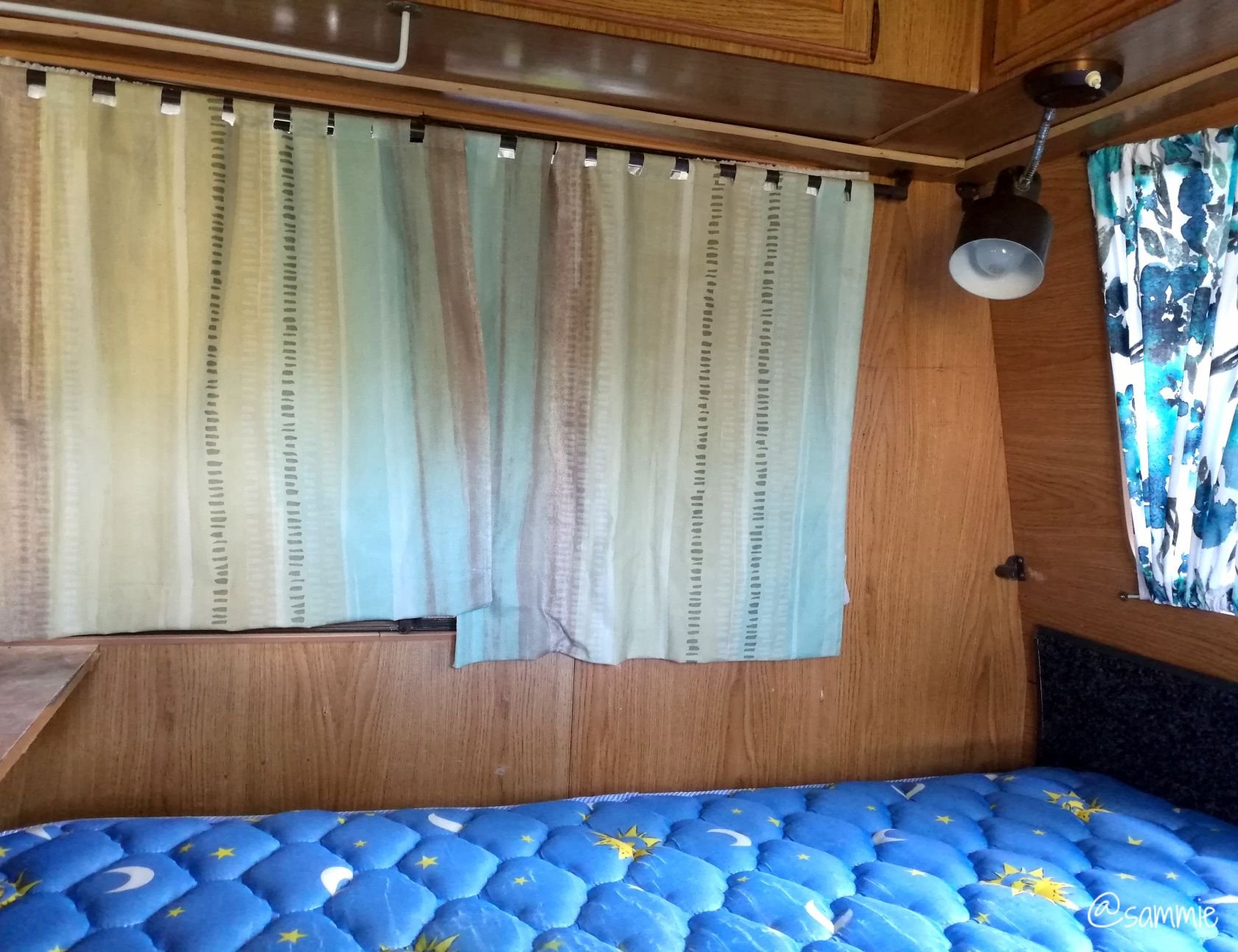 The original back curtains - discovered they were different lengths!
The van had originally been two singles but was converted to a double bed. As part of the conversion a bedhead had been added. It was useful to lean against, but blocked part of the window and shortened the available space for the bed. Anther quick executive decision and the bedhead was gone. What to do with the space though? Something needed to go between the wall and the mattress to keep it from moving around.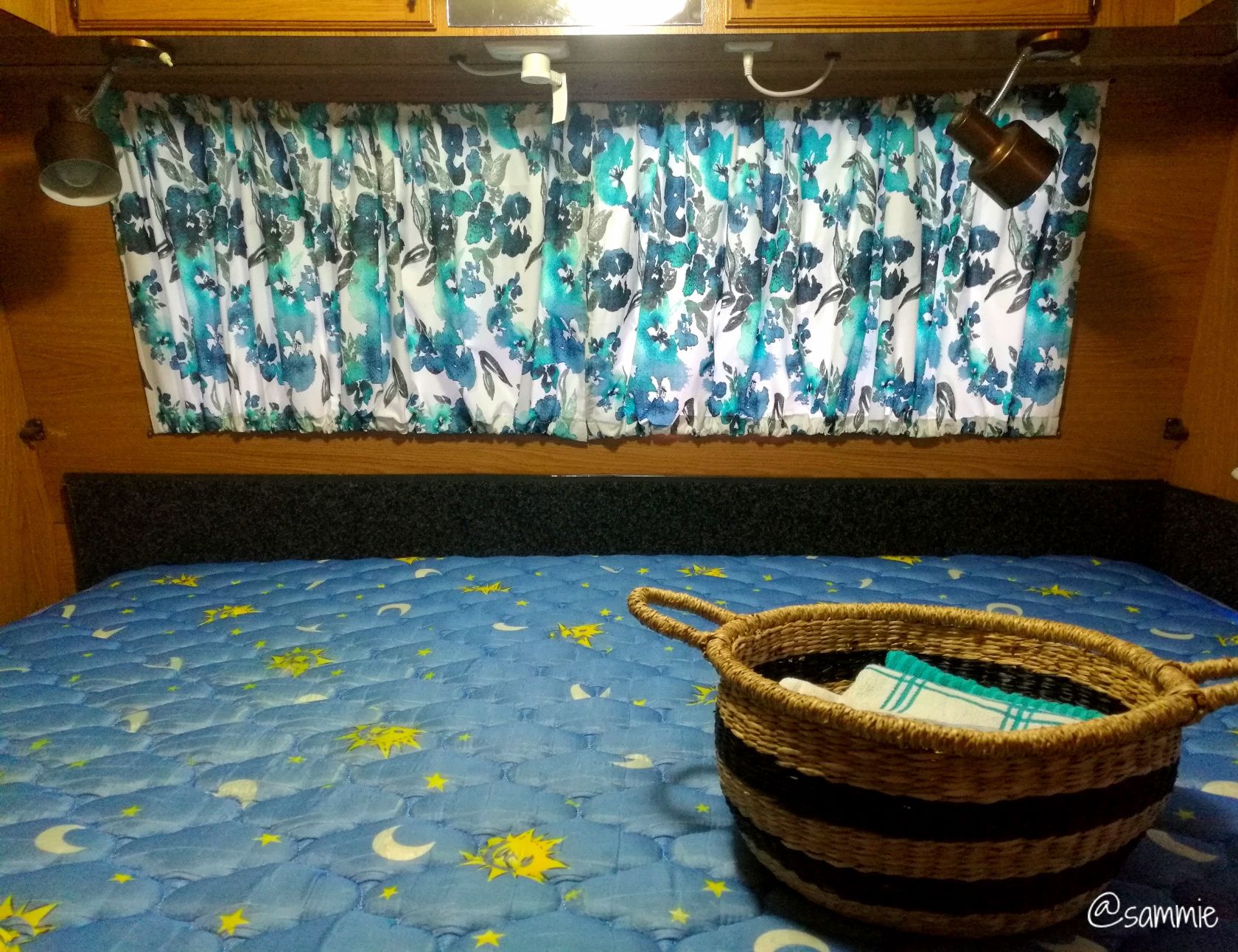 New back curtains in place
The idea was to use a piece of dense mattress foam we had and make a bolster. After cutting the foam to size (with an electric kitchen knife - cut through it like butter) it was covered with the remaining curtain fabric - there was just enough to cover the whole block! It fit the gap perfectly and makes a nice "soft" bedhead.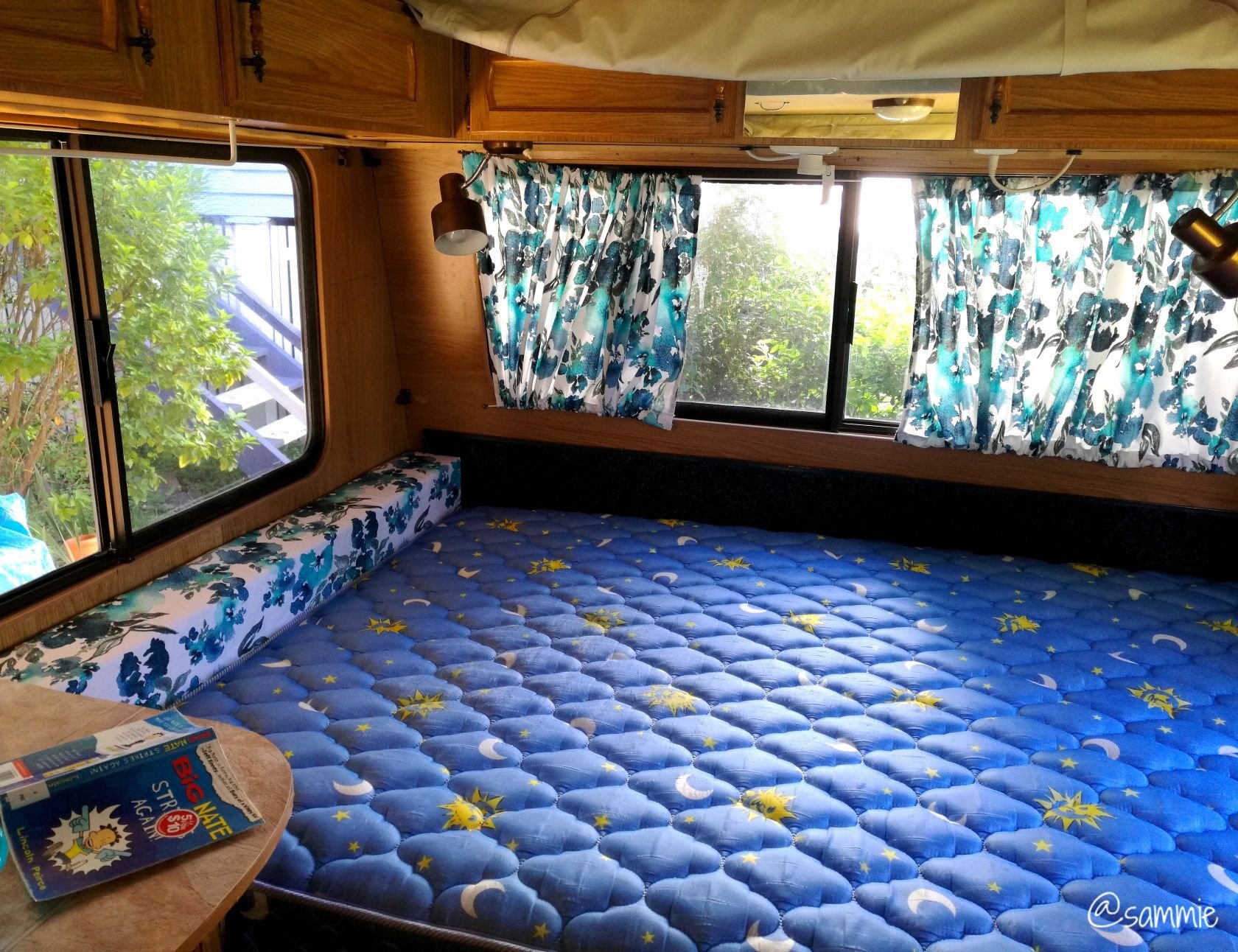 The new bolster bedhead
Stay tuned for more updates and adventures with our little caravan.
Stats: Our van is a 1987 (at a guess) 14'6" Viscount Regency Ultralite. Converted from two single beds to one double bed, making room for an upright airconditioner and microwave to be included. It sleeps 3 people and a medium-sized dog comfortably. We're a little unsure of her exact age because her VIN plate wouldn't have been added until the early 90s and doesn't list her year of manufacture.
---