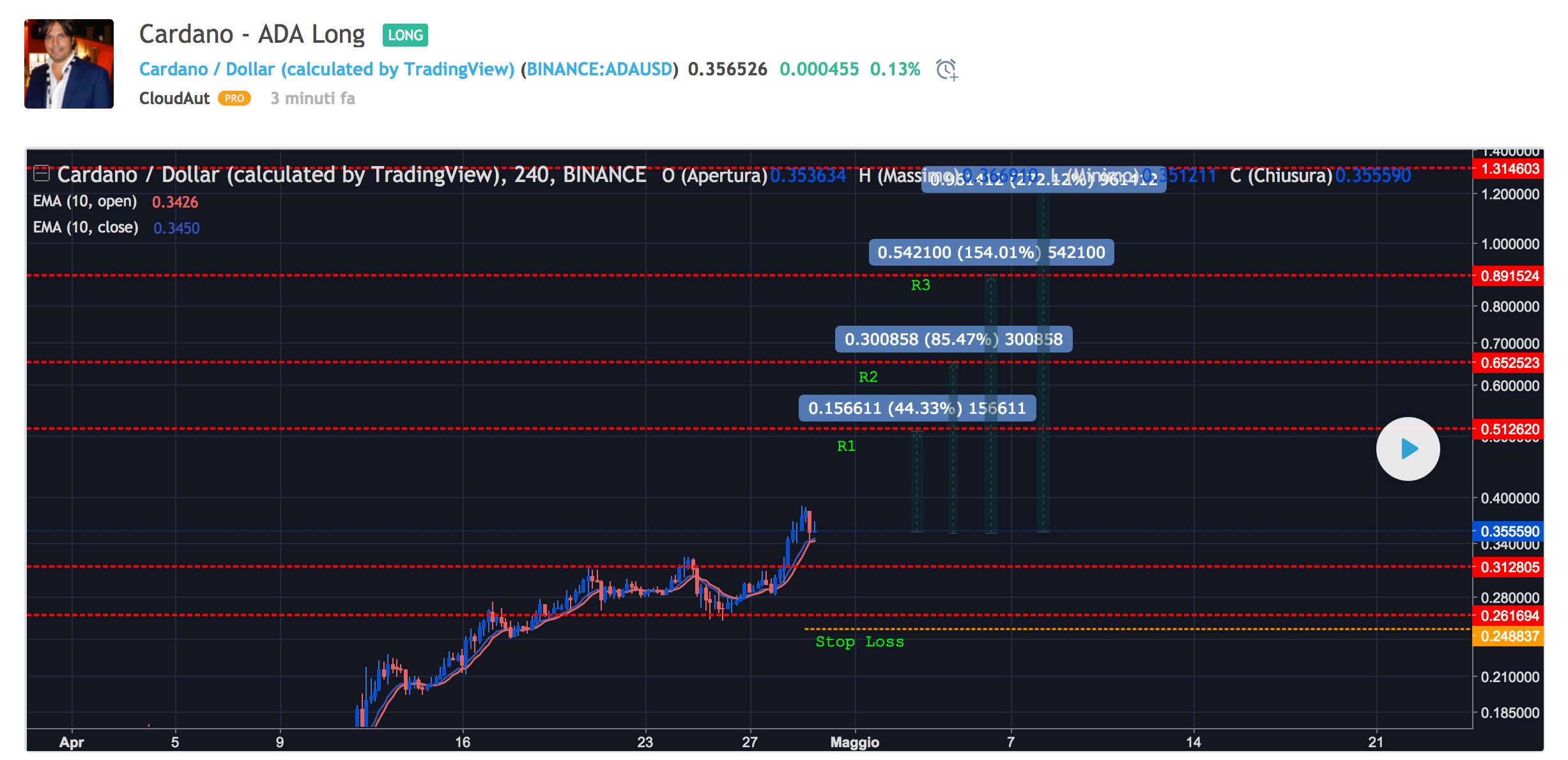 A good recovery phase for Cardano, whose capitalization is currently just under 10 billion dollars, immediately behind another important project, EOS.
Both Cardano and EOS, although Bitcoin is recovering but with ups and downs, they do not seem to be affected by the lows and present in their growth of these last days only phases of growth with small physiological corrections.
One example is the latter of ADA that went to test in a short time, typical behavior of a test, the 10-period moving average and then recover.
I think this can be a good time to enter Long and in this regard I have identified besides a Stop Loss also four important and ambitious goals to reach.
The first we find at a profit of 44%, the second at 85%, the third at 154% and the fourth at 272%.
Obviously it is not my first entry on Cardano. Already in an unsuspected time, I started holding a holding on this cryptocurrency and this is testified by this post here on steemit https://steemit.com/trading/@cloudaut/cardano-ada-rompe-la-resistenza-dinamica-ed-e-pronta-a-crescere but then Cardano was worth 13 cents of dollar.
I always try to find good times to enter and then exit the market trying to speculate on sudden movements. For the rest I do HODL on cryptocurrencies that I think you can appreciate more over time.
Mine is always a trading idea and should not be considered as a financial advice.
Cardano, idea di trading su ADA/USD del 29 aprile 2018
Bella fase di ripresa per Cardano la cui capitalizzazione è attualmente poco sotto i 10 miliardi di dollari, subito dietro ad un altro importante progetto, EOS.
Sia Cardano che EOS, sebbene Bitcoin sta in ripresa ma con alti e bassi, loro sembrano non risentire dei bassi e presentano nella loro crescita di questi ultimi giorni solo fasi di crescita con piccole correzioni fisiologiche.
Una ad esempio è quest'ultima di ADA che è andata a testare in breve tempo, comportamento tipico di un test, la media mobile a 10 periodi per poi riprendersi.
Credo che questo possa essere un buon momento per entrare Long e a tal proposito ho individuato oltre ad uno Stop Loss anche quattro importanti ed ambiziosi traguardi da poter raggiungere.
Il primo lo troviamo ad un profitto del 44%, il secondo al 85%, il terzo al 154% e il quarto al 272%.
Ovviamente non è il mio primo ingresso su Cardano. Già in tempi non sospetti iniziai col fare holding su questa criptovaluta e lo testimonia ad esempio questo post qui su steemit https://steemit.com/trading/@cloudaut/cardano-ada-rompe-la-resistenza-dinamica-ed-e-pronta-a-crescere ma allora Cardano valeva 13 centesimi di dollaro.
Io cerco sempre di trovare dei buoni momenti in cui entrare per poi uscire dal mercato cercando di speculare sui movimenti repentini. Per il resto faccio HODL sulle criptovalute che ritengo che si possano apprezzare maggiormente nel tempo.
La mia è sempre un idea di trading e non deve essere considerata come un consiglio finanziario.
You can follow me on:
Tradingview: https://it.tradingview.com/u/CloudAut/
My website : https://www.piattaformetrading.eu