She's a tortoise shell little bundle of energy.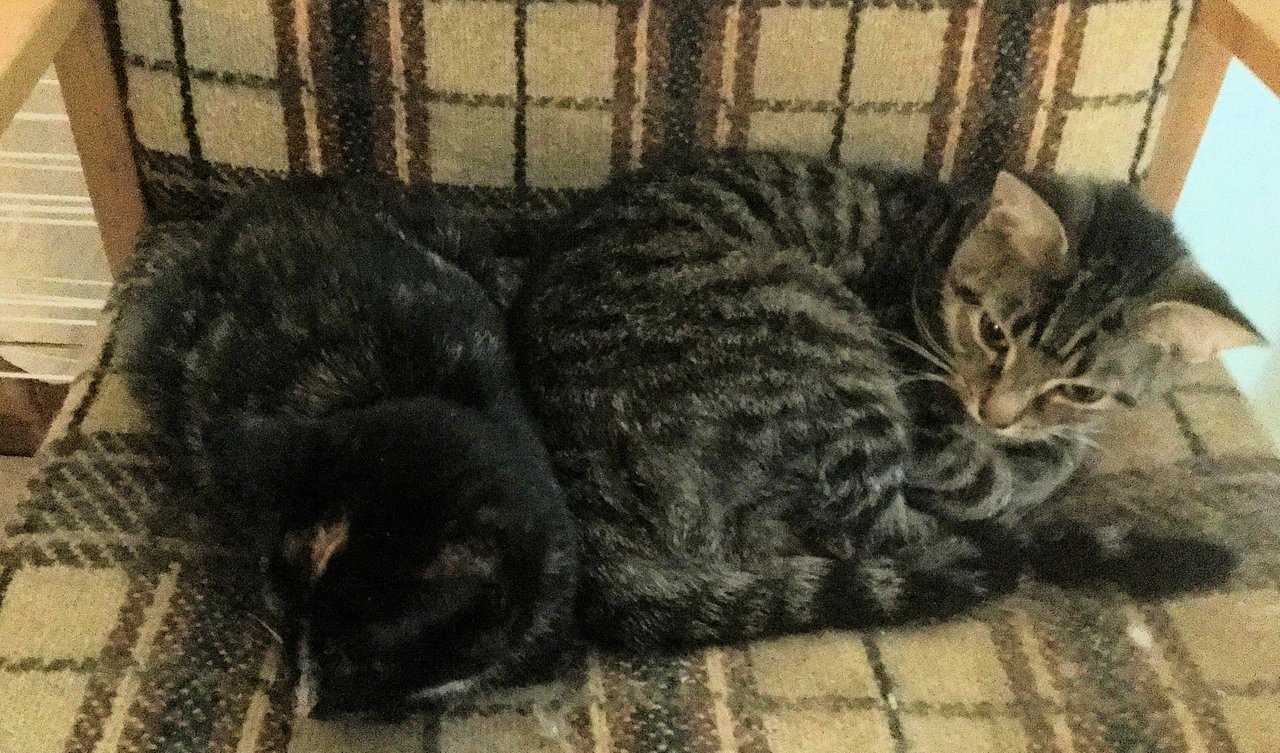 Recently I wrote about my kitten Hobo needing to have a companion. She has been missing the two adult cats I lost this year. When I'm home and she has my company she's been okay. She can get all the cuddles she wants from me.
It was when I would go out that she wasn't doing well. I would leave to her frantically trying to get me to stay. Then return to her anxiously wanting my attention as soon as I arrived home.
Took me a while, but, I got the message she was giving me. "I'm lonely."
Hobo's New Housemate Arrives
Just over a week ago I brought a kitten into the house. Tramp is about four months old. She was born to a feral mother and was about nine weeks old when she was brought inside. Until I picked her up she'd been living in a bright space at a pet boarding facility, All Pawz Inn, where I observed the staff giving her lots of love and kindness.
I have always found it an interesting challenge to introduce cats to each other. I've had it range from disinterested tolerance to outright bristling get that thing out of here response from my previous cats.
I decided to let the carrier I brought Tramp home in be her safe space until Hobo and her reached some sort of mutual acceptance. Turns out, my caution was unnecessary.
Tramp Heads to High Ground
Hobo sniffed at her while she was in the crate but showed no sign of aggression toward her. Tramp wasn't taking any chances though, she emerged from the crate and headed to the nearest high ground, the stairs up to my half-storey.The only catch was, there is a door across stairs. She hunkered down in the space between the door and the top step.
Hobo has this habit of not going up the stairs. She instead runs up the railing, which of course doesn't get to the top step. So, she was able to go near but not right up to Tramp.
Hobo was curious. I heard a few soft meows from her as she tried to check out her new housemate from the railing. She didn't seem the least bit bothered by this new presence. If anything she was trying to welcome her.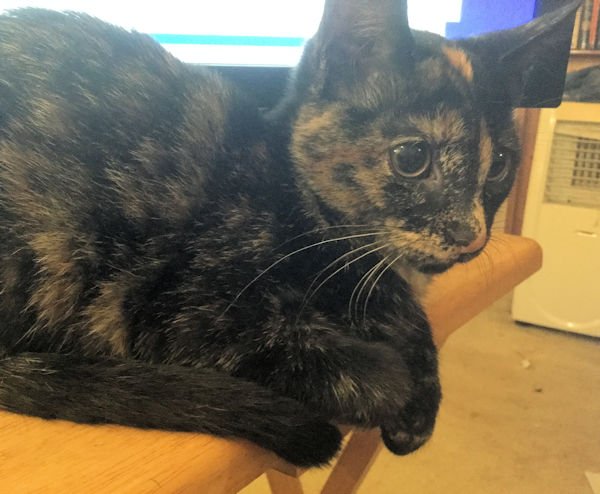 Food Coaxes Her Out of Hiding
I left her alone for the first hour to let her get her bearings. Then I went up, petted her for a few minutes and came away for another hour. I went back up with treats. With some deposited on each of the top four steps, I once again moved away.
Food did the trick. Tramp was soon sitting on the last step I left the treats on looking around. Hobo immediately joined her. Yes, she did the rare move of going up the stairs. Thus began the new friendship.
Time to Explore the New Joint
By the end of the day, under Hobo's attentive watch, she had explored the kitchen, bathroom and dining area. She ventured into the living room, but, there was this big scary human in there. She ran away. While Hobo and Tramp were friends very quickly, she's going to take some time getting comfortable with me.
Having pets in the house is somewhat like having children on an ongoing basis. I was reminded of that when Hobo curled up on me for a cuddle. Tramp sat on the stairs watching. The scene reminded me of the shy child watching from the side-lines, too nervous to take part.
She's Made Some Progress Getting Adjusted To Me In The Last Week.
The first few days she would run to the spot where I am feeding them and then run away until I put the food down and moved away. Now she stands there waiting for her food with Hobo at her side. I've started giving her a bit of a pet after I set the food down and she tolerates that. Food is such a motivator.
To Tramp, I'm Three
I have woke a few times to find her curled up sleeping on me. She will lay on my chest, letting me pet and play with her. Apparently I'm very little threat when laying down.
She will come near me when I'm working at the laptop. Laying in front of the second monitor, playing around the monitor and laptop. The other day she curled up beside me with Hobo. I can pet her a bit but don't pick her up, she's gone. Sort of a semi-threat when seated.
When I get up to walk around the house, then I'm the big scary human and she's going to stay away from me.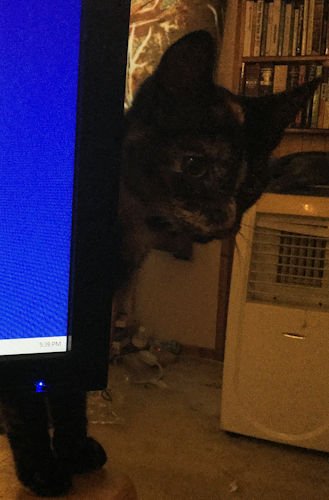 A couple of days after she arrived Tramp was in behind my monitor. I reached underneath and gently scratched her chin. She responded by first sniffing and then gently chewing at my finger. Typical kitten. She moved her head down to get a better grip which brought her down low enough to see beneath the monitor. She took one look at me, the arm, the hand, and, took off to hide.
Big mean human that I am.
I suspect over time the three will become one and she'll relax more with me. I've noticed her watching Hobo and how she follows me around. Hobo loves leaping onto my shoulder when I'm doing things in the house. She'll ride there for a few minutes and then jump off. The shy kid has been watching from a distance. I'll just be patient with her.
Hobo Is Loving Her New Friend
Hobo hasn't had a second of hesitation about welcoming her new friend into the house. It didn't take them long to start playing together and even curling up sleeping together.
She still comes to me for her cuddles at times. Not as often as before, but that is maybe a good sign of how she's embraced Tramp as a companion. Tramp is more a climber than a jumper like Hobo is. So, that gives Hobo some things which are still her domain — jumping up onto the center island in the kitchen, leaping onto my shoulder and jumping from island to kitchen window to check the view.
I went out to do my monthly shop last week. Hobo was a bit anxious when I left. When I returned she ran out and greeted me but not with the anxiousness she had been exhibiting. Having some company while I was out seems to have made a big difference.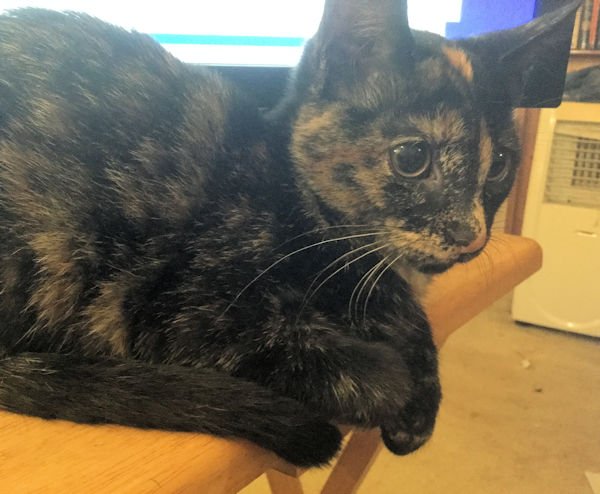 My house has two main states now. The sound of cats playing or the silence of them sleeping. I'm good with both.
Want to keep up on what is happening in The Ramble? Sign up here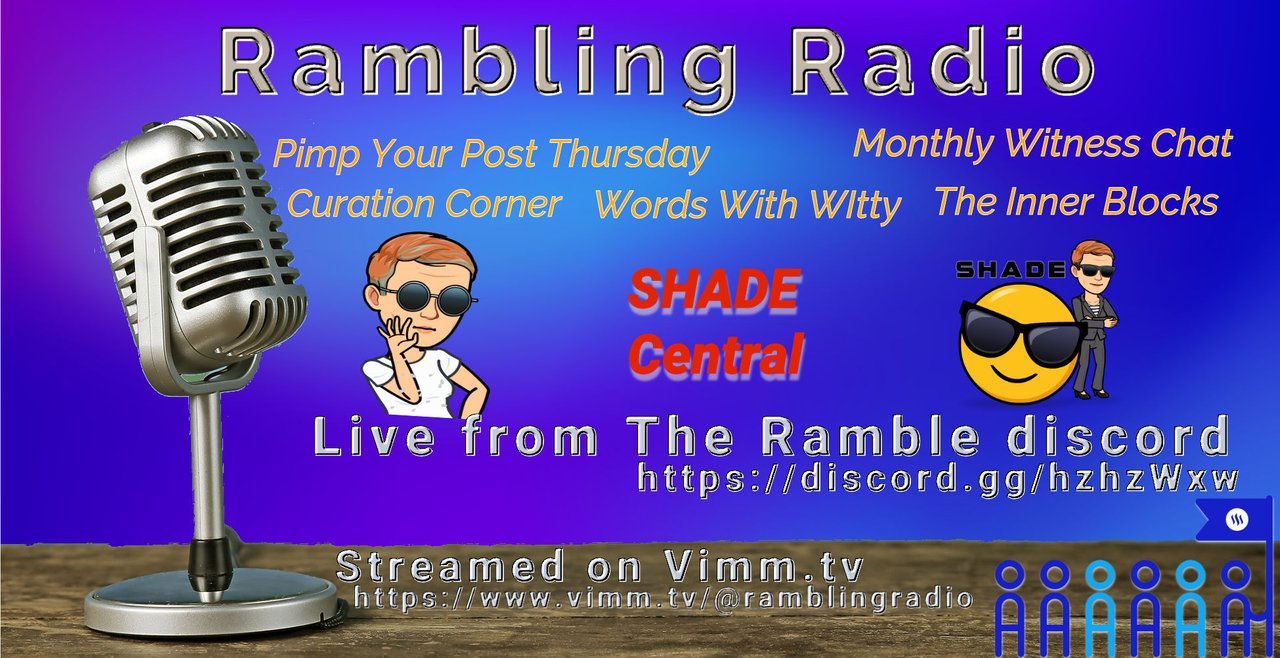 Until Next Time — Just Steem on











If you like this, please follow me and upvote the post.