Overview & Vision
The ageing traditional frameworks of many industries are continuously suffering from the burdens of their outdated mechanisms and resulting inefficiencies, many of which are becoming painfully clear with the emergence of blockchain technology. Blockchain's wave of disruptive innovation in tackling such issues extends far and wide, including into the gargantuan realm of traditional equity ownership. The world of stocks/ shares is an ageing giant, and though large in stature it is plagued by problems of high costs and gross inefficiencies, caused by traditional centralised operational mechanisms.
CDRX is on a novel mission to facilitate the evolution of equity itself by combining familiar traditional financial mechanisms with their blockchain-powered functional framework. Ecosystem elements have been meticulously designed and CDRX's solution is being tactfully (and compliantly) built with the aim to produce an optimally efficient, secure and highly functional framework for equity management- offering distinct advantages for investors and issuers alike.
Current Industry Situation
The $77.7 trillion global equity ownership market is plagued by costly superfluous actors and gross inefficiencies; high transaction costs and lengthy administrative procedures only serve to benefit middlemen and brokers, to the detriment of issuers and investors. For example, the 12-month period preceding Q2 of 2017 saw the combined equities revenue at the top 5 US Investment Banks exceed a staggering $27.6 billion. Such middlemen extract excessive value from the market by capitalising on operational shortcomings. The most effective way to understand the underlying issues is from the perspective of those adding actual value to the equity ecosystem- the issuers and investors.
Retail and professional investors alike are forced to endure excessively high transaction costs and painfully slow settlement periods, resulting in an unsavoury user experience. Furthermore, the paperwork associated with opening, maintaining and using a brokerage account is cumbersome and can be expensive to manage. Equity issuers routinely face their own plethora of administrative costs relating to maintaining the share register, conducting corporate actions (e.g. share splits and dividends), and the cumbersome voting process.
Clearly outdated and operationally flawed, the evolution of the monolithic equity ownership space will require nothing less than a truly innovative foundational overhaul.
CDRX's Solution
Crypto Depository Receipts (CDRs) are securitised tokens issued on the blockchain that holds a class of shares- the concept of which is the cornerstone of the solution being built by CDRX. The CDRX ecosystem is based on two complimenting elements: the creation of CDRs themselves, and CDRX's innovative multi-asset exchange. The project's name, 'CDRX', is thus an amalgamation of 'CDR' and 'exchange'.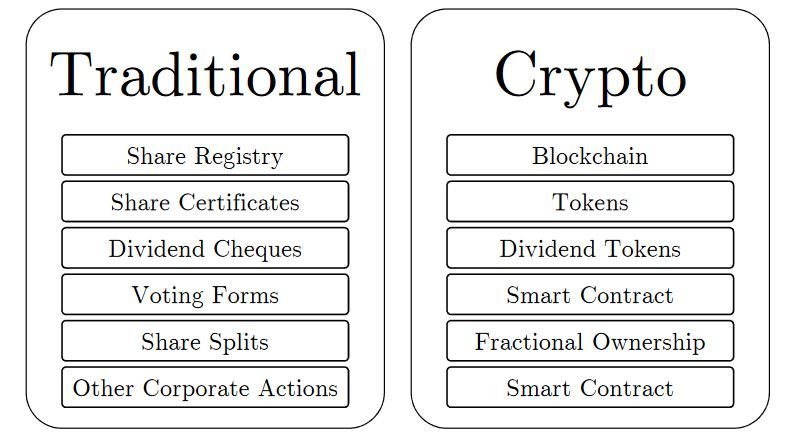 Traditional vs crypto-based equity mechanism, taken from the CDRX whitepaper: https://cdrx.io/docs/wp/whitepaper-en.pdf
CDRs For Issuers
Capitalising on the concept of first mover advantage, CDRX is currently the only market player offering to convert both new and existing equity issuance and bonds into securitised tokens. The functional and financial benefits for issuers of utilising this new equity sharing model over the traditional approach are impressive; administrative costs across the board are vastly cheaper, and corporate actions such as voting can be carried out with great efficiency. CDRX's blockchain and smart contract powered framework enables advanced functionality and efficiency whilst negating the need for middlemen and inherently providing effective resistance to human error.
As an example of the disruptive potential of this new mechanism in terms of purely cost saving, take the example of an issuer needing to pay dividends to their shareholder base of 3 million. Utilising the traditional financial system this would cost in the region of $5 million, whereas conducting the same corporate action using CRDX's solution would amass a total cost of somewhere in the region of $2. This cost-saving ability alone is a remarkably HUGE advantage for issuers.
CDRs For Investors
Utilising a CDR-based equity sharing mechanism enables investors to take advantage of lower transaction costs, greater operational speeds and a previously unattainable level of accessibility. Blockchain-based transaction costs are a fraction of that of their traditional counterparts, and operational times of such actions as settlements can be reduced from days to a matter of minutes. Furthermore, the use of a blockchain-based framework means automatic and immutable processing and recordkeeping, negating the need for a broker.
One of the most notably beneficial functional abilities enabled by this modern approach is that of fractional CDR trading. Unlike traditional equities, CDRs can be traded in fractions; this means, for example, that a $2000 Amazon stock which would have been previously unaffordable for many can now be traded in fractions by investors of any calibre, on a global scale.
This level of widespread accessibility can be enabled only by the possibilities of blockchain technology, and is a powerful ability for investors.
CDRX Exchange
The CDRX exchange will be a functionally enhanced next-generation trading platform within which a wide range of securitised and non-securitised assets will be available for trading and management.
In terms of securitised tokens, the platform's ultimate goal is to have virtually any major listed company available in CDR form through the exchange; this will, naturally, begin with those with the highest market demand (such as Amazon, Apple, Nike) and will continually expand outwards.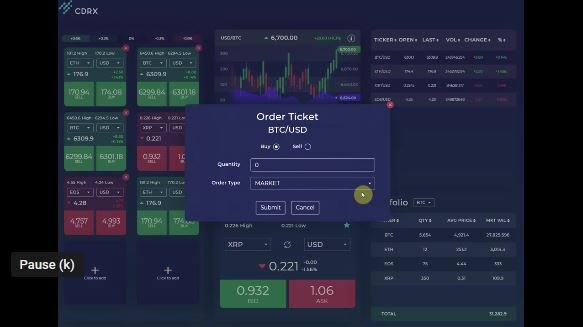 Snapshot of the CDRX platform (alpha version) taken from a video on the CDRX website: https://cdrx.io/
The exchange is due to launch towards the end of Q1 2019 (subject to regulatory approval) and will initially take the form of a crypto-to-crypto trading platform, before being adapted to include securitised tokens alongside fiat-to-crypto trading pairs. Investors and issuers alike will be relieved to learn that CDRX view regulation as beneficial for a stronger platform and market overall, and as such are sporting a sensible attitude of willing regulatory compliance in the spirit of actively maintaining the integrity of the financial markets.
To this end, blockchain is a remarkably useful tool.
Why Blockchain?
CDRX's use of a blockchain-based technological framework essentially provides superior functionality with greater efficiency and greater security, ultimately resulting in the reduction of the need for superfluous and expensive middlemen and brokers- and a much more beneficial overall user experience. Smart contracts also allow for enhanced functional abilities for issuers in terms of corporate actions and administrative tasks.
For investors, aside from the ability to enable the purchase of fractional CDRs, the cost-saving capabilities in terms of transaction fees are alone incredibly impressive; blockchain-based transactional mechanisms are the lowest cost yet most secure settlement mechanism available, and already at this current stage are able to facilitate transaction costs at a vastly more competitive rate than their traditional counterparts.
Token Utility
The CDRX utility token will be used to enable twofold additional functionality-within the CDRX Exchange, and within the CDR token itself. For exchange users, CDRX tokens will be the fuel powering transactions (covering transaction fees) and will provide optional access to additional services and functionalities. CDRX tokens also have a specific utility for issuers, enabling additional functionality within the CDR token itself; inbuilt smart contracts facilitate the efficient and secure management of corporate tasks such as dividend payments and voting- which are enabled by the CDRX utility token.
CDRX's token sale has now ended, having been ended early. However private sale is still available for those interested. More information on the situation can be found here: https://medium.com/@cdrx/cdrx-terminates-relationship-with-coinadmin-4aea695ab0d8
The CDRX Team
When evaluating any project in the Wild West of crypto, ensuring the team has the experience and capability required to carry out the vision they are outlining is crucial. Of course, anybody can write an impressive whitepaper and create a persuasive website; the idea is the easy part, it's implementing the idea which is difficult.

CDRX team experience, taken from the CDRX onepager: https://cdrx.io/docs/wp/onepager-en.pdf
In the case of CDRX, the team is highly impressive to say the least. Not only is the team comprised of industry veterans (wielding an average of 15 years in the investment banking sector), but their skill sets are vast and impressively complimenting. What the 8-strong team lack in numbers, they make up for in industry experience and technical ability. CEO David Ward, for example, boasts more than 2 decades in the investment banking sector, specialising in tech and trading. Overall, the team is particularly impressive on the tech front.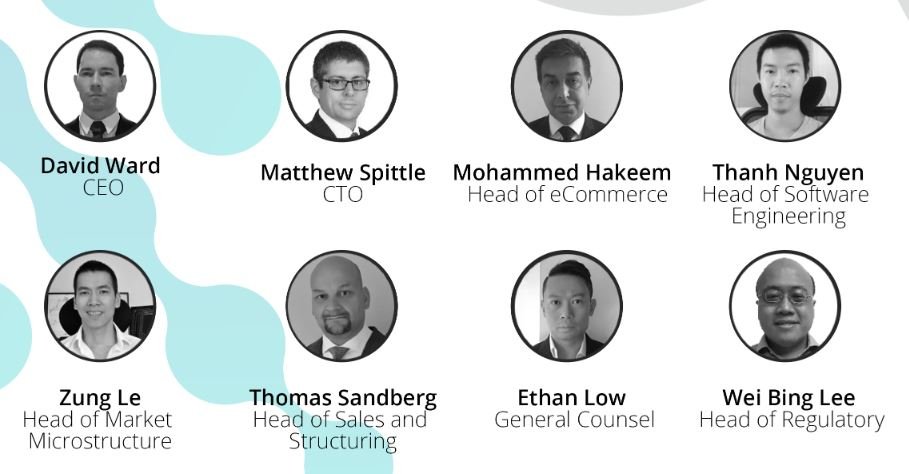 Team snapshot, taken from the CDRX onepager: https://cdrx.io/docs/wp/onepager-en.pdf
Full team profiles, including links to their LinkedIn profiles, can be found on the CDRX website.
Verdict & Summary
CDRX is on a novel mission to facilitate the evolution of the gargantuan $77.7 trillion global equity market, through an innovative combination of familiar traditional financial mechanisms with their blockchain-powered functional framework. CDRX's use of a blockchain-based technological framework essentially provides both issuers and investors with superior functionality, greater security and vastly enhanced efficiency- ultimately resulting in the reduction of the need for superfluous and expensive middlemen and brokers. The resulting reduction on transaction-based and operational costs wields a particularly strong disruptive potential.
CDRX are thus attempting nothing less than a truly innovative foundational overhaul of a gigantic traditional industry. The team are veterans with strong experience in the investment banking sector, and the disruptive potential of their proposed solution is remarkable.
I will be following CDRX closely on their exciting journey to facilitate the blockchain-powered evolution of the equity market.
Have any questions relating to CDRX? Join their active community on Telegram where you can discuss anything CDRX -related: https://t.me/cdrxchange
Learn more at their website: https://cdrx.io/
CDRX whitepaper, if you want to dig in deeper: https://cdrx.io/docs/wp/whitepaper-en.pdf
Get connected to CDRX on social media:
Twitter: https://twitter.com/cdrxchange
Facebook: https://www.facebook.com/cdrx.io
NOTE: THIS IS A SPONSORED REVIEW, HOWEVER IT WAS CHOSEN BY MYSELF SPECIFICALLY DUE TO ITS INNOVATIVE POTENTIAL. ALL INFORMATION IS, AS ALWAYS, OBJECTIVE FACT-BASED ANALYSIS.
Terms of agreement: $3000 of CDRX tokens for the creation and publishing of an impartial article and video review.