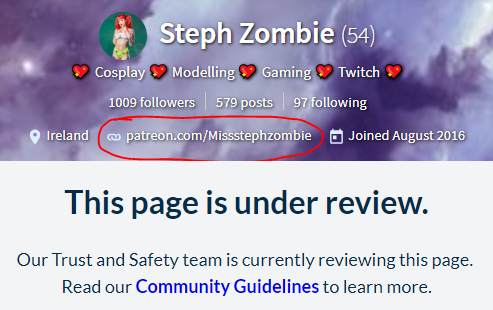 Check out this Motherboard article
---
Patreon Is Suspending Adult Content Creators Because of Its Payment Partners
The subscription crowdfunding platform Patreon confirmed that they are increasing efforts to review content, due to payment processor pressure.
Adult content creators on crowdfunding site Patreon are facing a sudden spate of suspensions, with many reporting "implied nudity" as the reason their pages are shut down.
Wednesday, Vex Ashley, a founder of the independent erotic film production collective Four Chambers, tweeted that their Patreon page was effectively shut down.
"This is bigger than us & Patreon. It's a world wide crack down on freedom of expression, on women, on marginalised people, on sex and sex work, on non conventional forms of labour that counter the status quo: the domination of corporations and patriarchy. On dissent," Ashley wrote. "Just to be clear what is at stake, this is my whole income, my livelihood."
The Four Chambers Patreon page is now effectively a tip jar, with a simple "Thank you" message in place of an about section or description.
"We have been ramping up the proactive review of content on Patreon due to requirements from our payment partners," a Patreon spokesperson told me in an email. "Our community guidelines have not changed, and when we discover a page that is not in compliance with our guidelines we place that page in a state of suspension and work directly with the creator to bring them back within our guidelines. We have also doubled the size of our support team to ensure we get back to creators and give them 1-1 guidance as fast as humanly possible."
---
Well, at least there's Steem...