Google was once seen as a bastion of freedom online, with the motto "don't be evil", but it seems they don't have issue in aiding to crush freedom of access to information these days. Google's search engine and their video platform YouTube is getting more and more into censoring or altering search results for content they disprove of. It seems only natural that they would accept to create a censored and state-controlled search engine for the most populated country on the planet.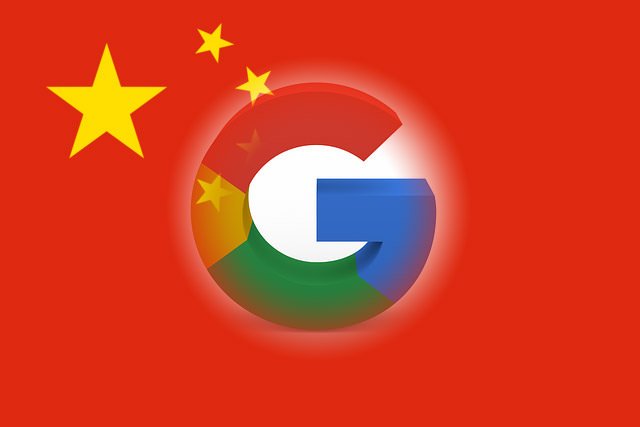 Source1: wikimedia, Source2: pixabay
A project code-named Dragonfly is underway since 2017, according to internal documents. The development has sped up since the December 2017 meting between Google CEO Sundar Pichai and a top official from the Chinese government. Different versions named "Maotai" and "Longfei" have been demonstrated, with plans to officially launch in 6-9 months.
This search engine will "blacklist websites and search terms about human rights, democracy, religion and peaceful protests", according to The Intercept. The Chinese government doesn't like people learning things that can help them become more free, and Google is willing to help them crush human freedom.
Google has formerly taken aim at China's policy to censor the internet access of it's citizens. But things have changed. Google currently can't be accessed by Chinese citizens as it's blocked by the state Internet infrastructure in what is referred to as the "Great Firewall". The new app will fully comply with all to the Chinese government's requirements for censorship law and regulations. Whatever is deemed harmful to the government, the Communist party or its leadership will be blacklisted.
The "Great Firewall" already does a great job. Content about freedom of speech, political opponents, news, sex, history and university studies are all under the communist thumb. The famous Tiananmen Square massacre is an inaccessible piece of history since it makes them government look bad.
It's Orwellian, but most people in China probably wouldn't know that reference, since Orwell's 1984 and Animal Farm are prohibited through much online access. The censorship also prevents interaction with the Western world through social media, where they might more easily learn about the topics the government doesn't want them too. Facebook, Twitter and Instagram are a no-go, with apps of a similar nature being exclusive to China to keep things in a tight cultural censorship loop.
Google has wanted to break into the Chinese market for a long time, but the firewalls and laws have made that problematic. I guess they finally decided "what the hell, let's just give in anf get a piece of the pi!" Who cares about making the world less evil, since "don't be evil" is no longer their slogan.
How can Google claim it support a free and open internet while it partners up with the censoring communist Chinese government? That's just a claim that isn't supported regardless of this new partnership, since it's been known to censor alternative and conservative right-leaning informational content on the search engine and on YouTube.
Money talks, money walks, and Google is walking and talking the Chinese line for their bottom line. Getting access to all those Chinese shoppers is the choice Google seems to be making.
---
Thank you for your time and attention. Peace.
---
References:
---
If you appreciate and value the content, please consider: Upvoting, Sharing or Reblogging below.


me for more content to come!
---
My goal is to share knowledge, truth and moral understanding in order to help change the world for the better. If you appreciate and value what I do, please consider supporting me as a Steem Witness by voting for me at the bottom of the Witness page.