I am currently Promoting @challengedac DApp on Twitter and Steemit Platforms. ChallengeDac is a Steem based App which users are able to Challenge and tip a friend or group of people to carry out a fitness task at a designated location. The user who is being challenged carries out the challenge and unlocks a Crypto reward. The App can also be used to create and fulfill geo-specific time sensitive tasks for real Blockchain rewards. User pay their friends with the ChallengeDac token.
The CHL token is available for trade on @steem-engine as CHLP and on @newdex-io as CHL.
Here is a promotional video for your viewing;
https://vm.tiktok.com/uaq5wq/
Download the App now which is available for Android and iOS users.
For Android:)
https://play.google.com/store/apps/details?id=challengedac.com.challenge_dac_app&hl=en_US&fbclid=IwAR2JFSGfevOI84dn9ABypt0aV1M-tlWwW7k-J2laz79faPgvowsS3k1_URA
Or iOS :)
https://apps.apple.com/us/app/challenge-fun/id1478759780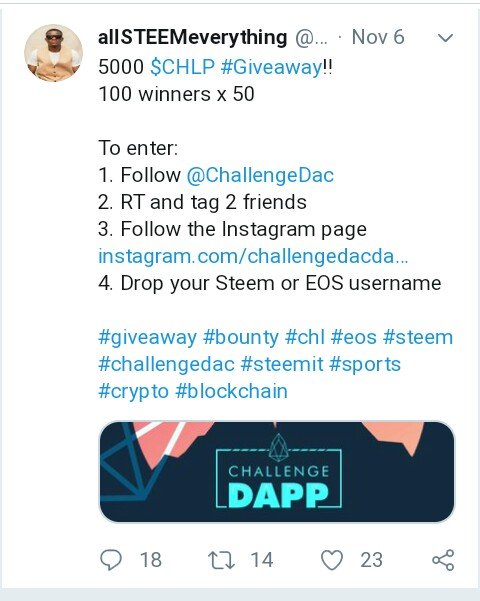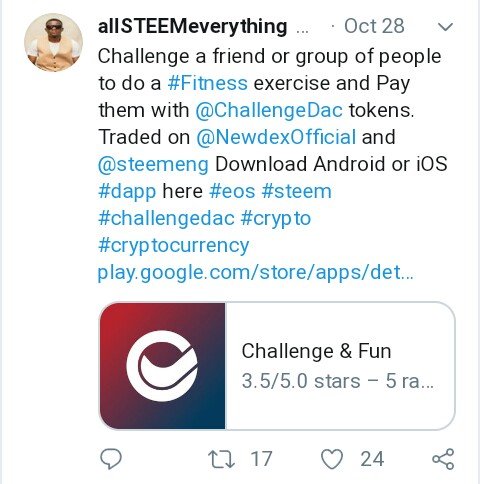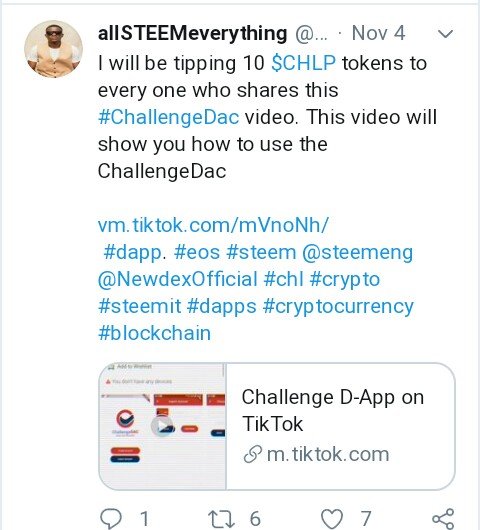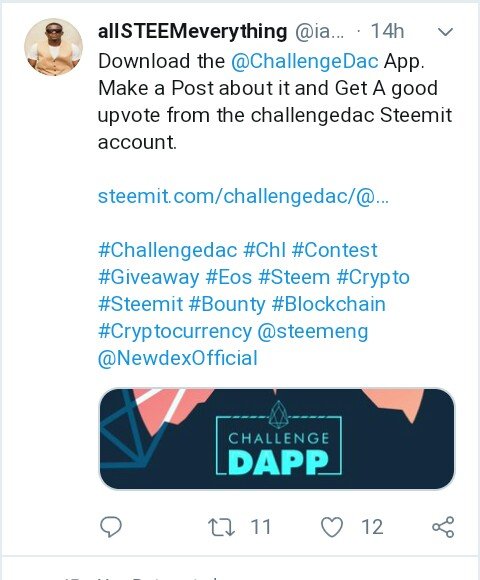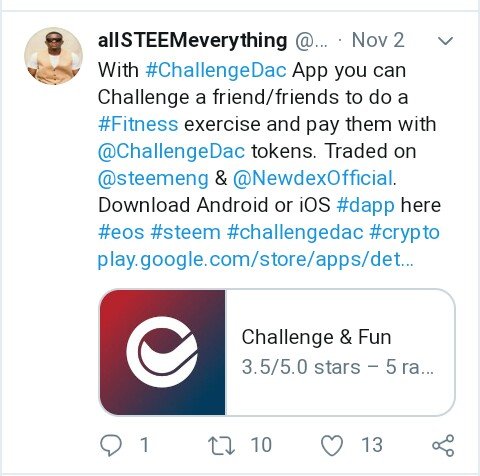 Here are some on-going promotions available for folks on Twitter, Steem and EOS users.
https://twitter.com/iamcitimillz/status/1193620662822326272?s=20
https://twitter.com/iamcitimillz/status/1191994112909676544?s=20
https://twitter.com/iamcitimillz/status/1191130100672221185?s=20
https://twitter.com/iamcitimillz/status/1190564819688206338?s=20
Trade CHL via @newdex-io:
https://newdex.io/trade/challengedac-chl-eos
Or Trade via @steem-engine:
https://steem-engine.com/?p=market&t=CHLP
Follow ChallengeDac Official accounts:
Instagram: https://www.instagram.com/challengedacdapp/
Twitter: @challengedac
Subscribe to ChallengeDac YouTube: https://www.youtube.com/channel/UCnYWlP_UT6k5EIfuLSD3Spg
Challengedac
website: https://www.challengedapp.io/
Reddit account: https://www.reddit.com/r/ChallengeDac
Telegram: t.me/@Challenge_DAC
Discord: https://discord.gg/
Follow my Twitter account @iamcitimillz to participate in ChallengeDac contests.