When we think and write about the current situation in our country, we generally evoke feelings of frustration and helplessness because of the reality so hard that Venezuelans live today, a reality that in some cases has brought out the worst of Venezuela, but in others He has managed to bring out a selfless feeling of solidarity and altruism.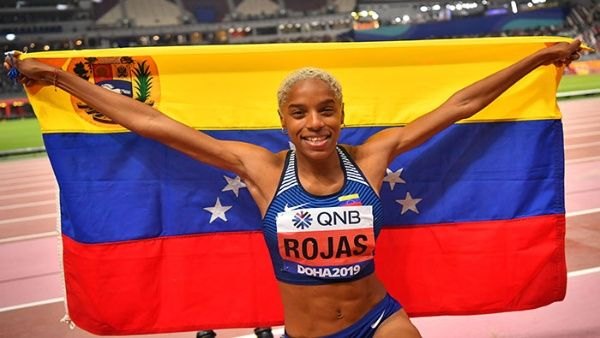 Source
The story that I want to share with you next, is one of those stories that inflate your chest with pride, stories that convey a message of hope and make you think that not everything is lost, that there are Venezuelans who do not have a selfish thought and that your success and personal achievements are willing to share them with others.
Yulimar Rojas.
Yulimar Andrea Rojas Rodríguez (also known as Yolimar Rojas; born October 21, 1995) is a Venezuelan athlete. She is an Olympic silver medalist (Rio de Janeiro 2016), twice world champion (London 2017 and Doha 2019) and twice covered world championship (Portland 2016 and Birmingham 2018) in triple jump. His best personal brand, 15.41 meters, is a record of the United States and ranks as the # 2 mark in history.
Wikipedia
Yulimar Rojas is a pride for our country, a young woman who has given our country many joys, making us forget at times (for sports lovers) the serious crisis that our country is experiencing.
Today yulimar is news not for his achievements in athletics, but for his generosity, detachment, solidarity and his desire to help the needy.
The Venezuelan champion, or her press team released a video where we see the athlete in the middle of the street, donating shoes to children in need. Those of us who live in Venezuela today know how difficult it is to buy a pair of shoes now, so this gesture becomes more important and I think it is worth highlighting.
---
https://www.instagram.com/tv/B4vgqiQn1kN/?igshid=zopqec0ikxwz
Video courtesy of: TeamRojas45
---
Blessings and thanks yulimar for such a generous gesture of making these children happy!
Call to solidarity.
I know that there are many people in Venezuela who, like Yulimar, are worrying about doing works like these, to that other percentage of Venezuelans who have possibilities and do not, I want to make a call to unite for causes such as these, footwear, food, clothes, equipment etc.
You can become the miracle of someone, of a child, an elder, a family, any donation helps however insignificant it may seem. You can deliver yourself or you can use charities, nonprofit organizations that are in charge of this work, you just have to make the decision and use the modality that you think is convenient, but, dare to give what you are receiving.
Thank you for visiting, reading and commenting!
---
PROJECT #HOPE An Initiative to give hope!
@crypto.piotr, @project.hope, @cyberspacegod, @achim03, @lanzjoseg, @fucho80, @neavvy, @juanmolina, @jadams2k18, @machnbirdsparo, @honarparvar, @guruvaj, @alokkumar121, @edgarare1, @flash07, @djennyfloro, @gandhibaba, @reverseacid, @yonnathang, @mariusfebruary.
---
Visit our website

---