I am back! All liquid SBD will still go to the @SchoolForSDG4 project but the STEEM power will stay in my (@lindahas) account. If you want to leave a bigger impact, kindly check out the @SchoolForSDG4 page, every last penny earned there goes for the cause and the creator is the most wonderful, selfless person I know!
This is the first time I do the charity post late. I had all the intentions to do it yesterday, in the night, but after I arrived from the airport and had dinner with my boyfriend, I got a bad stomach and was walking around like an inflated balloon. It was all bloated up and ugly so I went to bed. @Azizbd was very understanding about it! The second reason why I did not do it yesterday is that I want to be better at this. I want to work on my posts a little more and put more into my writing. MORE in general.
P.S I will be answering all the unanswered comments in my last posts soon, the second I am done with tying loose ends. Muwhahahhaha.
Here is the @SchoolorSDG4 page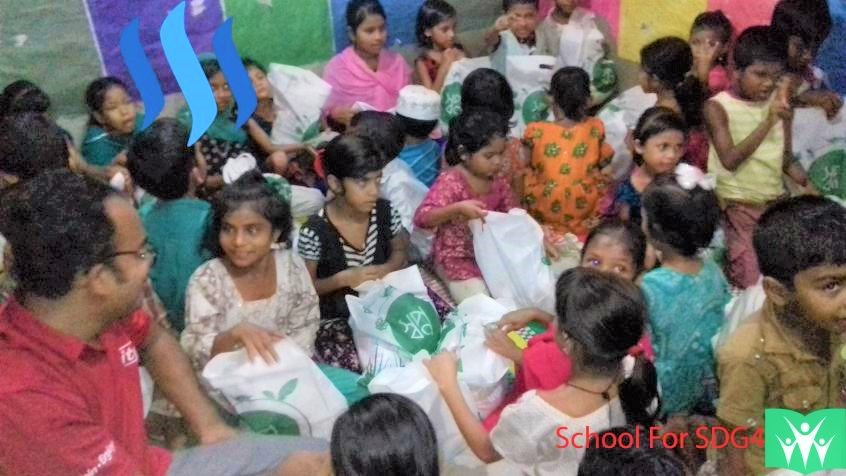 As you might have briefly read in my last week's post, the kids are on holiday. But our work never ends. While the little ones are enjoying (hopefully) their 20 days of time off, @Azizbd is still doing great work. That is what I will be writing about today. And the SBD will still be ending up in the school's account. Because there is no time to rest and I love the little ones! I think and hope many share my sentiment here :)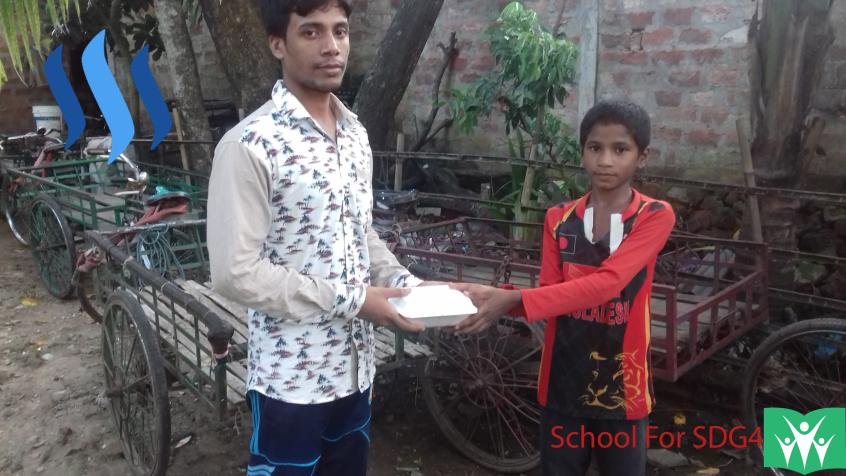 This week @Azizbd and his family has organized a huge food program, not for the children in school, but everyone possible in the area he lives in. He opened his doors to welcome people for ifter(the name of the event). The rooms in the families house needed clearing, so people could rest on the floor. Mohammed even had to pack up his computer and clear space for all the visitors. The crazy part? There were around 100 people joining them! That is something, isn't it?!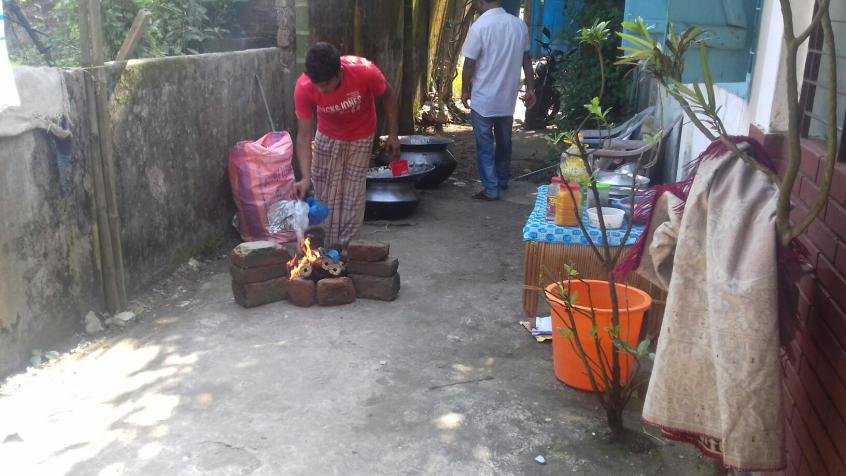 Aside from the 100 people at home, Mohammed and his family also prepared food to 50 kids that reside in the slum area. They packed up the portions in takeaway boxes and gave them to those in need. I am sure some of the school kids got some food to fill their bellies as well. And, as school is starting once again on June 23rd, there is going to be another food program during the holiday, to keep the little ones healthy and full of nutrients. It is going to be different, thjough as the families of the kids are going to get allocated ingredients not dishes. So they can celebrate EID at home, with their families. And with full bellies.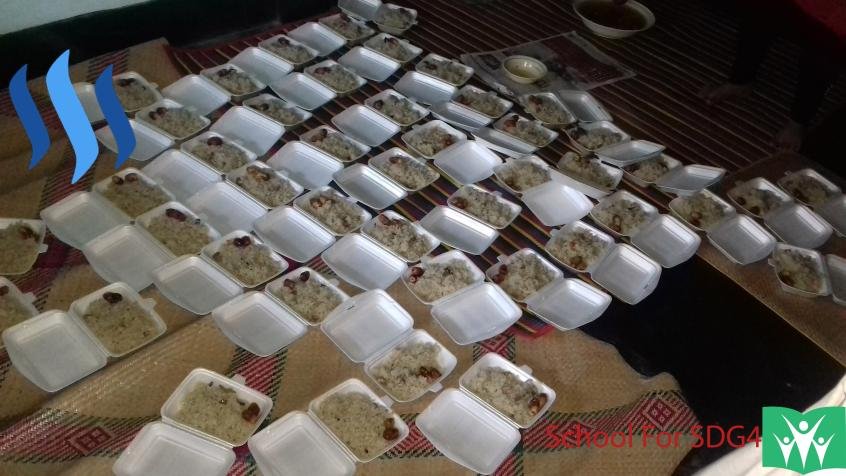 Next week the EID (a religious festival) will take place for the kids. They will come to the school to celebrate the end of fasting. It is the time to say thanks and wear fancy attire. To be happy and overjoyed about life as well as remember your elders. It also teaches you the gift of giving as during fasting, you are thought about challenges those in need face. I especially liked that he mentioned the event making you be like a newborn. It is the ultimate thing of new beginnings.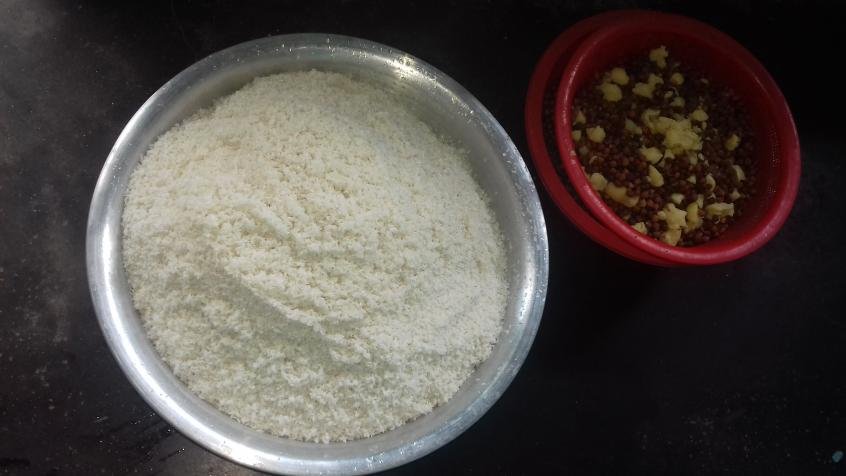 The school is also celebrating a year on Steemit. In fact, my year was on May 22nd but I really started posting at the end of June. That is when I would like to celebrate my year. Not when I joined but when I really started enjoying creating here. It will also soon be a year for me with the school. I think July or August is when I started writing for the project. I have been here a while and I have seen a lot of positive developments. Kudos for that and it is only possible because @Azizbd never, ever, ever gives up.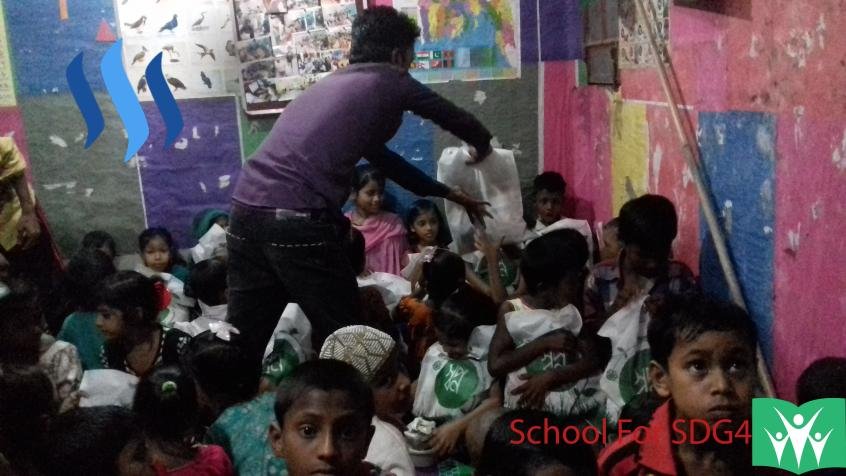 As I mentioned, visit @SchoolForSDG4 blog to give your vote to them (so all the funds go for the kids). Right now, the account hasn't posted (it is holidays) but @Azibd has some cool stuff to say anfd you might find that he is an amazing soul.
---
All the pictures are recent and provided by @azizbd, any questions about the project can be resolved with him, he will be happy to answer any questions if you are interested to help this project and have any idea about how to make it better. Heck, he will even get up at 4 AM in the morning just to talk to somebody about ideas. Here is a link to his steemit chat: https://steemit.chat/direct/azizbd
If you would like to contribute by making a post, you can contact Mohammed ( @azizbd ) and he will provide pictures for you, anyone spreading the word is welcome. The income from the post can be sent to @schoolforsdg4, if you think you deserve any Steem for your hard work making a post, keep a dime, even a small donation from your posts means a lot to those kids.
If you have any Steem to spare, donations are welcome. @schoolforsdg4 is where you want to send them.
If you can't spare any Steem, because I know everybody has their lives to live and expenses needed to be covered, a simple upvote is very much appreciated, a resteem is encouraged. :)
As I said, all income from this post will go towards the project, my rewards are set to 50/50 payout, but I am still able to find the STEEM the posts make, so I will be able to forward all income from this post to @schoolforsdg4.
Wishing you an amazing day! Today, tomorrow, and forever.
Linda