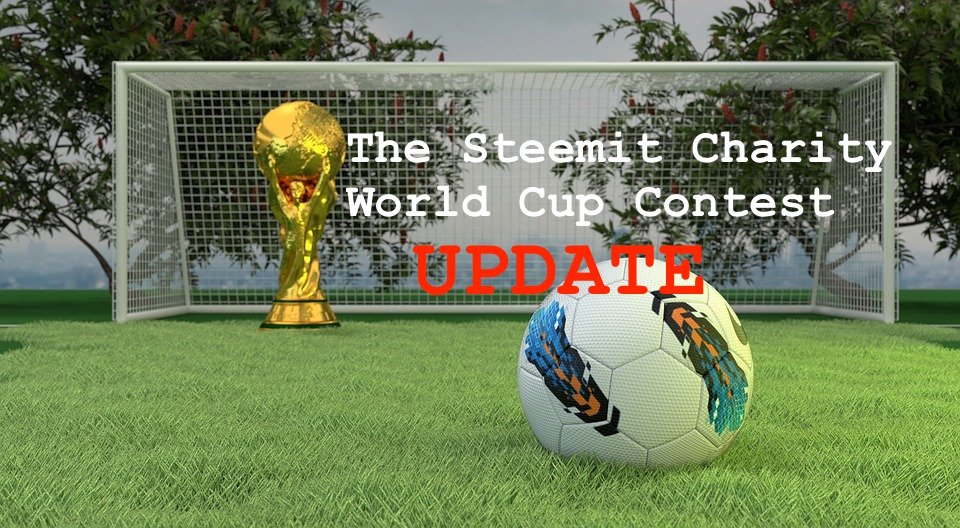 Charity World Cup on Steemit - Update
Hi lovers of Football and Soccer - the World Cup is rolling and the Charity World Cup Contest does too. All 32 team auction posts are live and we have over 250 SBD already for the prize pot but there is still time to bid for all 32 teams and own them. Come over and try to buy your team and win a good chunk of SBD - in addition FEEL GOOD as you support charity as well! Win-Win Scenario I would say!
Current Bids, Teams and Auction Posts
Below you find all 32 Team auction posts including current bids, owner and remaining time thanks to the @steembay team around @pollux.one and @schererf.
Open Auctions
(sorted by finishing time: soon ending first)
At the time of compilation 2018-06-17 11:11:47 GMT
Rules and Prize money summarised - get involved
Steemians can bid a certain amount of SBD (via Steembay) to become owner of a certain team (they like or they think that will become champion!)

For every Team playing the World Cup (32) we will publish a Steembay post until the end of today where all Steemians have 7 days time to bid SBD for the dedicated team in one of the 32 posts

The one with the highest bid after payout is the OWNER of this national team and has to pay the final amount to the account @sportsgeek

We will set a minimum amount of 25SBD per team, if no one bids for one team the entire competition is in danger should a team become world champion that has not been won by a Steemian (however I guarantee someone will buy – if not you it will be me, sure no one wants that lol)! To avoid that – teams without bid after payout of these posts can still be "bought" throughout the World Cup until we reach the end of the group phase.

If the winning team in the end has no owner all 100% of the pot will go to charity

All 32 final bids will be thrown into a total basket (so we should have ideally a minimum of 800 SBD in the pot - likely higher). All funds will remain in the @sportsgeek account.

After 4 weeks of the World Cup the Owner of the Top 3 Team will be rewarded with 50% of the total basket of all winning team bids
Prizes
First Place (World Champion): 30% of the pot (240 SBD if total pot is 800 SBD)

Second Place: 15% of the pot (120 SBD if total pot is 800 SBD)

Third Place: 5% of the pot (40 SBD if total pot is 800 SBD)

The other 50% of the total basket will be paid to Charity!
The charities we support are
@papilloncharity
from South Africa and
@steemarity
from Austria. Also the winning Steemians can feel free to donate their amount to a charity – but that is not a requirement.