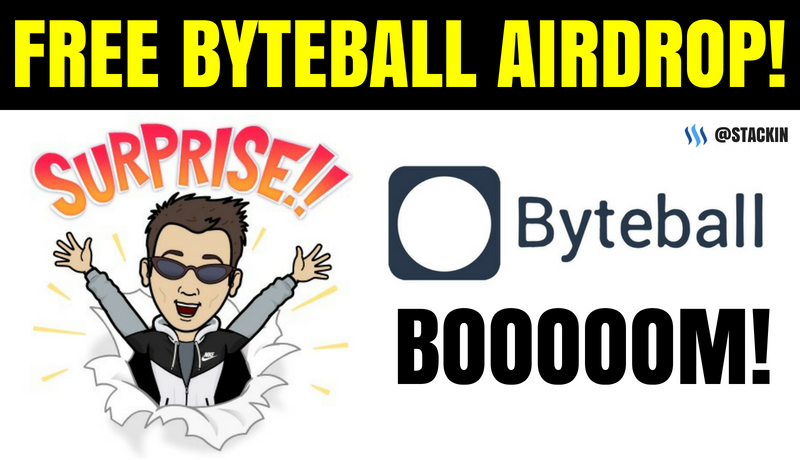 "Start becoming a leader by providing more value than others." ~ Charles Fuchs.
WHAT'S UP STACKER...
If you haven't heard about the "Byteball Airdrop" news for steem users from a few hours ago, you might be living under a rock. 😂🤣
I got over $180 worth of Byteball just for registering. 😱
I'm going to help "fund my followers" open their free Byteball accounts (people will get a small referral using their wallet links). 
However, I'm going to be giving away all my "Byteball" referrals tokens that I receive to my peeps for free... just because I'm cool like that jk lol. 😎
The rewards that you get from "Byteball" will be based on your reputation score... so far I received tons of free tokens from the drop. 🤑
Some people may say it's unfair how they are doing the airdrops based on your reputation score but it's a great idea to me as people with a have a higher reputation tend to be more active on theSsteem platform.
Here are the current "Byteball" rewards:
Steem reputation above 30: you get a $10 reward
Steem reputation above 40: you get a $20 reward
Steem reputation above 50: you get a $40 reward
Steem reputation above 60: you get a $80 reward
Steem reputation above 70: you get a $160 reward
I think what "Byteball" did with this airdrop is awesome... this is a great example how powerful the Steemit community can be in the "Cryptocurrency" Space.
If you already have a Byteball Wallet, no biggie! I will still send you some free tokens! Just list your wallet address below...
It's not going to be that much tokens but I always believed in life that if you start helping others by giving, they will also start doing the same thing.
Keep On STACKIN! 💞

P.S. For those who's interested in following my "Content" and "Daily" Posts... you can just follow me @stackin to get my updates.
*Stay Tuned for my weekly "STACKIN Steem Contests" where I've givin' out $1,000's of Steem, SBD, and Merchandise to fellow Steemians!
---



---