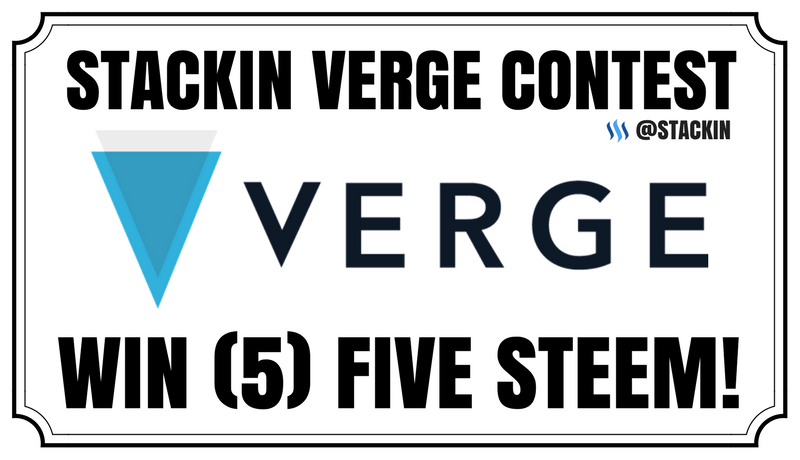 "Winner never always win, they just keep trying." ~ Charles Fuchs.
What's Up STACKERS! 
With the supposed "huge" announcement that came out yesterday about Verge partnering with Mindgeek (Adult Entertainment), what better time to do a contest about Verge. 🤣
If you haven't heard the news yesterday, one of the biggest porn websites (Pornhub) in the world will start taking Verge as payments for their websites. 👨🏼‍💻
Many are saying this is good for cryptocurrency as it brings the "Crypto Space" closer to mass adoption and others were saying that it's a "marketing gimmick" by them to raise tons of money, only time will tell. 
The "STACKIN Price Prediction Contest" for the day will be VERGE!! 
These contests has already awarded $1000's worth of Steem and SBD to "Price Prediction" Steemians, are you going to win the next one? Make sure you follow @Stackin so that you can get up to date information about our weekly contests. 
There will be "One Winner" that will be chosen on April 19th at 12:00 P.M. to win "5 STEEM". 

Here Are The "STACKIN" Contest Rules: 
Follow @STACKIN on Steemit. 😎
Must *Comment and *Resteem this post. 
Guess the correct "Price of VERGE" will be exactly at 12:00 PM PST.
The Last Guess Stops at 9:00 A.M. PST. APRIL 19TH!
One (1) WINNER without going over will win, No Edited Posts!
The Winner will Win FIVE (5) STEEM! 💰

The current price of VERGE is $.069169 USD.
* All you have to do is "Comment" your prediction below and "Resteem" just once to qualify. You have til' 9:00 A.M. PST April 19TH to lock in your "VERGE Prediction". 
* Please do not edit your guess or prediction before the deadline, you will automatically lose and get flagged. We want everyone to have a fair chance of winning!
My Price Prediction for VERGE Will Be $.061341. Lots of profit taking happened yesterday after the Verge news and I can see it happening more today, Who knows? 🤷🏼‍♂️
Good Luck and Keep On STACKIN! 💞

P.S. For those who's interested in following my "Content" and "Daily" Posts... you can just follow me @stackin to get my updates.
---



---