SPORTS is the native token of the https://www.sportstalksocial.com tribe. You can check the details in the announcement post by @patrickulrich: Introducing SportsTalk.Social and SPORTS.
They also have video - powered by DTube: Announcing SportsTube - Earn SPORTS for Sharing Videos.
And advertisments: SportsTalkSocial.com Advertising. Revenues from advertisments are being used but burn token. Everybody who owns more than 500k SPORTS will not see any advertisement.
One fun way to earn some SPORTS is to head over to the @brosino at https://www.brosinopoker.com and play daily Freerolls for SPORTS or use SPORTS as chips in Ring Games.
Unstake Cooldown: 270 days
---
@beggars announced the launch of the new Steem-Engine in beta mode. The beta period is planned for 2 weeks. You can check it out at https://next.steem-engine.com.
---
Check yourself before you wreck yourself
---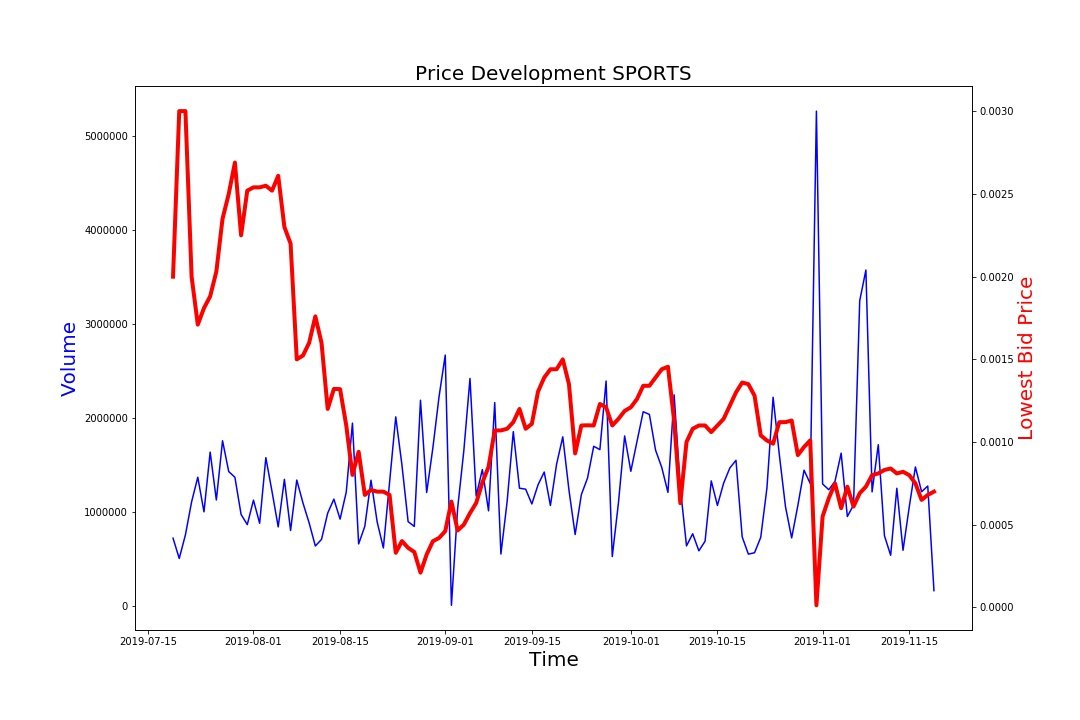 Left Y-Axis: Token Volume; Right Y-Axis: Steem/SPORTS
Time frame: 19.07.2019 until 18.11.2019
Data from 23.06. trough 18.07.19 omitted in chart because of extremely volatile price action during launch.
Price data is represented by daily lows in order to be conservative. Some tokens display a huge spread or sometimes don't trade at all. The daily low represents a bid where a transaction could happen.
---
Earlier selected posts in the series - ordered from newest to oldest:
SE Charts: WEED, WEEDM, WEEDMM
SE Charts: BEER + Sober October Relapse
---
Complete list of charts per month in chronological order:
SE Charts in Chronological Order [Oct19]
---
If you want to make some charts on your own:
Charting Ressources for SE Tokens
---
Disclaimer 1: Author owns SPORTS at the time of writing.
Disclaimer 2: These charts do not constitute investment advice. Because why in the world would you take investment advice from a random account on the internet? What is wrong with you? Don't do that!