The 66th edition was played with 15 players!
In chess, knowledge is a very transient thing. It changes so fast that even a single mouse-slip sometimes changes the evaluation.
Viswanathan Anand
Die 66. Ausgabe wurde mit 15 Spielern gespielt!
Im Schach ist Wissen eine sehr vergängliche Sache. Es ändert sich so schnell, dass manchmal sogar eine einzelne Mausbewegung die Bewertung ändert.
Viswanathan Anand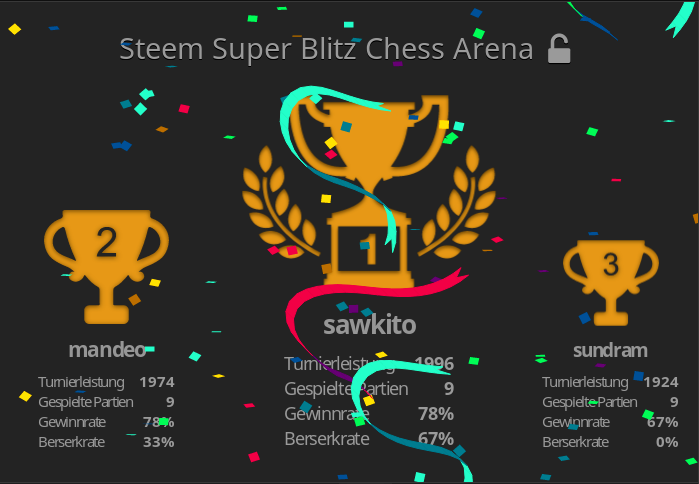 The second round of the New Year was played in 3 minutes plus 2 seconds mode. This super blitz is really fun! First, you get more games in an hour, and secondly, the Beserker are in a difficult position if you play fast enough to give them no time to spare, then it is often short for them. At least that's my theory, and one game worked and I was able to defeat sawkito (2166!). Here is the result:
Die zweite Runde im neuen Jahr haben wir im Modus 3 Minuten plus 2 Sekunden gespielt. Dieses Super Blitz macht richtig Spaß! Erstens bekommt man mehr Spiele in einer Stunde und zweitens sind die Beserker in einer schwierigen Lage wenn man schnell genug spielt um ihnen keine Zeit zu schenken, dann wird es oft knapp für sie. So ist zumindest meine Theorie, und bei einem Spiel hat es geklappt und ich konnte sawkito (2166!) besiegen. Hier ist das Resultat: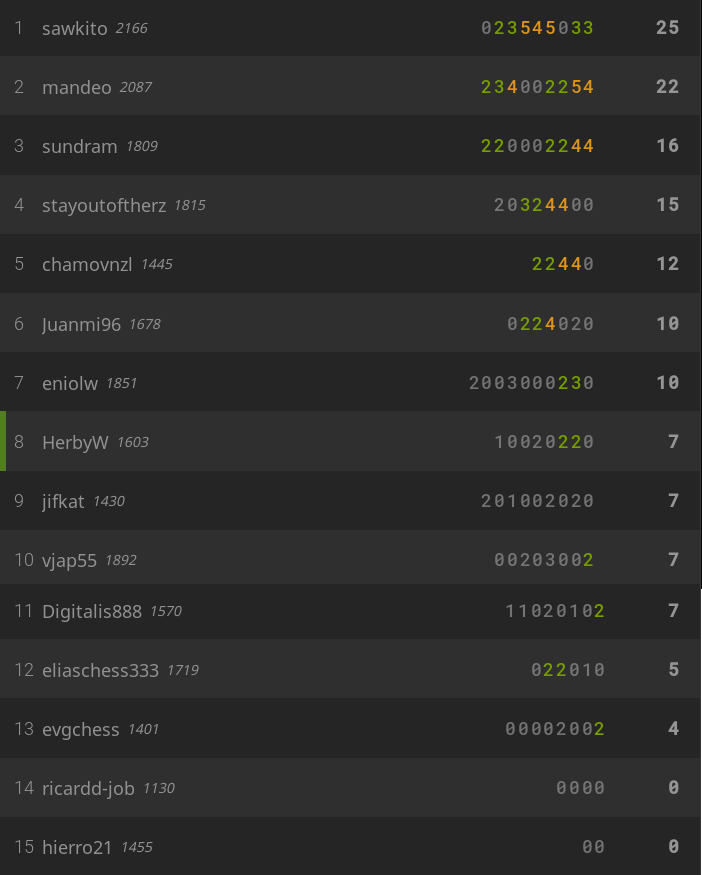 Details, register and rules: / Details, Registrierung und Regeln:
https://steemit.com/steemchess/@schamangerbert/announcement-steem-blitz-chess-tournament-saturday-12th-january-20-gmt-ankuendigung-steem-blitz-schach-turnier-samstag-12-januar
---
Video Commentary (62 minutes)
Season 5: 01 January to 31 March 2019 / Standings after Round 2
Points are given for 1. (10) 2. (8) 3. (6) 4. (5) 5. (4) 6. (3) 7. (2) 8. (1)
Please feel free to post your chess related links in the comments to grow the pool of players, thank you! You are welcome to create your own analysis or promotion post, please use the tag: steemchess!
Bitte zögere nicht, Deinen schachbezogenen Link in den Kommentaren zu posten, um den Pool der Spieler zu vergrößern, danke! Gerne darfst Du einen eigenen Analyse oder Promotion Post erstellen, bitte benutze den tag: steemchess!
Final result season 1 / Endergebnis der 1.ten Saison link Chess King: @stayoutoftherz
Final result season 2 / Endergebnis der 2.ten Saison link Chess King: @ape-5th
Final result season 3 / Endergebnis der 3.ten Saison link Chess King: @samostically
Final result season 4 / Endergebnis der 4.ten Saison link Chess King: @anadello
Links to related posts:

See you next time! / Bis nächstes Mal!
Thank you for your attention! / Danke für Deine Aufmerksamkeit!
Original content by