The 99th edition was played with 8 players!
However hopeless the situation appears to be there yet always exists the possibility of putting up a stubborn resistance.
Paul Keres
Die 99. Ausgabe wurde mit 8 Spielern gespielt!
Wie hoffnungslos die Situation auch erscheint, es besteht doch immer die Möglichkeit, hartnäckigen Widerstand zu leisten.
Paul Keres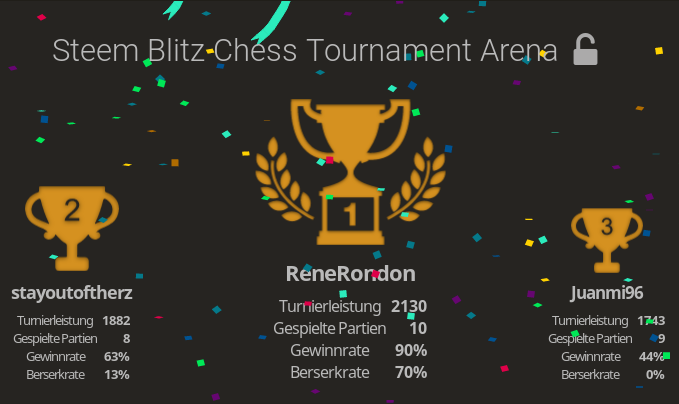 Again, there is a tournament with first-class games behind us and we can look forward to the jubilee edition in a week! The players from Venezuela had their problems with the Internet connection, as they often did, but still kept the hope to make more games until the end. For that, my great respect!
The 100th edition will be played over 2 hours, 1 hour blitz with 5 + 2, then half an hour Chess960 with 3 + 2 and at the end another half hour Bullet with 2 + 1. I think that's a reasonable plan and I'm looking forward to seeing you!
Wieder liegt ein Turnier mit erstklassigen Spielen hinter uns und wir können uns auf die Jubiläumsausgabe in einer Woche freuen! Die Spieler aus Venezuela hatten wie schon so oft ihre Probleme mit der Internetverbindung, behielten aber dennoch bis zum Schluß die Hoffnung aufrecht doch noch weitere Spiele machen zu können Dafür mein großer Respekt!
Die 100. Ausgabe wird über 2 Stunden gespielt, 1 Stunde Blitz mit 5+2, dann eine halbe Stunde Chess960 mit 3+2 und zum Abschluß eine weitere halbe Stunde Bullet mit 2+1. Ich denke das ist eine vernünftige Planung und ich freue mich auf euch!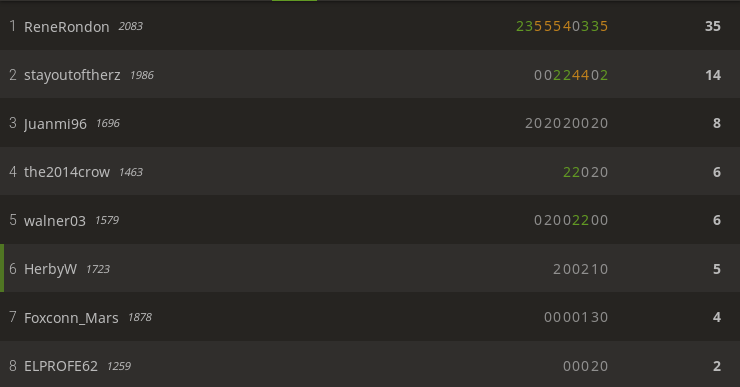 Details, register and rules: / Details, Registrierung und Regeln:
https://steemit.com/steemchess/@schamangerbert/announcement-steem-blitz-chess-tournament-saturday-14-september-20-gmt-ankuendigung-steem-blitz-schach-turnier-samstag-14
Live stream:
https://www.twitch.tv/videos/481497615
---
Season 7: 13 July to 28 September 2019 / Standings after Round 10
Points are given for 1. (10) 2. (8) 3. (6) 4. (5) 5. (4) 6. (3) 7. (2) 8. (1)
Please feel free to post your chess related links in the comments to grow the pool of players, thank you! You are welcome to create your own analysis or promotion post, please use the tag: steemchess!
Bitte zögere nicht, Deinen schachbezogenen Link in den Kommentaren zu posten, um den Pool der Spieler zu vergrößern, danke! Gerne darfst Du einen eigenen Analyse oder Promotion Post erstellen, bitte benutze den tag: steemchess!
Final result season 1 / Endergebnis der 1.ten Saison link Chess King: @stayoutoftherz
Final result season 2 / Endergebnis der 2.ten Saison link Chess King: @ape-5th
Final result season 3 / Endergebnis der 3.ten Saison link Chess King: @samostically
Final result season 4 / Endergebnis der 4.ten Saison link Chess King: @anadello
Final result season 5 / Endergebnis der 5.ten Saison link Chess King: @anadello
Final result season 6 / Endergebnis der 6.ten Saison link Chess King: @anadello

See you next time! / Bis nächstes Mal!
Thank you for your attention! / Danke für Deine Aufmerksamkeit!
Original content by