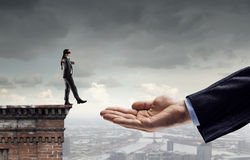 One of the fallacies that had made some good believers to remain stagnant in some bad situations is the fallacy of believing GOD will do everything for them, while they only cross their legs, and watch GOD swing into action.
No, no, no. That is not faith. That is superstition borne out of irresponsibility.
Genesis 13:14-17
"And the LORD said unto Abram, after that Lot was separated from him, Lift up now thine eyes, and look from the place where thou art northward, and southward, and eastward, and westward: 15 For all the land which thou seest, to thee will I give it, and to thy seed for ever. 16 And I will make thy seed as the dust of the earth: so that if a man can number the dust of the earth, then shall thy seed also be numbered. 17 Arise, walk through the land in the length of it and in the breadth of it; for I will give it unto thee."
In the text above, GOD declared that HE would give Abraham all the land he could see to the north, south, east and west.
Wow! What a good prophecy!
Just like many of us have heard many good prophecies from the mouths of GOD's true prophets, and also from HIS MOUTH directly. We are excited and basking in the euphoria of the prophecies … wondering and pondering how and when they would be brought to pass.
The truth is that wondering and pondering alone will not bring anything to pass. It will only lead to more frustration because, after wondering and pondering, and also fantasizing on how you will celebrate when you finally get hold of the possession you have been promised, and nothing eventually happens, it would be more painful than not even expecting it at all. That is why the scripture says …
Proverbs 13:12
"Hope deferred maketh the heart sick: but when the desire cometh, it is a tree of life."
If not for the timely correction of GOD, Abraham would have just remained in the "Wonderland"… wishing and waiting. GOD had to tell him to MAKE A MOVE!
Lot was told to leave where he was but he still remain if not for GOD helping him to leave ...
Genesis 19:16
"And while he lingered, the men laid hold upon his hand, and upon the hand of his wife, and upon the hand of his two daughters; the Lord being merciful unto him: and they brought him forth, and set him without the city."
Even if GOD has promised you the "land", you still need to arise and walk through the length and breadth of it! You still have a role to play. Success is not a tea party. It involves some initiatives and hard work.
Proverbs 13:11
"Wealth gotten by vanity shall be diminished: but he that gathereth by labour shall increase."
This is not a message some believers love to hear, but it it the truth! Many love to name and claim. That is o.k … but after you name and claim, make a move in the direction of the promise given. That is an expression of your faith in GOD that has made the promise.
Moses gave a wrong instruction to the Israelites when they got to the Red Sea, telling them to "Stand still", but thanks be to GOD WHO quickly corrected the instruction, and told him to tell them not to stand still, but to make a move in the direction of the Promised Land regardless of the obstacle confronting them …
Exodus 14:13-15
"And Moses said unto the people, Fear ye not, stand still, and see the salvation of the LORD, which he will shew to you to day: for the Egyptians whom ye have seen to day, ye shall see them again no more for ever. 14 The LORD shall fight for you, and ye shall hold your peace. 15 And the LORD said unto Moses, Wherefore criest thou unto me? speak unto the children of Israel, that they go forward:"
🙏 FATHER, please help me to cancel any wrong command within me which is not allowing me to arise and possess all my possessions in JESUS' NAME.
Prayer: FATHER, please send the right command into me that will cause me to arise and possess all my possessions in JESUS' NAME.
UNTIL YOU MOVE, NOTHING MOVES!
GOD admonished Prophet Habakkuk not just to fantasize about his vision, but to go ahead to write it down. And the reason HE gave for writing it down is so as for him to make a move…
Habakkuk 2:1-2
"I will stand upon my watch, and set me upon the tower, and will watch to see what he will say unto me, and what I shall answer when I am reproved. 2 And the LORD answered me, and said, Write the vision, and make it plain upon tables, that he may run that readeth it."
I remember the time we started this Parish about years back. It has no external windows, nor doors. No a/c…but I had the vision of an air-conditioned church. I saw it, but I didn't just fantasize about it… I moved to ask for willing donation from the few brethren that were around then, as I led, giving the cheque to purchase the first out of the six a/cs we were trusting GOD for then.
As I made that move of putting the money for the first a/c down, GOD moved a brother to put down the money for two a/cs…and GOD moved more brethren to bring whatever they had, and before long… within the space of two months, GOD helped us to have the windows all around, the defined entrance, the ceiling, the special lighting that we desired, and the six split unit a/cs were installed! GOD MADE A WAY WHEN I MADE A MOVE!
🙏 FATHER, please help me to make the right move that will cause YOU to make a way for me where there is no way in JESUS' NAME.
The scripture tells us of four lepers that were almost starving to death, but their condition changed from poverty to prosperity when they made a move towards the Camp of the enemies, of which they suspected provision there....
2 Kings 7:5-6
"And they rose up in the twilight, to go unto the camp of the Syrians: and when they were come to the uttermost part of the camp of Syria, behold, there was no man there. 6 For the LORD had made the host of the Syrians to hear a noise of chariots, and a noise of horses, even the noise of a great host: and they said one to another, Lo, the king of Israel hath hired against us the kings of the Hittites, and the kings of the Egyptians, to come upon us."
When the impression of us going from two services to three came to me, I was at the Redemption Camp some five of six years ago. I was not wishing anymore. I prayed about it. Put it down on paper. Drew the order of programme for each service. Came to church the next Sunday to announce that we would be starting three services. And … GOD MADE A WAY!
About two years ago, we started four services, and the same process was put in play … and GOD MADE A WAY.
You don't need to know how it would be done. Just make a move in the right direction, and GOD will make a way.
There was a sister, being a medical doctor, had a professional examination of which she must not fail three times. Failing three times would spell her not able to do it again. Hence, would be limited in practice or so.
The first time she took the examination, she failed woefully. The second time, she failed extra woefully. She then began to pray and fast before going the third time. When she got there, all the people going into the room they were to be examined were coming out with strong faces telling that the session did not favour them.
As the person before her came out with red eyes, she was trying to ask what questions were asked when she heard from inside, "Next!" She went in. She saw people sitting across a long table. They were the examiners. Each candidate would be asked a question or two, and the way the person answered would determine whether or not he or she would be passed. It was more of practical session because someone was lying on a couch by the opposite end to the panel, and one of them asked a question.
This sister said the question was like Greek to her. She had no idea… but she still went to the couch, examining the patients because she was told to show them what she would do in that case (the case of which she didn't understand).
After feeling time was running out, she took the wrist of the mock-patient of the couch to check for time when suddenly, one of the people in the panel shouted, "Yes! That is the first thing to do! You are to check the pulse first! All the other dummies that came before you knew nothing. That is brilliant!".
She was dumbfounded, but played along, nodding her head… "Yes…pulse…pulse…". She was passed! GOD MADE A WAY FOR HER!
🙏 FATHER, please help me to always make the move that will cause YOU to make a way for me even when there seems to be no way in JESUS' NAME.
There was a song coming into my spirit as I was meditating on this message, "MADE A WAY by TRAVIS GREENE"
"You made a way ... When our backs were against the wall ... And it looked as if it was over ...You made a way" .. ... And we're standing here ... Only because you made a way ...You made a way
Isaiah 43:19
"Behold, I will do a new thing; now it shall spring forth; shall ye not know it? I will even make a way in the wilderness, and rivers in the desert."
🙏 FATHER, please help me to do the needful for YOU to make the way for my settlement in the area of my need in JESUS' NAME.

Posted using Partiko Android