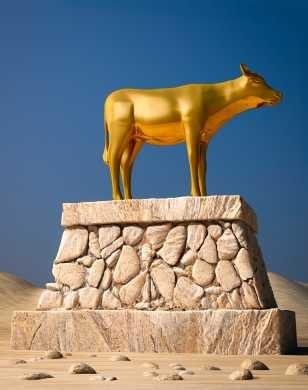 I once read about a young man who lived in ancient Rome and got arrested for being a Christian. The Roman authorities demanded that he bow down and worship a small statue of Caesar or face imprisonment. He walked up to the idol and acted like he was going to bow down to it but at the last moment he kicked it over and smashed it to pieces. The Roman guards promptly executed him.
Today I am going to kick over an idol called Identity Politics.
---
* I am Male * I am white * I am a registered Republican * I am a husband * A brother * An uncle * A son But these things are not my ultimate identity.
My ultimate identity is; made in the Image of God, saved from sin, a child of God the Father and a younger sibling to Jesus Christ. Anything else seen as a primary identity is an idol and will be knocked over into pieces and burned in Hell.
Being LGBTQI can not be where you get your ultimate identity from because it is not God's ultimate identity for you. With a loud speaker I shout " YOU ARE MADE IN THE IMAGE OF GOD!"
You may be gay but you are much more than gay.
You may be black but you are much more than black.
You may be transgender but you are much more than transgender.
You may be rich or poor or speak another language but that is not who you are.
God loved you enough to send His Son to die for you.
Galatians 3:28
There is neither Jew nor Greek, there is neither slave nor free, there is no male and female, for you are all one in Christ Jesus.
Any other ultimate identity is a false god, and I denounce it. I denounce my own false gods first. What is "white"? A god just as false as Zeus and Aphrodite and Caesar.
It is true that I am male and married but in Heaven we will be like the angels and no one will get married.
My false gods are just as toxic as everyone elses and like Father Abraham I too come from Ur! But I am leaving the house gods behind. I beg everyone to leave theirs behind as well. Let's all get to the Promised Land together; gay or straight, male or female, Greek or Jew.
This is the call of the church. If a false religion tries to silence it so be it. But I won't worship Caesar's gods.