What do we fear about? A lot actually, crosses our mind everyday and, fear happens to occupy half the part. It is easy to say that we have faith and then we have fear. Come to think of it, Fear and Faith are almost the same. They both make us believe of things yet to come. Many bible verse talks about fear, because God knows that it is man's daily struggle.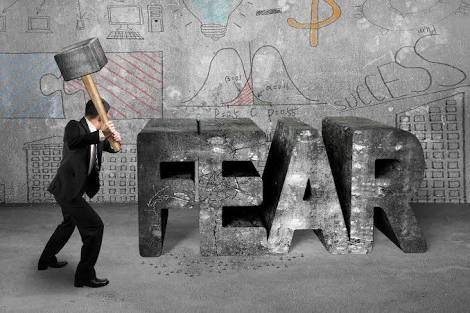 image source
The Lord is my light and my salvation—
whom shall I fear?
The Lord is the stronghold of my life—
of whom shall I be afraid?
When the wicked advance against me
to devour[a] me,
it is my enemies and my foes
who will stumble and fall.
Though an army besiege me,
my heart will not fear;
though war break out against me,
even then I will be confident.
One thing I ask from the Lord,
this only do I seek:
that I may dwell in the house of the Lord
all the days of my life,
to gaze on the beauty of the Lord
and to seek him in his temple.
For in the day of trouble
he will keep me safe in his dwelling;
he will hide me in the shelter of his sacred tent
and set me high upon a rock
Psalm 27:1-5
Perhaps, one of the known Bible verse is the Psalm of David. He is the best example how man defeats fear. He has felt and seen fear, and yet his faith in God see him through.
We deal with fear on a regular basis, it is running over our minds non-stop. We fear about our family, our career, our love life, our health. A hundred and one ways we fear on each one of those.. And the more we fear of something, the more it gets intense. Some would have nightmares, sleepless nights, depression, anxiety, sickness all because of thinking about our fears. That we do not know if will happen or not. But why is it easy to think about our fears, than to think about God?
fear not, for I am with you; be not dismayed, for I am your God; I will strengthen you, I will help you, I will uphold you with my righteous right hand.
Isaiah 41:10
God knows we are going to struggle with Fear every moment of our life. In fact, it has become part of our life and so God promise to strengthen us and uphold us. But the only thing that can activate God's promise is to have Faith. Faith, like fear is to believe in the unknown. We like to believe of the worse things that can happen to us, yet we fail to realise that daily there are miracles and provisions from God.
Haven't we realize that the things we worry and fear few years ago has not happened yet. We dwell on it day in and out, we spent sleepless nights thinking about that, almost drained our mind. And today, we remained unscathed. And this my friends is the Grace from God.
For the Spirit God gave us does not make us timid, but gives us power, love and self-discipline.
2 Timothy 1:7
We can choose to have faith than fear. Fear is a demon's way to rob us of our peace and joy in life. But since God did not make us to be fearful, He gives us strength to be fearless. We can see God's full potential if we take the limits off Him. If we choose to believe that God, will take care of us no matter what- our mind thinks and fear. We can choose to be fearless, be bold, be courageous! If we want to see our way through all the limits we set on our self, because of the fears we have. Then God will see us through, exceedingly abundantly above and beyond.
Blessed Sunday everyone!