Recently, I have been watching some apologetic videos where people with creationist worldviews debate or attempt to debate people with a scientific, naturalistic worldview. Often these debates focus on evolution, or often focus on the history of the Earth.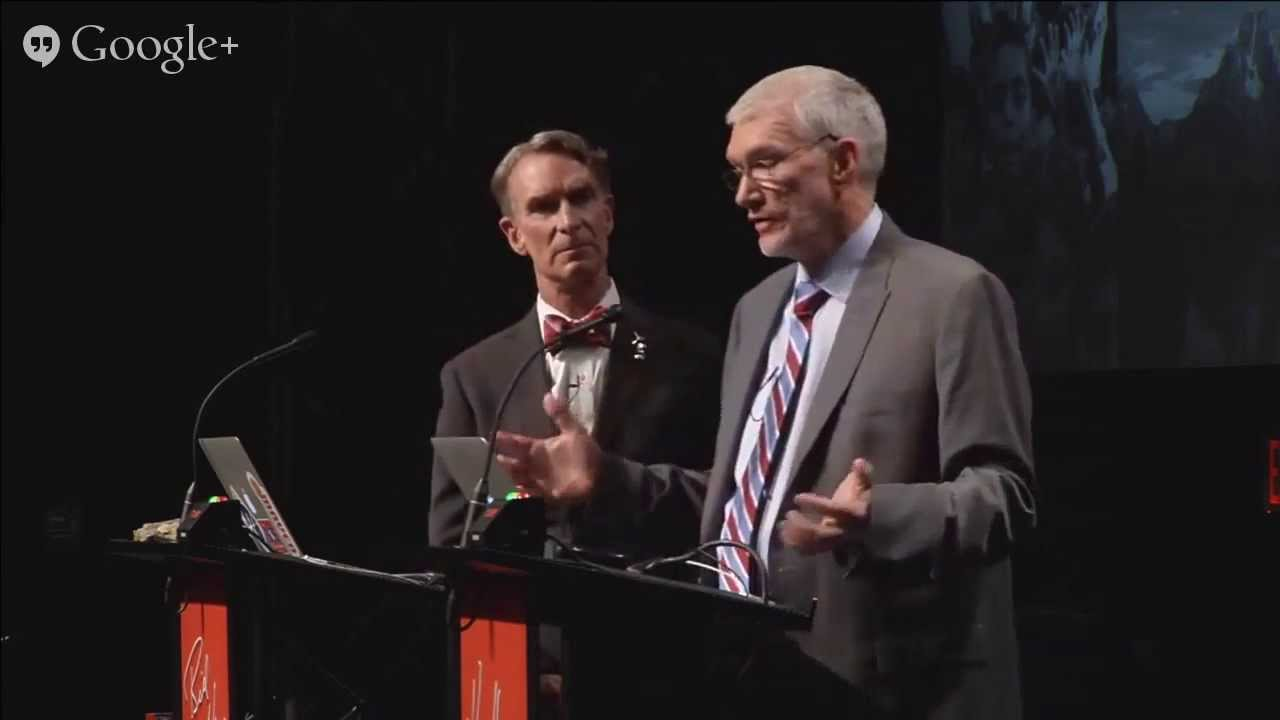 One prominent debate a few years ago was between Bill Nye and Ken Ham (seen above). As a creationist, I did enjoy Ken Ham pointing out that "science" has become this umbrella term to encompass different methods of inquiry. This is important because often people holding to scientism / naturalism declare that science has spoken, and treat analytical inferences into the past as if they were equivalent to repeatable experiments done in a laboratory today. They are ultimately of a different nature because experiments follow the scientific method. Inferences into the past based upon data, while incredibly useful and informative, are not equivalent to direct observation that anyone can repeat by conducting their own personal experiment.
One assumption modern scientific philosophy makes is uniformitarianism. This concept is a way of describing how science assumes, "... invariance of physical laws through time and space." In science, uniformitarianism is made to make inferences into the past for such things as radioactive decay dating. In school, I remember it being explained to me that the radioactive decay of an element could never change. Recently, science has demonstrated this claim to be false in certain circumstances, and last I checked, they were unclear as to the reasons.
Forbes - Radioactive Decay Rates May Not Be Constant After All
Phys.org - Radioactive Decay Rates Vary With Sun's Rotation
This is just one minor thing I take issue with in modern science. Grand claims such as uniformitarianism are made, without ever proving that the underlying principle is true. Then when actual science is performed, we learn the principle is not as true as we were told. In general, I think uniformitarianism is a nice concept to work with, but to make it an overreaching absolute without ever proving how things worked in the past, is not really science. It is an anti-science viewpoint. It is for issues like this that I think Ken Ham's criticism of "historical science" vs. "observational science" is valid. Often, historical science makes an interpretation of data using an unproven principle to make a conjecture. Conjectures are nice; they are not science. To do actual science, you would have to prove all the assumptions used in the conjecture are valid, before the conjecture could be supported. Certainly, you could call it science if you had begun down the road of how to prove the assumptions of a conjecture, even if the answers were not all developed yet. It is fine to have a conjecture be a hypothesis. This is not what modern science does. Modern science ignores that assumptions were made, and calls an unproven conjecture "scientific fact". Then this conjecture is taught as fact to people such as myself, since the time I was a child.
"Don't let schooling interfere with your education" - Mark Twain
Is Creationism Science?
What I dislike about the entire premise and format of a creationism vs. scientism debate, is that creationism is not science. When I say this, a lot of atheists reading that sentence might be thinking, "Of course, science attempts to logically prove things through a methodology that can be trusted, and creationism is not proven, ergo, creationism is a false belief system." When I say creationism is not science, I do not mean it is a false belief. I mean that most all people (including myself) who hold to a creationism worldview did not derive this worldview by the study of science, or the proofs available in science. Certainly, some few people out there did look at the scientific facts of nature and ultimately conclude in a creator. Those people are a minority compared to the millions of religious people who believe in creation. The average person who believes in creation, takes that stance because they were told to.
Isaac Newton is considered the founder of modern science. He was born in 1642. Prior to the mythologies and philosophies of science ever existing, is when the creationist worldview existed. For example, I am a Christian. Jesus did not believe in creationism because he studied science and science told him creationism is a valid viewpoint. Jesus believed in creationism because he claimed to be creator. He referenced and quoted from Jewish scrolls, that pointed to a creationism worldview. The basis of Jesus's belief in creationism was never through the implementation of the scientific philosophy.
The fallacy I see many Christians in apologetics engaged in, is that we are creationists because the "evidence suggests this is so". No, we are creationists because someone told us to be creationists. The source of this belief might be a friend, a relative, God, or what we have read from scripture. We are generally not creationists because we looked at all the physical science information available to us, weighed the evidences rationally and fairly, and then ultimately concluded creationism was the best explanation for all the possibilities of what could have transpired. What should matter to a Christian is whether the source of the statement on creationism was actually telling the truth in a way that can be relied upon, such as reliance upon scripture, direct revelation, ect. I do not call this activity science because it does not adhere to scientific philosophy, even though when done correctly, I believe the conclusions are true.
Why it is usually wrong to try to make creationism science...
The danger with creationists trying to turn a trust-belief about creationism from a source like trusting scripture, into a statement of scientific fact is that they are violating how science works when they make this claim. It is also highly disingenuous. If creationism should be taught as science, but the person telling you this does not believe in creationism because they derived the belief from science, but they derived that belief from something else... why should we believe them? I don't even believe them, even though I am a creationist.
I think it is great for science to research creationism, but if it does so, it needs to actually still be science and not religious opinion or philosophical statements. Philosophy and belief systems are not science, and it is actually very productive as a Christian to separate the two.
Really what science is, it is the implementation of a philosophy that was originally birthed from a Christian worldview. We can think of this in three tiers. The higher-order tier is implementing science, below the practical implementation is the philosophy of science, and below the philosophy of science is basic worldview such as a Christian one. Recently, people have begun to use a naturalistic or scientism worldview as the foundation, rather than Christianity.
-) Implementation of Science
-) Philosophy of Science
-) Worldview: Christian, Judaism, Naturalism, ect.
One thing to cover is that the philosophy of science is not scientifically proven because it is philosophy. Trying to fully prove it using science would be circular logic in many instances. It is an important point because many people like to claim they do not believe things which are not scientifically proven. Their statement is false because to prove something, you have to take on assumptions which you cannot prove. Just to perform science, people are believing a great many things which were never scientifically substantiated.
Then also, historically, the philosophy of science was born from Christianity. Isaac Newton wrote a great deal about his belief in Jesus Christ. From that Christian worldview, he implemented some of the founding concepts of the philosophy of science. He did not first engage in science, and then become a Christian, it worked the other way around. First he was a Christian, and from that worldview, he engaged in science and invented it.
What if science disproves our belief?
To me, if this is the situation we are presented with, we should first look at all possibilities:
Possibility 1) Science is making an error, as it commonly does, because 'scientific facts' are often just conjectures where not all the possibilities or underling assumptions have been explored
Possibility 2) Our belief is wrong
Possibility 3) A mixture, some of what we believe is wrong, some of what science claimed is wrong
Possibility 4) Both science's claims are wrong, and our belief is wrong, and it is just two positions of ignorance trying to claim they are right
How to deal with science as a Christian Creationist
For me, I am not threatened by the conclusions of science because I have a personal relationship with God. If science makes a statement which seemingly disagrees with my interpretation of scripture, it is a very simple matter of me asking God for answers (wisdom).
When I became a Christian, I asked God why evolution was false. I had believed evolution my whole life, and I understood scriptures well enough to understand that they teach against evolution. To me, it seemed evolution made sense, and was pretty logical, so I needed an answer from God because I am not smart enough to figure everything out. God showed me the scientific reasons why evolution is false.
The best reasons against evolution are rarely ever talked about. And the thing God showed me that demonstrated it was a false theory, is a concept I have only heard a couple people discuss, meaning the correct information is almost unavailable.
Many religious people have no relationship with God, though, so they cannot/will not ask God for legitimate understanding. They are often relying on their weak interpretation of religious concepts to try and say creationism is science. As if science should conform to their personal (and often wrong) viewpoint derived from a religious doctrine. As a Christian who believes God, who claims to have met God on multiple occasions in vision and dreams, I do not believe this is a productive path forward because it would be trying to force false religious beliefs on culture. Yes, I believe creationism, but I do not believe just any version of it that a Christian puts forth as true based on their limited understanding of scripture. Why would I as a Christian, support teaching other people false concepts? I would not. We should be able to adequately substantiate something is true before we expect people to believe it.
Then there are other Christians who just end up accepting things like evolution, and then they conveniently reinterpret scripture to make it say something it never said. This too is just silly, and it undermines Christianity to those who evaluate it from the outside. Any sane person who reads the Bible, knows it teaches creationism, to reinterpret the plain meaning to make it say something it does not teach, makes you seem like a wishy-washy person unable to accept reality. The better Christians in apologetics, like Ravi Zacharias, focus on the philosophical and moral aspects, without trying to wade too heavily into the scientific realms where they would be unequipped. This can be done without diluting scriptural beliefs.
This is important to understand because as a creationist, I understand creationism to be true, but I also understand that in the present society, we are totally unequipped to logically debate creationism in a meaningful way in the realm of science. One reason we are unequipped is lack of funding. Even with funding, it would take decades to build up a body of research. What we are far more equipped to deal with, are false claims made by the scientific community which often deviates from science and holds anti-science viewpoints. Part of the reason I am writing this is I hope some creationists will read it. Presenting arguments as "science" when zero actual research was done is not science. God does not require you call it science if it is not science. We should endeavor to be honest, and get our facts in order, which presents Christianity or creationism a lot better than trying to make things up.
---
Proper Scientific Apologetics (which really is just "Science Done Right")
For those interested in creationist apologetic arguments, or why I could possibly believe evolution is false, here is an example of real science being done by a PhD:
Notice the scientific community put claims in our school biology textbooks, which were unproven conjectures that failed to consider all the possibilities of what transpired. Similar to the 'scientific fact' that radioactive decay rates could never vary, even worse than this claim was that evolution has been put forth as proven, when the theory failed to ever address or adequately explain where the information in genetics comes from, since natural selection produces a loss of genetic information. Furthermore, mutations creating genetic information such as new proteins with new positive functionality has not been observed. The mutation cited in the video was a very simple change inside of an existing protein. Mutating an entire new protein which is adequately built to produce positive functionality in an organism (not negative functionality) is problematic for a system of minor increments of mutational changes which evolution requires. Half of a protein, will not produce 50% of the functionality, just like trying to drive 50% of a vehicle does not work. At best, it produces neutral functionality, but more likely it produces negative functionality, meaning the organism would be selected against by natural selection, thus preventing evolution from ever happening.
It is this type of rigor that creationists need to prepare themselves for in order to adequately argue against existing false viewpoints in the scientific community. To do this properly, you must be more intelligent/knowledgeable than the people you are arguing against. If you are not intelligent, you either should not do this, or have God make you intelligent so you can do this. Fudging it, and doing it wrong, pushes people away from Christianity not toward it.