Hello to all photography lovers!
You were 6 participants for this first CHRISTMAS-STEEM PHOTO CONTEST 2018, thank you so much!
---
If you want to do like him and sponsor this contest, join us on this telegram link: https://t.me/joinchat/GRi3WgpUQrZbtDe2aHWDjA
---
Here is the winner of this Day #5 who will be selected for the final and also the 4 other participants whose work was very good! I voted all your blogs and I invite you to participate in the remaining 2 days! 🙌
I can't wait to see your work!
Each user has 1 entry per day that will be valid for the challenge.
It's possible to join the contest at any time. Let's play guys!
---
---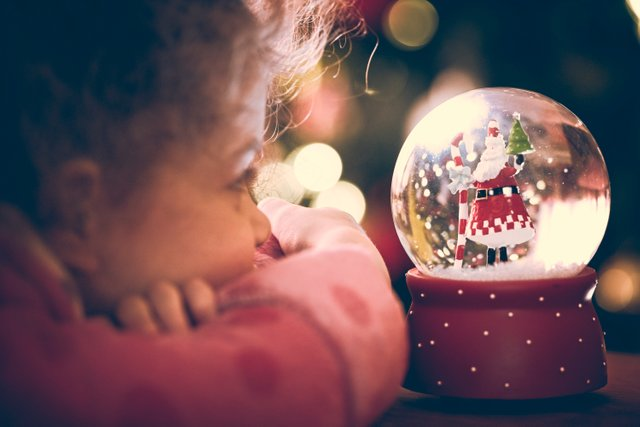 What's going through her mind as she's looking into Santa's eyes? I wouldn't know. Those peaceful moments with my daughter are rather rare and tend to last just a few seconds. So I'm super excited when I'm able to capture them. They are really magical.
As far as photography, this was taken with my 35mm, my favorite lens for these types of shots. I've added a color toning reminiscent of older films to add to the timeless feeling.
This photo is part of the #christmas-steem photo contest by @flamingirl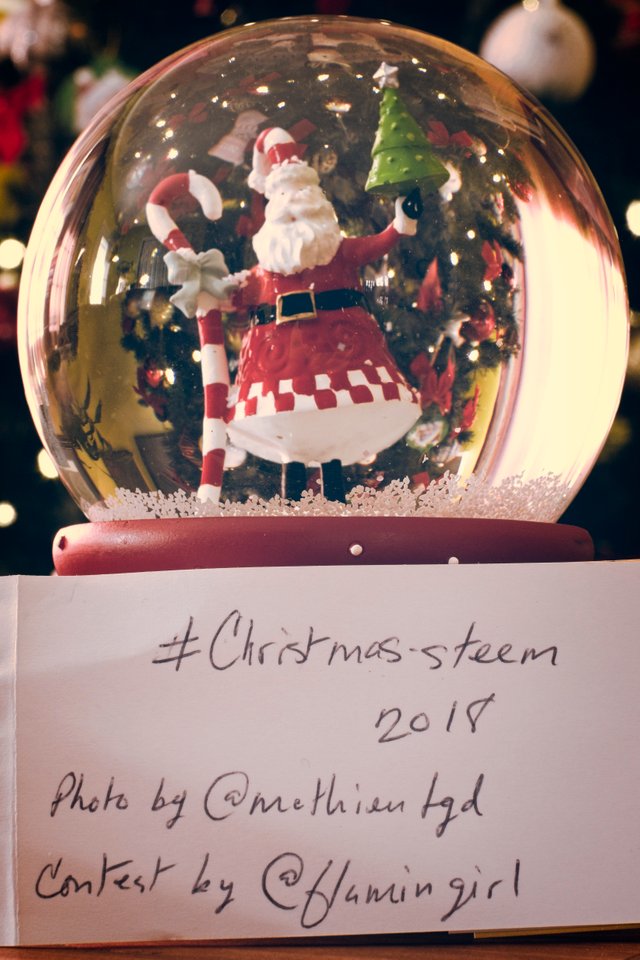 HONORABLE MENTION for: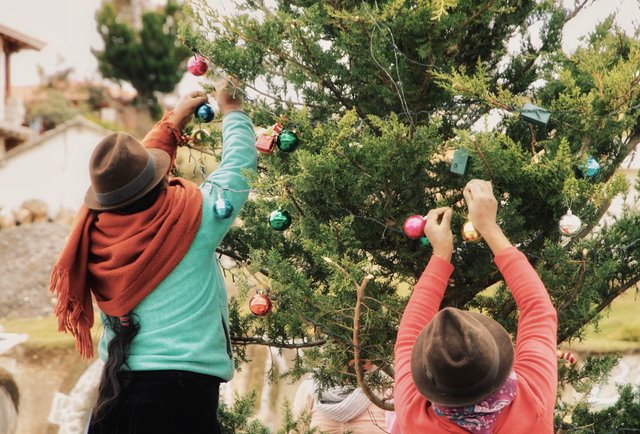 What's up fellow Steemians! The head image here is my entry for the CHRISTMAS-STEEM PHOTO CONTEST 2018 by @flamingirl. She is a devoted Steemian who posts daily and hosts photo contests regularly. Check out her page and join the Christmas photo fun! =)
I took these two photos during the Christmas time 2 years ago in Ecuador. I was travelling solo through South America then from Colombia all the way down to Chile. So I got to experience the holiday in the Southern Hemisphere, and I shared some pictures on Steemit last Christmas - Be Creative - 10 Alternative Christmas Trees for Your Inspiration .
It did feel very unique in some hotter places, while in these 2 photos, it was in the Andean mountains in central Ecuador, so it's still pretty cold. The local women in traditional clothing were decorating the Christmas tree at the center of their small village. I happened to walk by and captured this scene.
What do you think of this shot? Do you find it interesting as I did? :)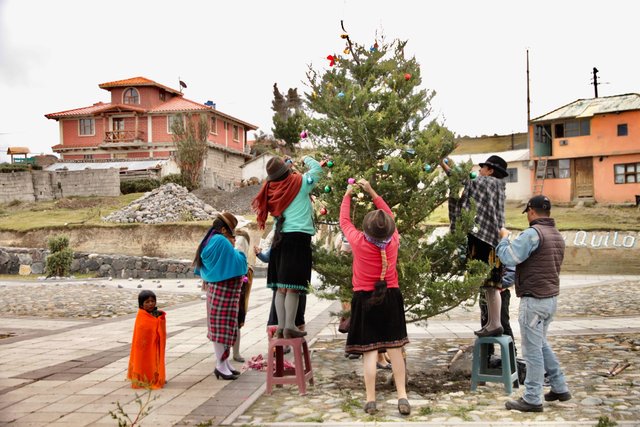 各位节日快乐~!两年前的圣诞期间,我在厄瓜多尔中部山区看到几位当地人在装饰圣诞树,觉得挺有意思,就拍下了这两张照片。用来参加@flamingirl的圣诞主题摄影活动,一起来玩吧!
当时我只身一人,两条腿加个小包,从南美洲北边的哥伦比亚一路南下晃荡到智利,见到了不少南半球圣诞新年的独特场景,去年圣诞节时已经在这里发了一些 (比如开脑洞:别样圣诞树影集,见下图),接下来的帖子里会继续分享。=)

MERRY CHRISTMAS EVERYONE 🌲🎅
I hope you have wonderful time during this festive season.
I was busy the last days and could not particpate in the Christmas-Steem photo contest organised by @flamingirl when it started. The good news is that the contest is not over.
Here are the rules
So, here it is my entry - Furry and the Christmas tree.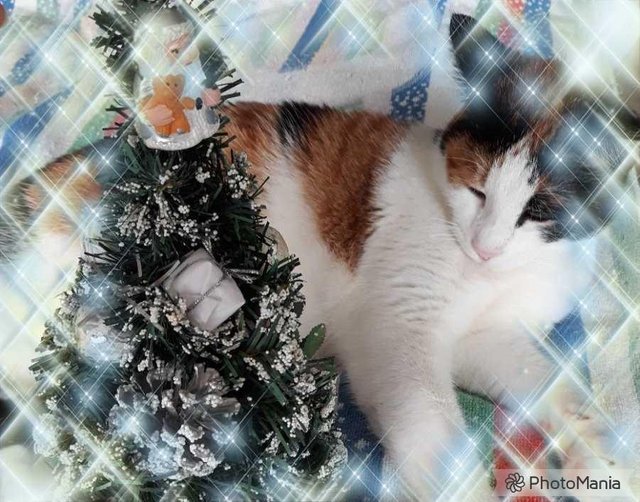 I have mentioned several times that my decoration this Christmas was made in such way, that the cat not to reach it. This was the reason for not having big Christmas tree, because we worried the cat can chew it and swallow some bits. Our small Christmas tree however was put in a place that Furry did not notice it and was not interested at all. It is just another part of the decoration and it is small indeed. For the contest I put it next to her while she was still sleepy and not in playful mode. With the help of the app Photo Mania I made the edits.
The next photo is the the proof.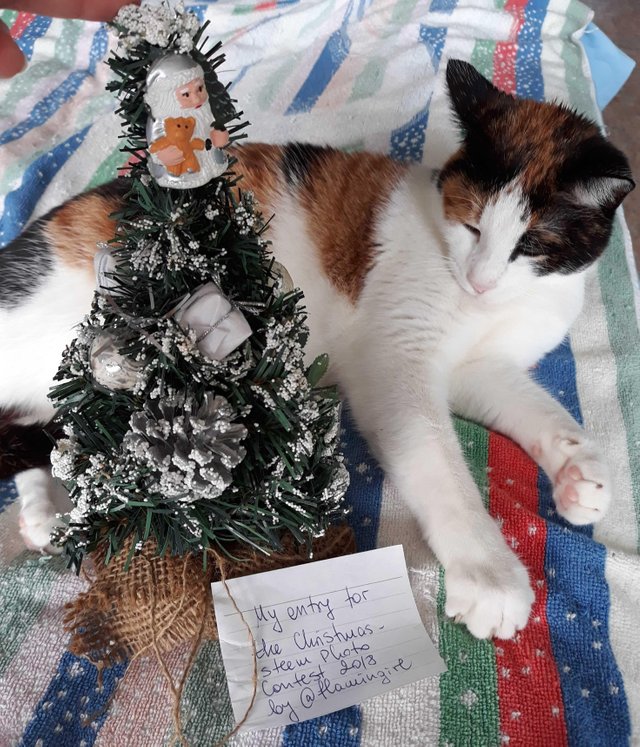 🎄🎅🎁🎄🎅🎁🎄🎅🎁🎄🎅🎁🎄🎅🎁🎄🎅🎁🎄🎅🎁🎄🎅🎁🎄🎅🎁🎄🎅🎁🎄🎅🎁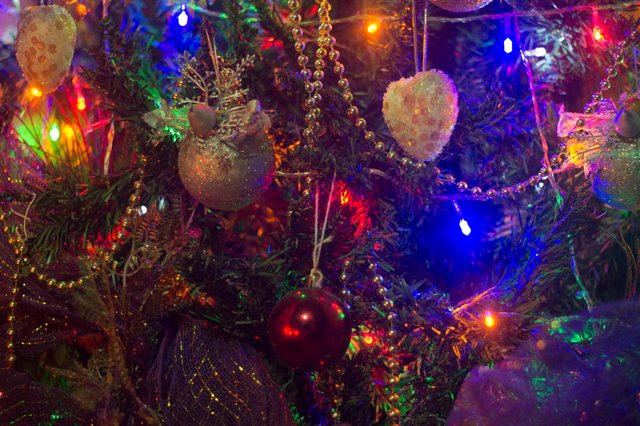 Sony Alpha A3 | Minolta 50mm 1.4 | ISO 200 | 0,8 Shutterspeed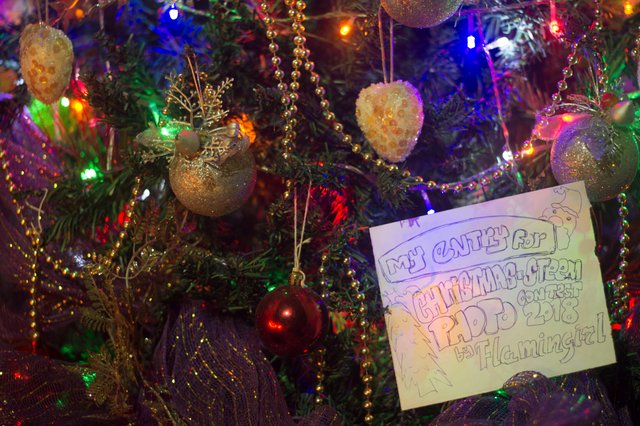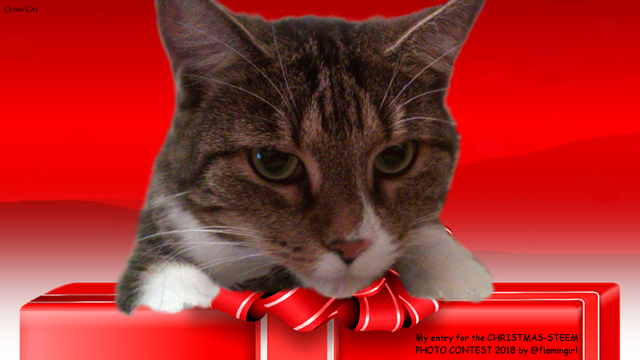 "It's mine… my own… my precious!"
And I'm not giving anything away. Yes, I am selfish, but cats are like that. But otherwise I am very sweet, only not today, everything belongs to me. And if you want something, you have to mess with me...my precious :)
Merry Christmas!
This is my entry for the CHRISTMAS-STEEM PHOTO CONTEST 2018 by @flamingirl

Congratulations @mathieutgd and Thank you to all participants!!!
See you soon for the 6th DAY of the 7 DAYS 🎄🎅🎁 CHRISTMAS-STEEM PHOTO CONTEST 2018 🎁🎅🎄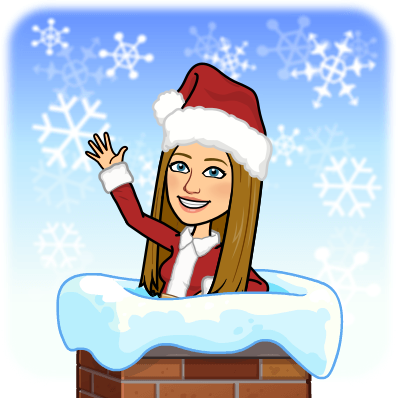 If you liked reading this article, feel free to FOLLOW ME, UPVOTE and RESTEEM! It's always appreciated =D. Thank you all for your support and see you soon for the news flamingirl's adventures!