Hello everyone! In today's analysis, I will be analyzing my favorite chorus from the Messiah "And He Shall Purify." If you have missed any of the previous articles, they will be linked at the bottom of this article. I will admit that I am fairly behind in pre-writing these (it is currently Thursday night). I am not sure if I will be able to keep up this schedule or not. Please have patience if I fail. Anyway, without any further dilly dallying, let's get into the article!
Analysis
Text
and he shall purify the sons of Levi, that they may offer unto the LORD an offering in righteousness.
It is incredible how much Handel does with these few lines of text. I am quite fond of this text! It (also) comes from scene two of the Messiah which talks of the coming judgement of God.
Form
I would say this piece is through composed (quite similarly to much of the other music I have analyzed thus far). At first, it seemed like a fugue in terms of the entrance of the voices.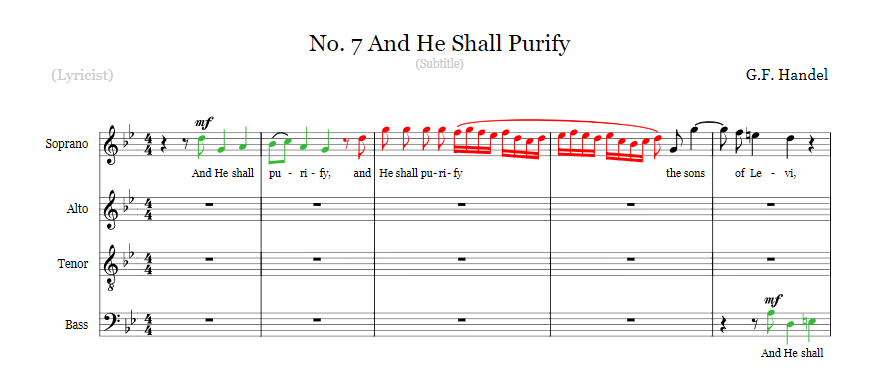 But the tenor and alto combined entrance in the dominant helps us quickly realize that this is not a standard fugue (though it is still heavily based in counterpoint).


I am going to say that this piece is mainly defined by two main cadences (both on the text "That they may offer unto the Lord an offering in righteousness.). The first cadence tonicizes c minor, and the second (and final) cadence tonicizes g minor. Here are the 2 cadences which act as a sort homophonic punctuation to the contrapuntal ideas that preface them.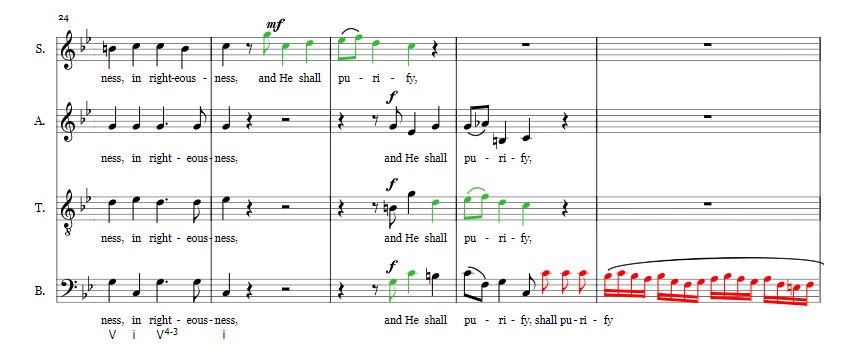 and

However, I would say that all of the material is related so there are not really "different sections." The whole piece seems to be a development of three specific motifs.
Motifs
Here are the three motifs which I've observed and highlighted in green, red, and dark blue.
Green and Red motifs: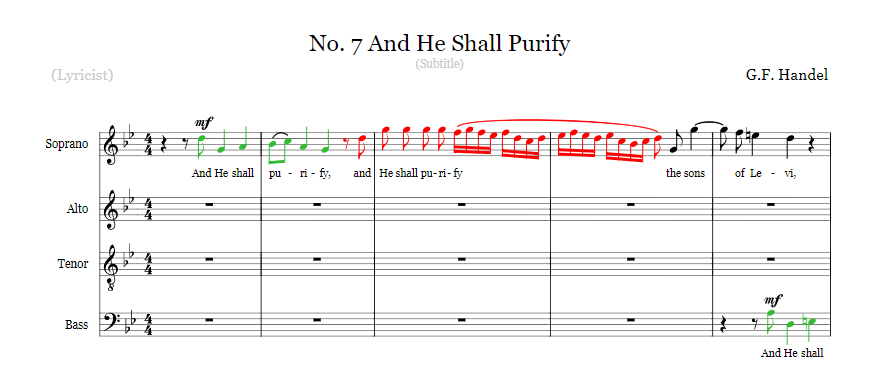 Dark blue motif:


The green motif consists of the text "And He shall purify". Similarly, the red also consists of the text "And He shall purify", but the red consists mainly of a melisma while the green is just a short thematic statement of the text.
I will say, my favorite motif is probably the blue motif. It provides an interesting contrast to the other two motifs in that it is long and offset from the beat. I often find myself thinking that it is very much like a sigh.
General Effect
Overall, I would say that this piece has a great forward motion due to the driving and almost percussive nature of the rhythms. The piece has a general tone of seriousness, and when I hear it, I do feel as if it represents purification (which is why I made the thumbnail a crucible).
I also did not copy the accompaniment, but that is just as important towards the effect as the choir. I am quite fond of a lot of what occurs in the accompaniment, but I did not copy it because I did not want to include too much information in the video. Too much information would make the video harder to understand. It is also for this reason that I only labeled roman numerals at the cadences. It is conceivable that harmony is occurring throughout the contrapuntal sections as well,but I think it would be very cluttered and disorganized if I tried to put a label on this harmony. I feel what is most important is the counterpoint and the motion it creates as opposed to the harmony which may occur as a biproduct. Here is the video:
Previous Analyses
The Nutcracker Suite
Miniature Overture (12/4)
March (12/6)
Dance of the Sugar Plum Fairy (12/8)
Trepak (12/10)
Arab Dance (12/12)
The Messiah
Overture (12/5)
Comfort Ye. . .Ev'ry Valley (12/7)
And the Glory of the Lord (12/9)
Thus Saith the Lord. . . and But Who May Abide? (12/11)
And He Shall Purify (12/13)
Upcoming Analyses
Chinese Dance from the Nutcracker Suite (12/14)
Conclusion
Thanks for reading this! I hope you are enjoying this series so far! It has definitely taken a lot to write. I apologize if this seems moderately rushed. I went to bed last night because I wasn't feeling well, and I woke up at 5am today to finish the article before I go to school at 6:50am (it is currently 6:30am). As always, please remember that feedback is greatly appreciated. I look forward to seeing you in tomorrow's post!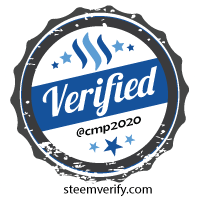 (Note) In order to encourage meaningful feedback on the platform, I will check comment trails of users who leave superficial comments (ie "Awesome post," or "Upvoted.") and will mute any users who exhibit a pattern of leaving "spammy" comments.