If you live in a hard water area, you find you get limescale deposits on everything - on the taps, the showerheads, in the kettle and coffee maker, coating sink draining boards and bath tubs.
There is quite an industry out there selling expensive limescale removers - but old-fashioned vinegar works very well if you do it properly.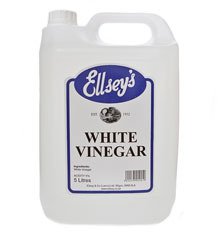 First - don't use the vinegar the way you would a store bought cleaner.
Whenever you get reports that people haven't found vinegar to be a success, you find that they've decanted the vinegar into a spray bottle, sprayed, expected changes "in an instant" and then found they needed elbow grease to shift the limescale.
Don't do that!
Instead, pour the vinegar into a bowl - and soak kitchen towels in it. Then apply the kitchen towels to the places you want limescale removed - the draining board, the sides of the bathtub. The key thing is this - you want the vinegar to have close contact with the limescale - if you spray, gravity means most of the vinegar runs down. The soaked kitchen towels hold the vinegar in place. Slap these vinegar-soaked kitchen towels onto every place you have limescale - drape them around the shower head, cover your taps with them.
The next ingredient is time.
Leave them in place for at least two hours or longer. Go and do something else while the vinegar does it's magic.
What happens is a chemical reaction: The limescale, calcium carbonate (CaCO3) combines with the acetic acid in the vinegar (C2H4O2). The product is CO2 (carbon dioxide gas, which just goes into the atmosphere, H2O (water) and Ca(C2H3O2) (calcium acetate, which is water soluble).
After you have allowed the vinegar to do it's thing, remove the kitchen towels and bin them, and then use a sponge with clean water to rinse the area down. Everything should come off easily.
For kettles, just pour the vinegar into the kettle and let it sit for a while, before rinsing it out. For coffee makers, pour the vinegar into the tank where you normally put the water. Let it sit for half an hour - then switch the machine on and let the vinegar go through the system. Then do another cycle with clean water.
One downside of vinegar is the smell. So open all the windows when doing your vinegar cleaning. It's easier to do this in spring or summer, so make this part of your spring clean routine.