What is Cloud Computing?
Simply put, cloud computing provides a variety of computing resources , from servers and storage to enterprise applications such as email, security, backup/DR, voice, all delivered over the Internet. The Cloud delivers a hosting environment that is immediate, flexible, scalable, secure, and available – while saving corporations money, time and resources.
Cloud Flavors?
• SaaS – Software as a Service
• IaaS – Infrastructure as a Service
• PaaS – Platform as a Service
• DaaS – Desktop as a Service
What is Software as a Service? (SaaS)
• SaaS is a software delivery methodology that provides licensed multi-tenant access to software and its functions remotely as a Web-based service.
• Usually billed based on usage
• Usually multi tenant environment
• Highly scalable architecture
Infrastructure as a Service (IaaS)
• IaaS is the delivery of technology infrastructure as an on demand scalable service
• Usually billed based on usage
• Usually multi tenant virtualized environment
• Can be coupled with Managed Services for OS and application support
IaaS is not Managed Hosting
• Traditional managed hosting is a form of web hosting where a user chooses to lease entire server(s) housed in an off-site data center.
• Term based contracts based on projected resource requirements
Platform as a Service (PaaS)
• PaaS provides all of the facilities required to support the complete life cycle of building and delivering web applications and services entirely from the Internet.
• Typically applications must be developed with a particular platform in mind
• Multi tenant environments
• Highly scalable multi tier architecture
Different Deployment Models
Public cloud
• Public cloud (off-site and remote) describes cloud computing where resources are dynamically provisioned on an on-demand, self-service basis over the Internet, via web applications/web services, open API, from a third-party provider who bills on a utility computing basis.
Private cloud
• A private cloud environment is often the first step for a corporation prior to adopting a public cloud initiative. Corporations have discovered the benefits of consolidating shared services on virtualized hardware deployed from a primary datacenter to serve local and remote users.
Hybrid cloud
• A hybrid cloud environment consists of some portion of computing resources on-site (on premise) and off-site (public cloud). By integrating public cloud services, users can leverage cloud solutions for specific functions that are too costly to maintain on-premise such as virtual server disaster recovery, backups and test/development environments.
Community cloud
• A community cloud is formed when several organizations with similar requirements share common infrastructure. Costs are spread over fewer users than a public cloud but more than a single tenant.
Enterprise Cloud Solutions
Hybrid Cloud
• Scalability of the Public Cloud with the control and security of a private cloud
Test / Development / QA Platform
• Use cloud infrastructure servers as your test and development platform
Disaster Recovery
• Keep images of your servers on cloud infrastructure ready to go in case of a disaster
Cloud File Storage
• Backup or Archive your company data to cloud file storage
Load Balancing
• Use cloud infrastructure for overflow management during peak usage times
Overhead Control
• Lower overhead costs and make your bids more competitive
Distributed Network Control and Cost Reporting
• Create an individual private networks for each of your subsidiaries or contracts
Messaging Alternatives
• Replace Microsoft Exchange and SharePoint with Google Apps
Rapid Deployment
• Turn up servers immediately to fulfill project timelines
Functional IT Labor Shift
• Refocus your IT labor expense on revenue producing activities
Service Deployment Methodology
• It is paramount that IT and business goals are aligned throughout the process when considering a move to cloud computing, such as cost savings, security, control, flexibility, manageability, simplification, ease of use, expandability, reliability, availability…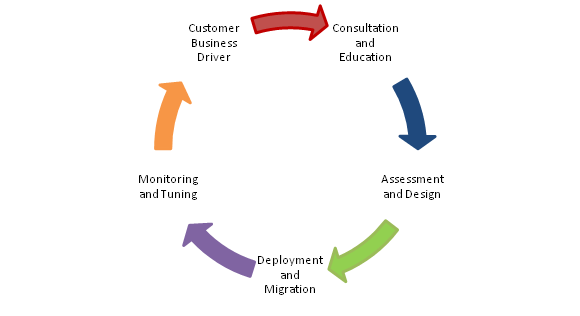 Conclusion
• Cloud Computing is outpacing the IT industry
• Real business value can be realized by customers of all sizes
• Cloud solutions are simple to acquire, don't require long term contracts and are easier to scale up and down as needed
• Proper planning and migration services are needed to ensure a successful implementation
• Public and Private Clouds can be deployed together to leverage the best of both
• Third party monitoring services ensure customer are getting the most out of their cloud environment
• Security Compliance and Monitoring is achievable with careful planning and analysis
**** More Post to come on Technical Cloud related topics , specially working on Azure & AWS .. ****