CoinGecko recently released their Q1 cryptocurrency report. It is a fun and informative read so do give it a read if you have 10 minutes to spare. The @coingecko's report this time included a couple of topics that I am pretty interested to write about. One of which was MimbleWimble, the privacy protocol behind the Grin and Beam projects. However, I will save the topic for another day. As I am going to focus on IEO (Initial Exchange Offering) today.
---
IEO vs ICO vs STO vs IPO. What the "O" is going on!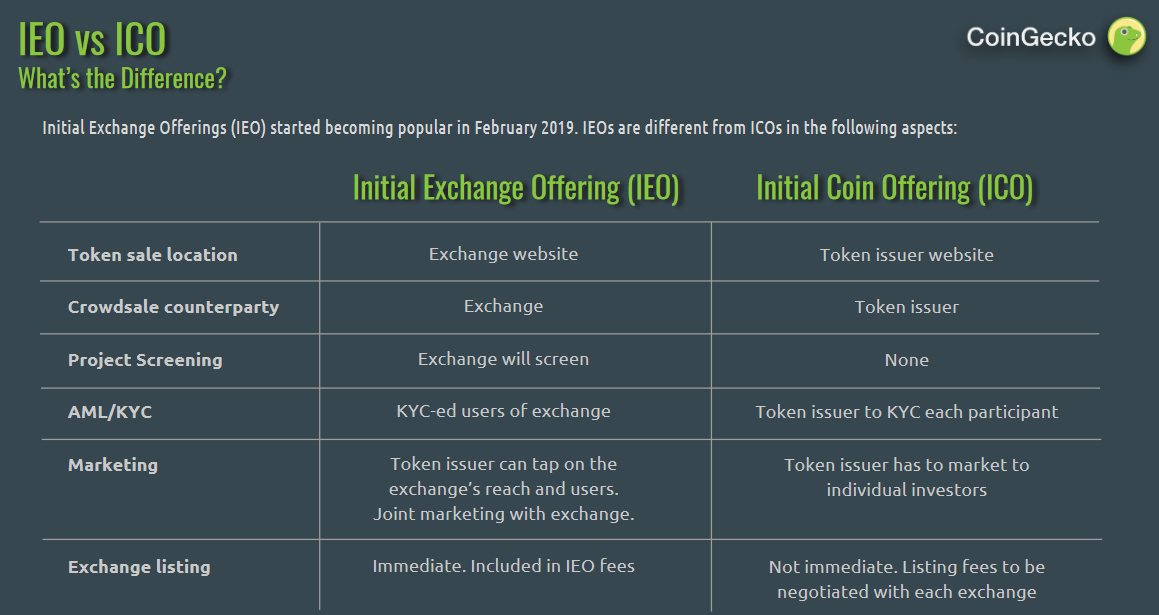 The screenshot above is extracted from the report. @coingecko did a good job in comparing IEO vs ICO and identifying the differences. But we know that those are not the only "O"s we have been talking about. Security Token Offering (STO) is something which generated quite a buzz a quarter or 2 back. In fact, @coingecko also covered security tokens in their 2018 roundup report. In addition to that, I thought it is also meaningful to compare all these with what has been tested and proven in the traditional market, the Initial Public Offering (IPO). So allow me to add on to the amazing work from @coingecko.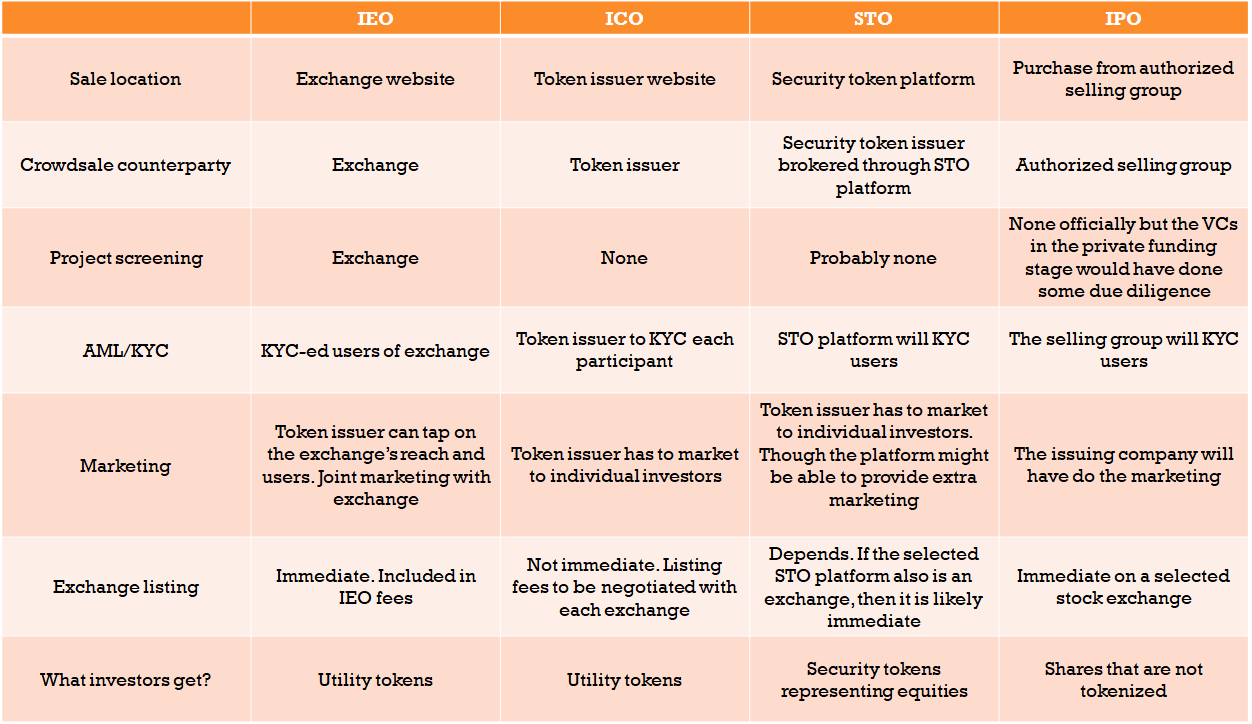 My Quick Take on ICO
At the ICO peak of 2017/18, almost 1000 ICOs were launched raising $22B in funds. It was an insane amount of money. However, many of these ICOs are 90% off their ICO price. Some projects have even ended prematurely due to the long crypto winter.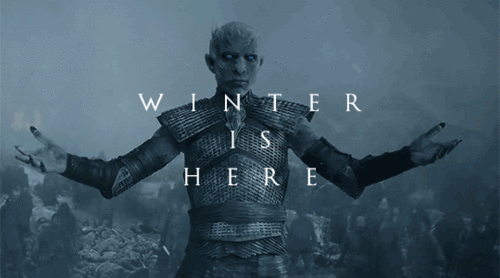 In my opinion, on hindsight, ICO was an experiment which many people were not ready for. Including me. It was the first time in recent history where series A, B and C funding, traditionally available to venture capitalists only, became so readily accessible to common people like you and me. Compared to other forms of crowdfunding, the lure of ICO was that the tokens can be quickly listed on an exchange and bring immediate returns to investors. These, combined with a few insane stories of 100x returns, created a FOMO which led to the great boom and bust of cryptocurrencies in 2018.
My Quick Take on IEO
IEO is essentially an ICO. We have a saying in Chinese, 换汤不换药, which loosely translate to changing the soup base without changing the ingredients. In other words, it is just a repackaging of something available. I see IEO as a lazyman's ICO. Basically, a lazy person wants someone else to do the due diligence and do not want to wait for exchange listing. IEO fulfills the 2 criteria. Not only does the exchange screen the project, it also almost immediately lists the project.
So if I draw an analogy to gambling, ICO is akin to playing poker (e.g. Texas Hold'em), you have to play it on your own, put some thoughts to it, and sit through the entire game in order to know if you win. IEO on the other hand, is like a quick game of roulette. Once you place your bet, you will almost instantaneously know if you win or lose. Of course, it is not a popular opinion to compare ICO and IEO to gambling, but that might just be the mindset of many people whom had invested.
In my opinion, IEO is never ever going to bring the market to the state of FOMO we saw in 2017/18. This is simply because of the lack of scale. IEO relies on the exchanges to do the heavy lifting and they will be the bottleneck. In addition, it is also not likely that one exchange will hold 2 IEOs concurrently. Hence, it is unlikely to see as many IEO as the number of ICO we saw.
My Quick Take on STO
STO generated quite a buzz late last year. But it seems to have failed to live up to its hype. We still do not see the new round of FOMO that many have predicted. I think STO has a problem. It is designed for any business (mainly traditional business) to issue their equities as security tokens. However, these businesses are not familiar with the concept of blockchain and cryptocurrencies. It will take substantial amount of effort to convince these people to adopt STO instead of other funding methods like crowdfunding or VC seed funding.
Even if we get businesses to start issuing security tokens for their equities, that only solves part of the puzzle. We still have to get investors to hop on. The likely investors will be those who had invested in ICOs. These people are familiar with the concepts of blockchains and cryptocurrencies but they have just been through the bear market. Once bitten twice shy, so I do not think they will be ready to jump in so soon.
The other potential investors (e.g. the mom and pop investors, and those who have not bought cryptocurrencies before) are the traditional investors and are likely to be the late-movers. They will likely need some convincing to get them to part with their money and it is certainly going to take time. However, I do see a slim chance for a massive uptake of STO. If an unicorn startup, with lots of backing, is to choose to do a STO instead of IPO, I am sure that will generate a lot of interest.
My Quick Take on IPO
IPO is a tested and proven model. It is also the default method for promising private company to "crowdfund" for money. However, IPO is inefficient and costly to do. There are multiple layers of middlemen that can be cut out if STO is used instead. Not many people see this yet, but I think it is just a matter of time. I foresee that IPOs will eventually be replaced by STOs and my bold prediction is that it will happen 10 years down the road.
---
Not Forgetting the "T"
Enough with all the "O"s and let's talk about a "T". I am personally hopeful of what NFT (Non-fungible tokens) can bring to the cryptocurrency space. Being an avid gamer, I wish to see in-game items in the form of NFTs. It represents a paradigm shift in gaming as for the first time, gamers truly own the items they found in-game. These items can then be traded and perhaps even used in another game. The thought of this excites me.
In the crypto gaming space, the three projects I find the most promising are Loom, Enjin and WAX. I will certainly be watching these projects closely and provide updates whenever something significant arises.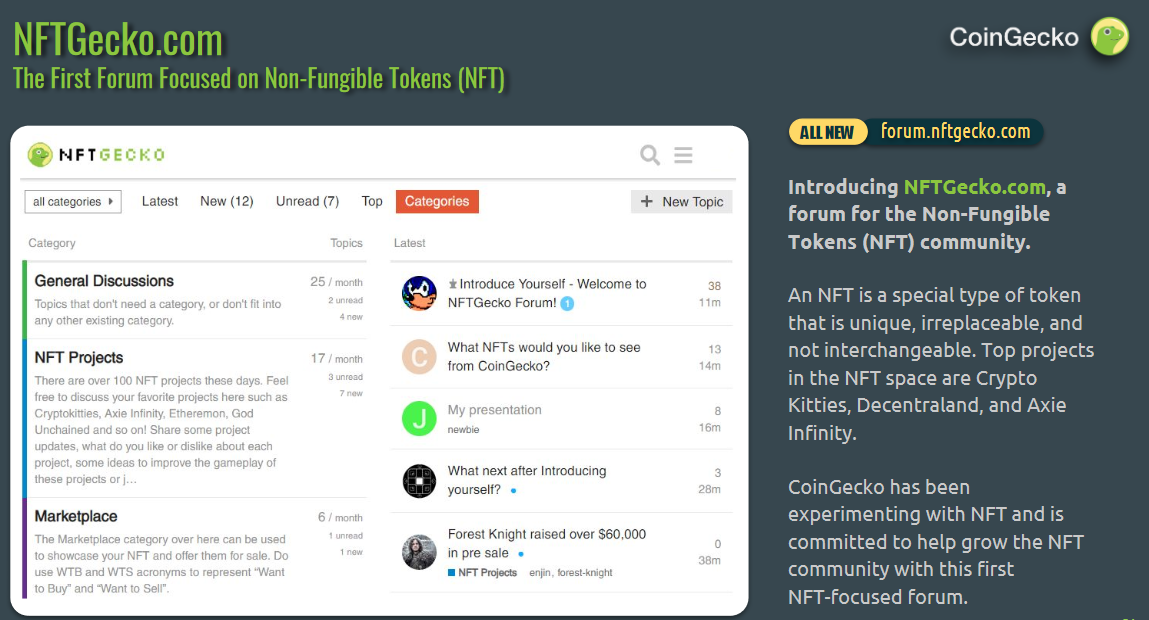 Something interesting to note is that @coingecko briefly mentioned NFT in this report by announcing their NFT Forum. I will take a look at it and see if I can cover the forum in one of my future articles.
---
Conclusion
Circling back to the original question in the title, which one (ICO, IEO or STO) will dominate in 2019? It is unlikely that any of them will will lead to a fresh round of FOMO in the near future. I think STO has the potential to disrupt the traditional private funding + IPO model, but it is going to take time. IEO is just a repackaging of ICO, so I am not pinning too much hopes on it. In fact, I think IEO is adding too much centralization to the ICO process. A lot of power will be concentrated on these exchanges if more and more projects opt for the IEO approach instead of ICO or STO. Which is a bad thing in the spirit of decentralization.
Thanks for reading this post and special thanks to @coingecko for producing the report and distributing it for free. There are many things to learn in this crypto revolution and such concise reports are really useful to me.