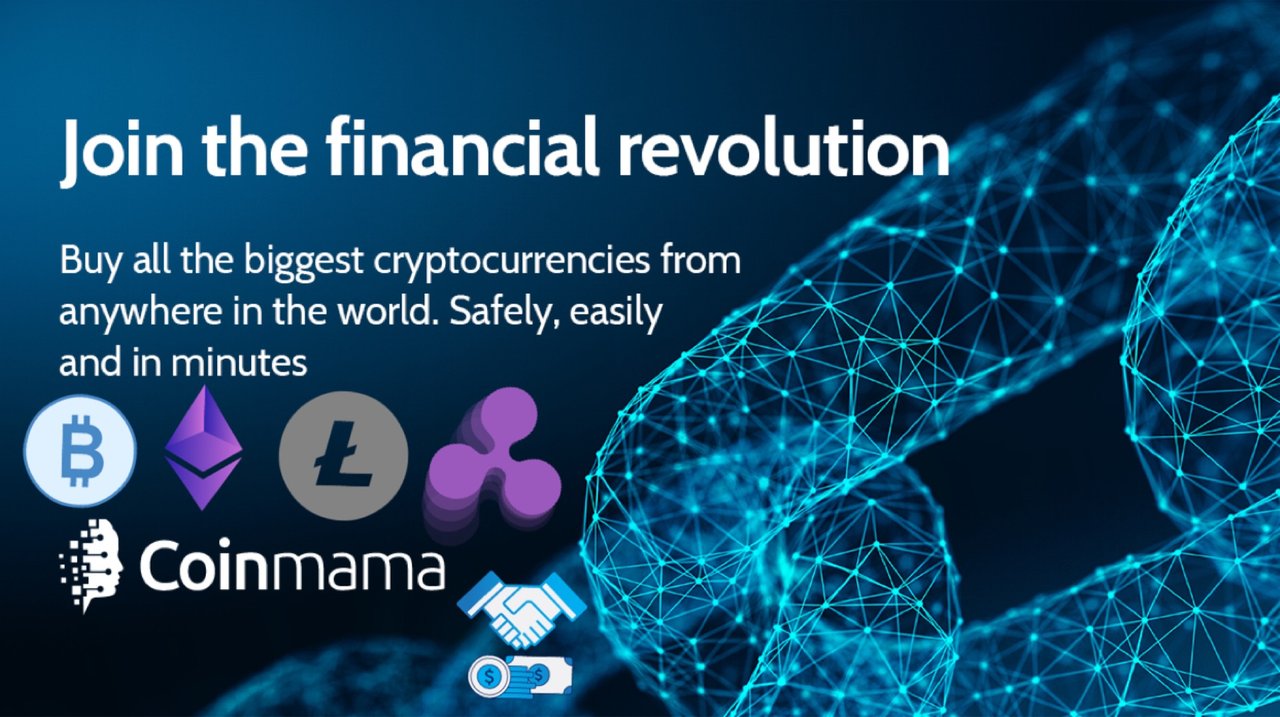 Review of #coinmama.
I really think this is the best time to buy and get into #cryptocurrency. Don't be stress and worry about the market is down. This really is the best buying opportunity before the next major #bullrun. I had a friend refer me to #coinmama. Myself, I personally use them over and over again, not just because #coinmama is the quickest and most popular way to purchase #cryptocurrency.
I really hope y'all enjoy my honest review, thanks Crypto-Heath.
Key features of #coinmama:
#coinmama is trusted by over 1.3 million users in 200 countries and territories worldwide. With a quick account setup and no verification, you can buy #bitcoin, #ethereum, #ripple, #litecoin, #bitcoincash, #cardano, #qtum, #ethereumclassicn. Let's hope they add some more soon.
Low amounts on a credit card, for larger buys, you will need to go through standard verification checks, this is pretty usual in the industry and is done electronically with a form a photo ID.
There are very liable, easy to purchase and very quick on the delivery time of your #cryptocurrency like two or five minutes delivery time on your #cryptocurrency in your #wallet. They don't have any wallet provided on their website. This means you will have to choose a secure storage method elsewhere before buying your #cryptocurrency. Just have your #wallet address ready when you purchased your #cryptocurrency they will send it to your #wallet your choice and with no charge and no withdrawal fee.
Buy & Sell:
#coinmama very much presents itself as a quick buy option, but they allow you to buy your #cryptocurrency with your payment method of choice. With a via credit, debit card, bank transfer (SWIFT), SEPA bank transfer (EU banks only), and wire transfer
This means that once you acquire your #cryptocurrency there is not much else you can do on the #coinmama site. Just buy and sell your #cryptocurrency. You can't trade through #coinmama. Then, when you're ready to sell your #cryptocurrency, hit the sell button and choose how much you want to sell. Follow the instruction down below on the #coinmama site under the sell button.
Note: The only thing you can't sell at the moment is #bitcoin
Customer & Support:
Like a lot of #cryptocurrency sites, they walk you through how to buy their product, but then there is little else to appease your questions and concerns.
Customer support is still a bone of contention in the industry with many companies leaving this as an unaddressed area. You can't get #coinmama on the telephone and no phone number for #coinmama customer support. So you are generally better sticking to email.
#coinmama offers customer support via email and usually is pretty responsive within 24 – 72 hours depending on the nature of your query.
Their website is quite helpful with a few introductory guides to help you answer most of your major questions with a help center, guide and quick links on how It works, buy #cryptocurrency, #bitcoin calculator, FAQ, etc.
Also, they have their social media like Facebook, Twitter, LinkedIn below.
Who is #coinmama are they trusted by the #community?
#coinmama is a property of NBV International s.r.o. A daughter company of New Bit Ventures Ltd and use Bratislava, Slovakia, as a base. It's a little tricky to find massive details about #coinmama. On a quick google search, you can see a few #coinmama scam type headings. These are nervous at first. For myself never had any problem with #coinmama and you can see for yourself #coinmama they have a lot of happy customers with positive review #coinmama soon dispel the questions.
Is #coinmama safe? & secure?
Security is a core component of any great #exchange platform.
#coinmama does not need such stringent security as you will not be holding funds in a #wallet on your account. They do use trusted security and have a decent reputation. They have Trust Guard and Comodo security specialists confirming that 256-Bit SSL encryption is actively used on pages that contain private information.
#coinmama does not currently offer two-factor authentication. It's a little worrying that someone could gain access to your account, so be sure to choose a strong password. It's pretty much a given that #coinmama should use two-factor authentication. Let's hope in the future #coinmama going to add two-factor authentication.
Available #cryptocurrencies to buy:
#coinmama only provides to buy #bitcoin, #ethereum, #ripple, #litecoin, #bitcoincash, #cardano, #qtum, #ethereumclassic. If you are just looking to get yourself started, then that is not too much of a problem.
You're not tying yourself into a certain wallet provider with #coinmama so you can switch it up in the future if need be. If you're looking to create a #cryptocurrencies portfolio with #coinmama, not a foundation to get started, maybe in the future.
How much will it cost you to use #coinmama and what is the fees:
#coinmama offers the use of credit cards, but this comes at a price. The fee little high with credit card purchases which can become quite chunky for larger #cryptocurrency purchases. #coinmama, by their own admission, is a little heftier when it comes to fees, but that's a price you pay for convenience. We're paying more for quick food delivery right? So why not #cryptocurrency?
Fee:
#coinmama? # charges a 5.00% processing fee on credit or debit cards.
You get instant delivery on your #cryptocurrency into your wallet, your choice, and no withdrawal fee.
Bank Transfer (SWIFT) fee
£20 flat processing fee, no fee on orders $1000 and up.
Delivery time is up to 3 business days
SEPA Bank Transfer (EU Banks only)
0% processing fee
Delivery: up to 1 business day
Wire Transfer fee
This payment method is only available for orders above $50,00 but you have to contact customer support by email first.
"support@coinmama.com"
My Final Thoughts:
There are validity and trust to platforms when it comes to buying #cryptocurrency. There will also be a larger fee if you are looking to buy with a credit card, but as I said that's the price you pay for convenience.
But #coinmama does what it said. You can quickly and easily get hold of your #cryptocurrency and send your funds off in your chosen wallet for free. This could be a better option if you are using a hard wallet rather than transferring in and out of other #wallet and pay for a withdrawal fee a few times before it gets into your #wallet or exchange.
To get started on your journey with #cryptocurrency click on the image down below and it's going to take you to #coinmama.
***Disclaimer: I hope you enjoy my review. But remember to invest only what you can afford to lose or you're "ASS" going right back into poverty on DROP PERIOD. I'm not your financial advisor. Statements on what I say and do not represent the views or policies of anyone other than myself. The information contained here is for informational purposes only. Nothing here shall be construed to be financial, legal or tax advice. The content of my post is solely the opinion of myself. The information on what I say is provided for discussion purposes only, and are not investing recommendations. Under no circumstances does this information represent a recommendation to buy or sell securities, stock, Crypto, Trading Forex, and CFDs. Poses a considerable risk of loss. I do not guarantee any particular outcome for you or everyone but myself. ***
Thanks, Crypto-Heath