Cryptocurrency is now a prominent content on the news with many people becoming interested and looking to be a part of one project or another. Despite their "official statements", there is evidence that even the most stubborn governments are now looking into how they can access or utilize the crypto market.
With all this attention, speculation and investment, there are bound to be negative factors as well. Hackers breaking into exchanges, project managers fleecing their investors and making off with their funds, cases of mismanaged ICO revenue, and so on.
While the blockchain itself is unhackable(at least at the time of this writing), the exchanges and user accounts are not. Also, there are many people who just jump on a project bandwagon without doing proper research. This leaves them susceptible to scams.
A major reason why user accounts are easy to hack is that some people invest/trade in a lot of coins and have to use various exchanges for different trades. Many people don't bother to be security conscious after a while. This shows in bad habits such as using the same password for everything. Once a website you use is compromised, the hacker can use those details to log in to your other accounts on other websites/exchanges.
Cointracker is a powerful crypto portfolio tracking app that monitors trading across various exchanges to keep you informed of the latest developments. With Cointracker.io you can monitor your crypto portfolio, token prices and even calculate estimated tax returns.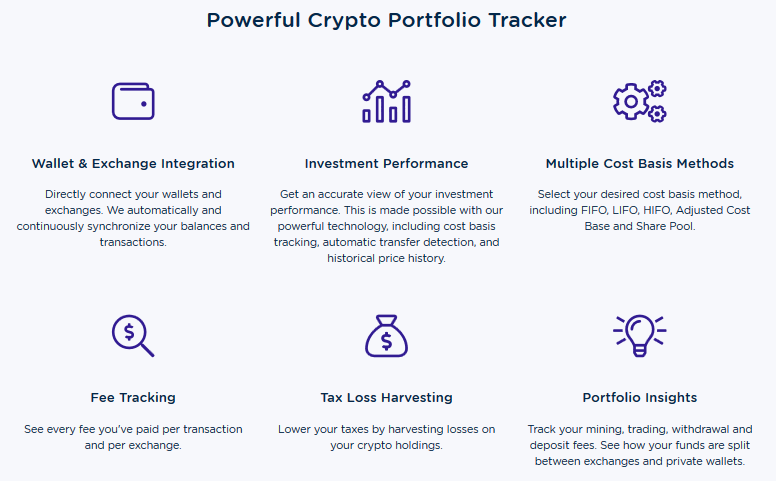 Now you might be thinking Tax? Who pays tax on crypto?
Turns out there are different regulations concerning crypto in different parts of the world. While some countries have no clearly defined stance, some have banned crypto while some have imposed tax on crypto citing it as a "profitable investment". Paying tax is something that applies mostly to the owners of platforms that make money off the crypto market such as exchanges and ICOs.
Cointracker highlights how crypto taxes work here. Keep in mind that Cointracker is provided for informational purposes only. This service is not intended to substitute for tax, audit, accounting, investment, financial, nor legal advice. You will need to refer to your financial advisor for thorough clarification.
According to the United States Internal Revenue Service, these are examples of taxable events with regards to cryptocurrency:
• Selling cryptocurrency for fiat currency (i.e. USD, CAD, EUR, JPY, etc.)
• Trading cryptocurrency for other cryptocurrencies
• Using cryptocurrency to buy a good or service
• Receiving cryptocurrency as a result of a fork or from mining

Cointracker goes on to explain that the amount of tax depends on how much capital gain/loss there has been on the asset, how long you have held the asset, and the specific regulations in your country/jurisdiction. As you can see, following up on all this information and factoring it into your calculations may prove to be a daunting task. This is why Cointracker automates the entire process for you saving you sleepless nights and a potential run-in with the law.
How Cointracker.io Works
Cointracker connects to all the top exchanges and wallets and automatically syncs all your account history and balances. Cointracker then uses the amalgamated information to draw up a fully reconciled transaction history that will provide important details such as asset prices, appreciation/depreciation, cost basis calculation, ROI, and performance charting. Cointracker will then apply your jurisdiction(area/country) tax rules to calculate your annual crypto gains/profits and payable amounts. Cointracker is even equipped to help you fill in your tax form. This is an Example.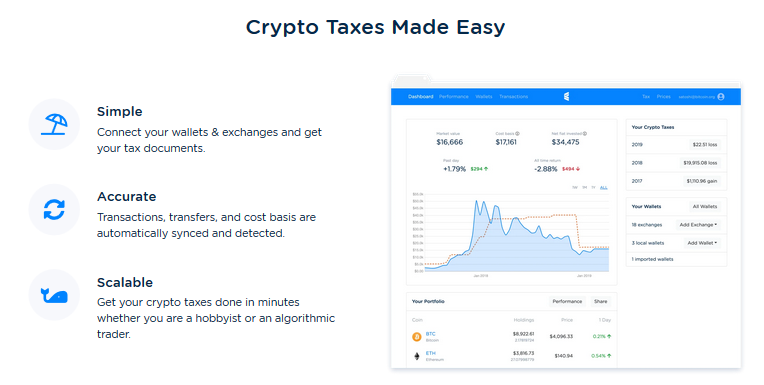 You can visit Cointracker and check out their Tax plans here.
You can choose to automate the process or perform manual operations yourself. CoinTracker generates and gives you the form so that you can file yourself, send the necessary tax documentation to your accountant, export to TurboTax or TaxAct, or file in other ways.
Check out the Cointracker tax explanation page and the Cointracker FAQ Page for more inquiries.
You can reach the Cointracker team or join their communities on Social Media

CoinTracker Blog
Cointracker Telegram
Cointracker Reddit
Cointracker Twitter
Cointracker Facebook
You can also download the Cointracker app on Android and IoS.
Check out Cointracker today and organize your portfolio to enjoy a stress-free crypto experience.
DISCLAIMER
This is not financial advice, nor a guarantee or promise in regards to any result that may be obtained from using the above content. The information provided here is for informational and entertainment purposes only. It should not be considered as financial and/or investment advice. No person should make any kind of financial decision without first consulting their own financial adviser and/or conducting their own research and due diligence.