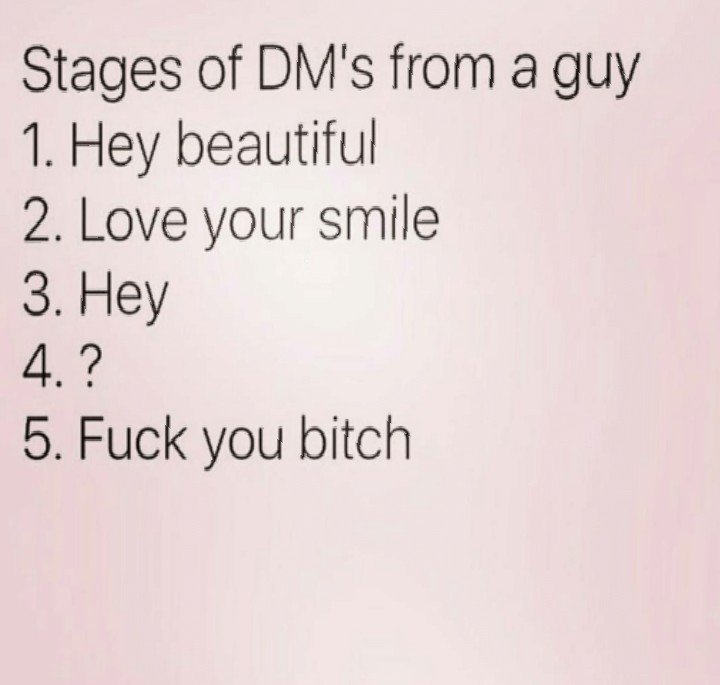 With every platform I write stories on comes a whole new set of guys that apparently think all women are online solely to send them nudes, and be propositioned. I wouldn't repeat some of the comments in a biker clubhouse, it's legitimately that nasty. Who are these tired ass lines working on?
When are these guys going to learn, a woman's inbox is not a dating site?
I write across multiple platforms, multiple times per day. I have several blogs, the advice column. That's in addition to the usual social media platforms.
What's the one thing they all have in common?
Yep. Nasty ass dudes jumping into my direct messages like Airborne Rangers into enemy territory. We're talking full on, unsolicited, bottom of the sludgiest barrel, filth. Young guys, old guys, middle aged soccer dad type guys.
Why is the draw of the anonymous too much for the average man to resist?
I write an advice column, not a Q&A on kink…
I understand the little butterfly, crush-type feeling being noticed online tends to give to you. I've had it myself. From someone I know. Not some random guy I see has written a story somewhere, so I jump into his inbox and tell him to show me his package. That, to me, is beyond rude. I've just basically reduced that man to a mailbox and a penis. No self respecting man will answer me; in fact, he'll probably block me.
As the title of my column implies, I'm not being a super friendly Southern Belle. Rather, I'm giving my honest thoughts on cheating spouses and bad friends, and just giving a healthy dose of hurt feelings to those I feel are in need of some reality.
What in the hell are these guys thinking?
Nothing about my column says "Man, I really wish some strange guy would ask for nudes from me today..." I don't even approach the relationship topic set in regards to discussions of myself. There isn't one question I have answered that could possibly be misconstrued. I know. I double checked. Twice.
Does the perverted direct message ever work?
I think I would actually like to meet the woman that falls for "send me a video of you and your toy", or "you should let me lick your entire body", from a complete stranger on a writing platform. I think a part of myself might try to justify the behavior if it were a dating website, but actually I was subconsciously shaking my head "no" as I typed that.
It isn't sexy. It doesn't turn women on. It's vile.
A complete stranger is speaking to me more graphically than my first husband ever spoke to me. No part of me is sitting at my desk thinking "wow, I must allow him to provide this pearl necklace he's speaking of".
I used to be part of the problem….
I didn't block these Bozos the very first time there was a hint of innuendo. I have corrected that behavior. I am so quick to block these adult theatre Casanovas, sometimes I forget to screenshot the message for reporting reasons. I believe that might be due to my rush to remove the smut from my screen.
"But, Ms. Macon, he technically isn't hurting anyone..."
Sure, until you consider my age and location aren't visible. For all this dirty Don Juan knew, I was a 17 year old Senior at Fresno High. Or, for that matter, a 70 year old senior at Fresno assisted care. I honestly don't think the specifics matter to these keyboard kinkmeisters.