What superhero were you when you were a kid?
Source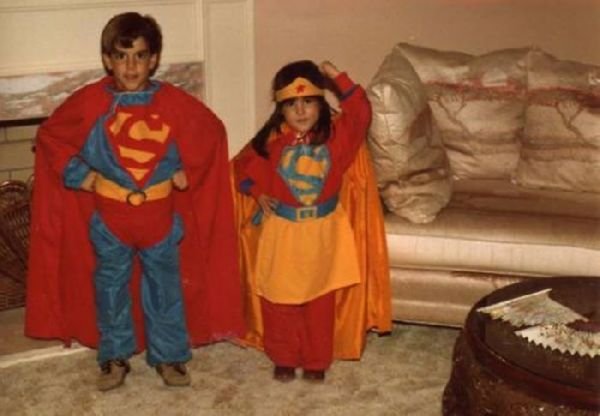 Who has not dreamed of being a superhero as a child? That I remember, I wanted to be Superman, and sometimes I put the interiors on the outside, but at carnival time they disguised me as "El Zorro" (although he did not have super powers, it was the costume they got).
My sisters wanted to be "The Wonder Woman". One was disguised as that character and the other as "Campanita".
One day our parents were not home, my sisters were playing at one was the enemy and the other - obvious - the woman wonder.
I remember that, instead of saying as the introductory song of the series. Wonder woman !, they said: "Guáchi bómbaaaa !, and they chased each other throughout the house with the strap in hand (the whip of the woman wonder).
At that time, the only super power that I would have liked to have was "mental power to keep your mouth shut" because I was fed up with the scandal they were making.
Suddenly, the enemy runs into the bedroom and slammed the door; and the other one is heard saying: guáchi bómbaaaaayayaiii ...!
I thought: What super power would the enemy have that silenced the wonder woman?
When I went to check, it was that the finger of his hand got caught in the metal door.
My sister was deprived of pain, and I shouted: open the door!
From inside, the other answered: "No, no, no. I'm already in my headquarters and the wonder woman can not do anything to me anymore. "
After a minute, the other opens the door and realizes what had happened.
In the end, the three were "blasted" (scared), not only by the purple finger wonder woman, but because they have superpower to save us from the peels (punishment) that we were getting: them to be of tremendous and me for being the oldest and that I would not have taken care of them as they should be.
Note: If you do not understand what is "guáchi bómbaaaa", don´t worry. That is well understood in Spanish only.
If you want to participate:
https://steemit.com/comedyopenmic/@comedyopenmic/comedy-open-mic-comedy-contest-round-17.
I nominated:
@gabriela2017
@joseafanador17