What is this?
No, seriously what the hell is this?
A Sushi roll? For real? That's what you're going with? You're gonna really try to justify that?
Wow.
Umm, yes, there certainly is a problem.
See, I ordered a sushi roll, but you brought me out this creepy inside-out rice thing.
How am I supposed to eat this? It has the structural integrity of a snow-cone!
Ura-what-i?
What the hell is uramaki?
Well uramaking me want to dropkick you straight in the nose.
Look when I dunk it in my soy sauce! It's disintegrating. Now I have a tiny bowl of Soy Sauce Rice Tuna Soup.
You know what didn't crumble apart into a thousand microscopic pieces? This beautiful strip of nori seaweed that now has no purpose to its existence.
Look at it just sitting here on my plate, now made superfluous and unwanted because of your insanity. I'm not gonna eat it now. Who wants to snack on just straight-up long pieces of ocean salad like some kind of savory fruit-by-the-foot?
If I ordered dessert would you bring me a waffle cone buried inside a melting ball of vanilla ice-cream?
How would you like it if I made you a cheese sandwich by shoving a piece of bread inside a pile of shredded cheese?
Why would you plop this disgusting abomination in front of me and call it food?
When did you decide that you could just completely invert the Truth on a whim? That you could actualize this nihilistic reversal of the Natural Order?
Please tell me—Please, for the love of all things Holy, tell me you aren't pointing at the chopsticks right now...Tell me that you aren't about to suggest I eat this deconstructed slop pile with two little sticks.
What are you, some kind of sick maniac?
A refund? No I don't want a refund.
When it comes time to pay for my meal, I'll just bring you a piece of paper scribbled with obscenities and you'll hand me your cash register.
Uramaki Economics bro.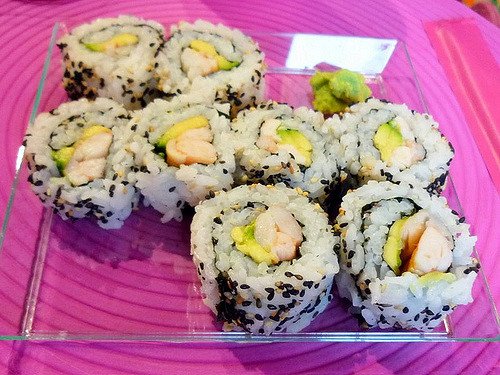 Disgusting Pornographic Filth