---

---
Following last night's post in which I previewed some work in progress from "I Thought It Would Be Zombies..." and lamented on the perils of zooming and perfectionism; I kicked back and did a bit of reading. The latest issue of ImagineFX was available for download on my iPad, and I was excited to browse it as this month is one of their fairly regular comic book focused issues! Yay! That makes it a good night.
Lo' and behold, roundabout page 20 there was a little article examining the pressures and pitfalls of artistic perfectionism! As I slept last night I must have processed it in my sleep. Processed it so throughly that any knowledge gleaned from it passed completely from my thoughts! Because tonight I sat right back down at the drafting table and over the course of 2 hours laboriously struggled with a few more tiny figures on the page!
But... I'm pretty happy with the results so far. I'm really enjoying working with my main characters interacting. After all, I love comics because they are an excellent medium for storytelling... not just pretty pictures.
As "I Thought It Would Be Zombies..." resident mysterious ass kicking dryad, Julie, does her thing; she urges Sarah to get Bleedy McBleederson.... ahem I mean Dave clear of the fray.
I hope these characters are piquing your interest and urging you to follow along with the creation of this independent comic book! If they are, be sure to follow me, @bryan-imhoff and check out the official Fundition Campaign to help support the publication of "I Thought It Would Be Zombies..." and its debut this fall at the Baltimore Comic Con.
-Bryan "the Imp" Imhoff
---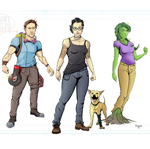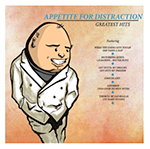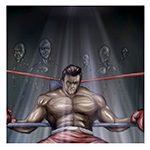 ---
@bryan-imhoff | @spottyproduction | @exploreunlimited
@steem-comic-con | @creatingcomics