Yesterday, Saturday May the 4th was a unique nexus... as on the same day the nerdy holidays of Free Comic Book Day and Star Wars Day aligned! On this momentous occasion I was fortunate to have @blewitt offer me up a free spot in front of his shop, Conquest Comics to do a little self promotion! I was on hand to start spreading the word about my independent comic, "I Thought It Would Be Zombies..." and hopefully also spread a little word about Steem and the #comics community on the Steem blockchain. It was a very enjoyable day, and as my expectations and goals for the event were quite low... I consider it a rousing success!
---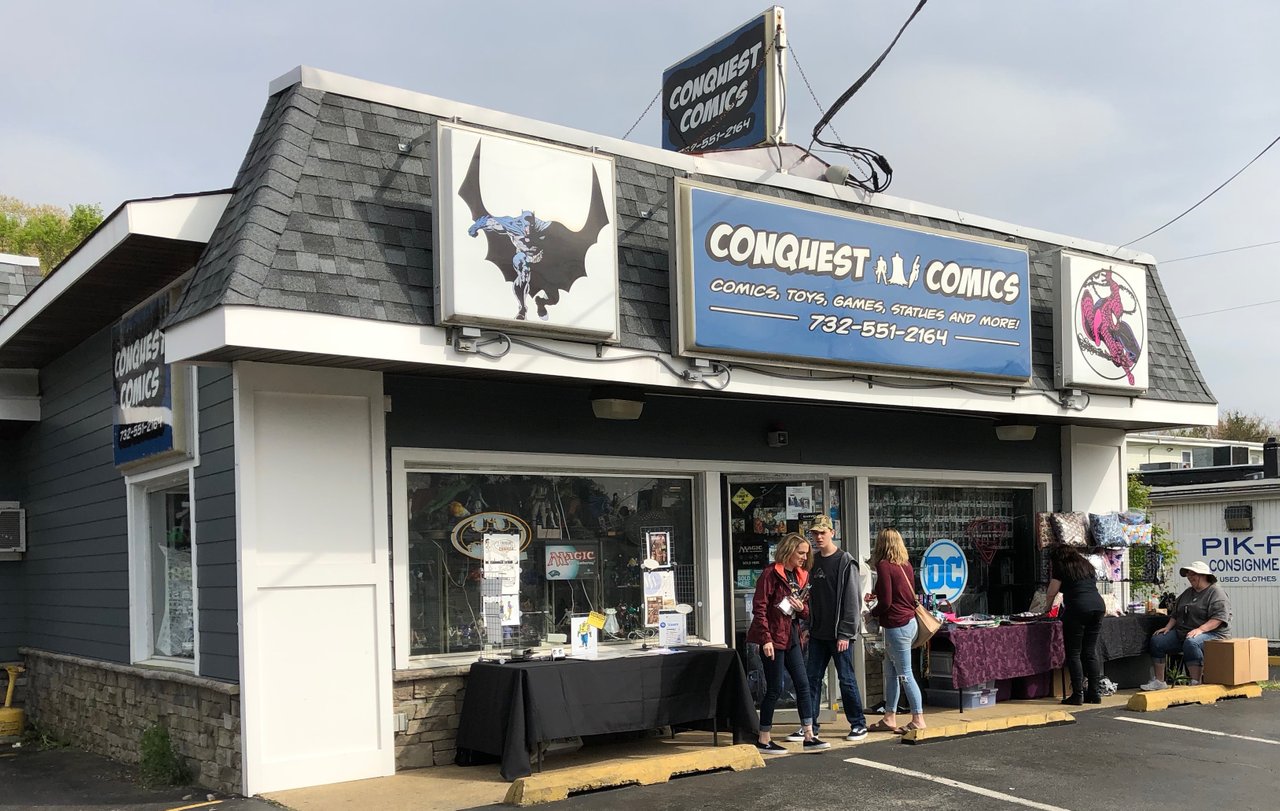 ---
I arrived at the shop a bit later than expected... getting out of bed is difficult dontchaknow! I was there just after 10:00 AM. Conquest Comics was slated to open at 11:00 on a Saturday, but word had spread that they'd be kicking off the fun a bit early on this special day so there was already a respectable line formed outside. I captured this photo later in the day after things had started to die down. (Hello random folks in my shot! Sorry I didn't get your likeness rights permissions! If you ever see this photo you can request for me to blur your faces!)
Inside the freshly stocked and organized shop (see @blewitt's recent posts here and here for a glimpse!) there were sales galore, a bevy of free comics supplied by publishers to promote their wares for this industry wide event, and a throng of shoppers all day. Outside there were several cosplayers... Catwoman, Harley Quinn, and an Imperial Scout Trooper. Oh yeah, and the one guy who was driving by, liked what he saw, and came back later dressed as Spider-Man just for the hell of it! Cars passing on this busy stretch of road were continuously honking or rolling down their windows to inquire as to the spectacle. Several were even lured for a quick photo and to run into the packed shop and see what it was all about!
To the front of the store was a vendor selling some amazing handmade geek gear... pillows, lanyards, buttons, purses, etc. all crafted of fabrics and patterns emblazoned with favorite characters... and of course me, a pasty dude now sporting a minor sunburn on his bald head standing next to a modest "preview" table.
---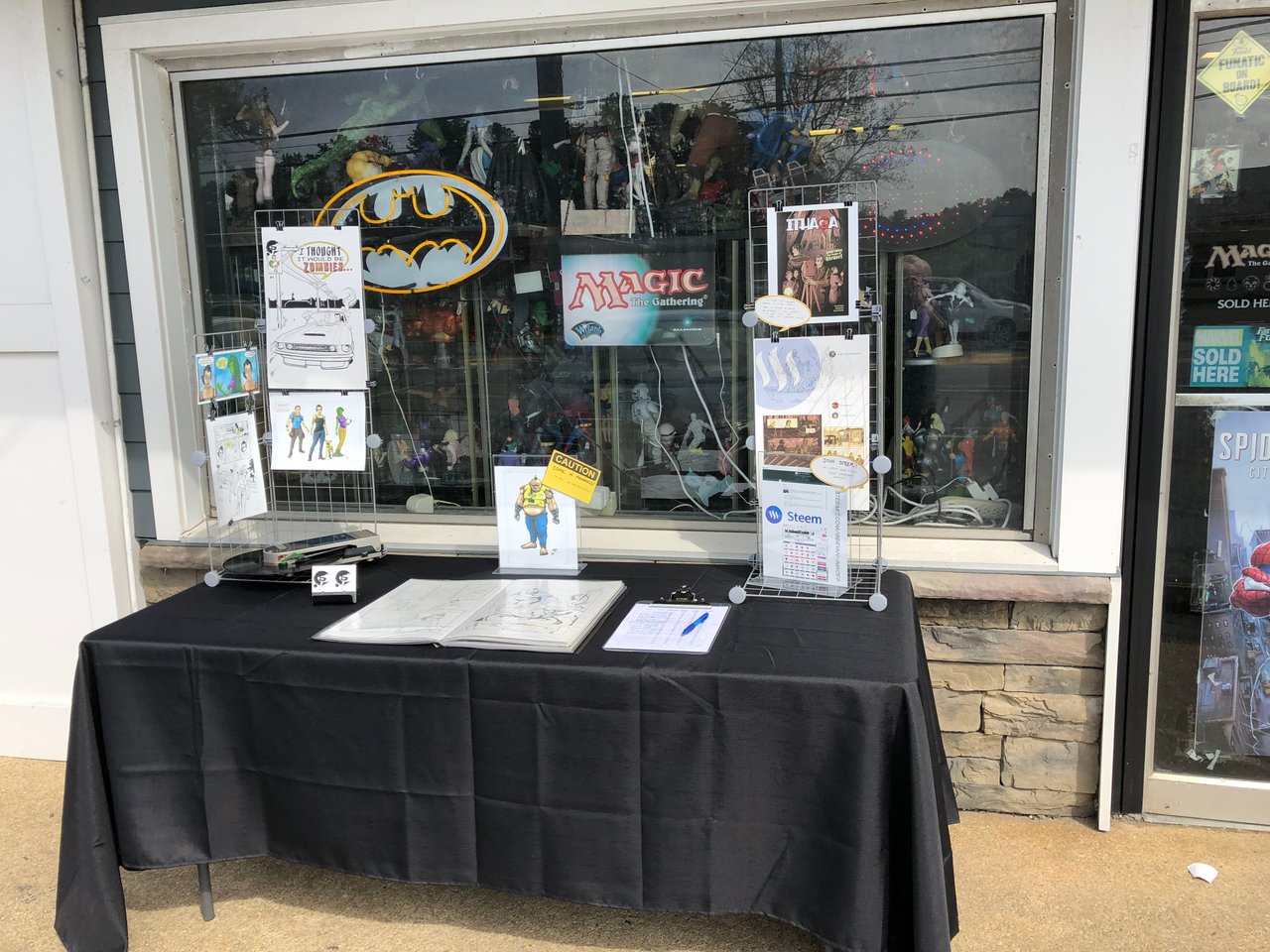 ---
It's not much to look at, but I put it together in a days time with what work I have on hand to show so far! It's a constant struggle right now to allocate time between the creation, marketing and fundraising. Actually getting the first issue of "I Thought It Would Be Zombies..." finished is the number one priority. Part of me wishes that I'd spent the day home drawing, but it was nice to get out of the house for a change, get some sun, see some friendly faces, and start building that all important audience! It was also wonderful to meet @reeseshara and @chef-funko in person for the first time and catch up with @blewitt face to face for a bit!
This outing was a good exercise in getting me started thinking about my convention display and gathering some materials for it. I'm already making notes on what did and didn't work... and I obviously need a lot more work on the table decor and to have some actual product to fill it!
And yes, the day was successful! In the comments of my last post I stated...
If even 1 Steem account gets registered or 1 comic gets preordered I'll consider it a rousing success!
By the time I packed it in about 5:00 PM I had a clipboard with roughly a dozen folks to add to an email marketing list (something I still have to get started, argh! so much work to do!), a half dozen folks asking for more info and an invitation to Steem, and a half dozen pre-orders for both "I Thought It Would Be Zombies..." and the soon to be released Ithaqa by Steem's very own @drwatson and @la-fumettista!
@blewitt deserves the lion's share, if not all, of the credit for these pre-orders. Most are regular customers who he's enthusiastically pitched these series to. It really helps having an engaging and supportive shop owner on your side! He knows which customers support small independent books and local talent and he's incredibly generous in his time and effort. Thanks Chris! You rock!
Time to get back to some actual artwork! Can't let those fans down! Ok... maybe fans is too strong a word. Can't let those vaguely interested passerby down! Now it's time to turn them into fans... and that's gonna take work!
-Bryan "the Imp" Imhoff
---
This is an official Fundition campaign update post to help fund the publication of the independent comic "I Thought It Would Be Zombies..." meaning your votes alone can help you earn rewards like a free copy of the comic and more! For more information check out https://fundition.io/ and the prior update articles for "I Thought It Would Be Zombies..."!
---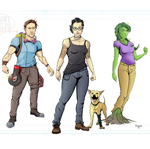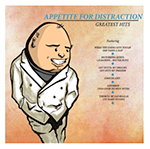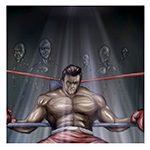 ---
@bryan-imhoff | @spottyproduction | @exploreunlimited
@steem-comic-con | @creatingcomics