Jumping The Shark
The phrase was apparently coined in 1985, but refers back to an episode of the popular sitcom Happy Days that aired in late September of 1977. In that particular episode, Fonzie gets on skis and jumps over a shark in a tank. While popular at the time, critics have since called the episode a departure from the series' main focus on the communal family experience and 1950's mid-America, and have declared it the point where the television show began its decline, even though Happy Days went on to last another seven years, highly rated for most of them and still fondly held by many today.
Thus, jumping the shark has come to mean the moment when something—a series, movie franchise, a brand name, product, or anything really—begins its decline from top of mind towards irrelevancy, mainly because it goes too far, or strays away from its main premise or purpose.
An All-Female Marvel Movie
Last week I ran across an article where Marvel Cinematic Universe (MCU) star Scarlett Johannson (she plays the super spy character Black Widow) is "pushing" for an all-female Marvel movie.
She and other stars such as Brie Larson who played the titular role in the Captain Marvel movie and Elizabeth Olsen (Scarlet Witch), have both been quoted as very keen on the idea.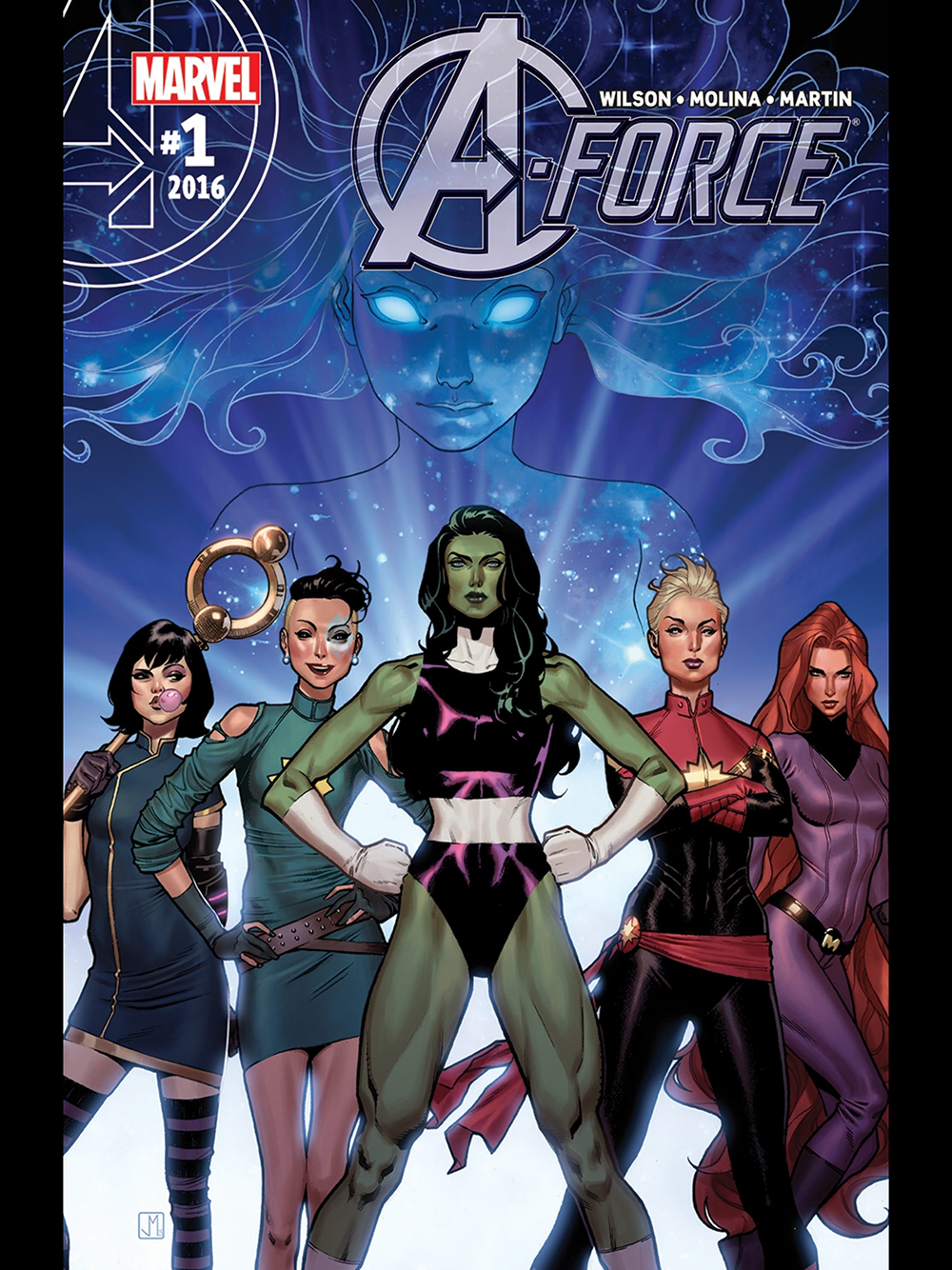 It just so happens that Marvel Comics does have an all-female superhero team called A-Force, but the series didn't last very long. The original published for a few months in 2015, with a follow up series in 2016 that lasted a little longer. The original takes place in a Dystopian alternative universe on a planet called Battleworld, while the second happened within the main Marvel Comics universe.
The Ties That Bind
The MCU has managed over its 11 year history and counting to maintain a fairly high level of production value, though fans will no doubt debate ad nauseum which movies are worst and why. I've enjoyed all of them, including the ones that didn't do blockbuster box office. Why? Because I've waited all of my adult life and part of my teenage years for them to happen.
When I was collecting Marvel comics back in the late 70s and early 80s, there was talk of making live action movies like these. It only took another 30-40 years to get them on screen, with a couple failed hiccups along the way. Turns out that having movie making tools such as advanced CGI and motion capture is pretty much a prerequisite for superhero movies—along with a script that is character focused with larger than life stakes.
There have been 23 movies so far, each one meshing with and building on the other, culminating in the Avengers movies Infinity War and Endgame (and some of the aftermath, in the case of Spider-Man: Far From Home).
Now the MCU is in its fourth phase, starting in 2020 with Black Widow (though it will presumably take place prior to at least the events of Endgame, if not earlier), followed by The Eternals, then 2021, with Shang-Chi and the Legend of the Ten Rings, and three sequels, one for Doctor Strange and and another Spider-Man movie. A fourth Thor movie is set to arrive also in 2021, marking the first time four MCU shows come out in a single year.
Identity Politics
When Black Panther came out, there was much made in the media about the fact that it was the first mostly Black cast in a Marvel movie. Some even went as far as to call it the best Marvel movie ever (at least at the time). While I really enjoyed the movie, I wouldn't call it the best Marvel movie, and certainly not because most of the characters in it are Black.
I'm not Black, but I just so happen to feel the same way about an all-White cast, or what have you. My main concerns are that the MCU movies stay true to the characters and the essence of the stories they're crafting, if borrowing from the comic books, as so many have. It's the main issues I've had with the non-MCU movies (Spider-Man 3, Amazing Spider-Man 1 & 2, all three Fantastic Four movies, and while I've tried to like them, most of the X-Men films). They've strayed too far from the characters in the comic books.
I don't mind the updating in the MCU—the stories in the comic books, and in particular those dealing with a character's origin, probably took place over 50 years ago, so there's a need to make them more relevant. I don't mind major differences in plot or storyline—the MCU is meant to follow but not adhere to exactly the main Marvel comic universe as it is its own alternate universe.
What I do mind, and find troubling, is what appears to be an ever increasing desire to make movies for a certain segment of society. At the very least, the MCU's upper management or marketing department are following the media's lead when it comes to movies like Black Widow (second MCU movie with a woman in the titular role, first movie with a solo female director), Shang-Chi (first predominantly Asian cast MCU movie), and even Thor: Love and Thunder (which will presumably be the third MCU movie with a female lead, along with the first openly homosexual if not bisexual character).
If Marvel is able to live up to its own standards, if not surpass them, with these movies, great. But as I said, I won't be watching them because they're the first this, or the first that when it comes to a certain identity.
Isn't That What We Really Want?
We keep measuring milestones in various segments of society based on sex, skin color, nationality or sexual orientation. The first this or the first that shouldn't be the focus, though. I know, heterosexual caucasian males dominated many things for centuries, but that trend has been changing over the course of my lifetime, and a lot of it has come over the course of the last 20-25 years.
Which means we have at least one generation if not two (Millennials and Generation Z) who have and are growing up in what has become primarily a colorless, boundary-less, gender neutral society. Yes, there's still a ways to go on all those fronts, but the amount of acclaim each successive this or that gets is, in my estimation, a step backward, not forward. If I were Black, Asian or female, I wouldn't want to be recognized for the first Black, Asian or female to do this or that. I'd want to be remembered for the greatness of my accomplishments across all society, especially if I was arguably the best there ever was.
That's how identifiers ultimately get erased. Not by pointing them out with every opportunity, but letting the greatness of the work speak for itself. Or to the main point of this post, making great movies, with great characters, great stories, and great (but integrated) special effects.
Back To The Beginning
Looking at the lineup of MCU movies, I genuinely hope the powers that be have not given into the drumbeat of a few very vocal minorities, or at the very least, find the way to make those movies less about those particular identities, and more about how they tie into the common human experience. Superhero comic books, and now movies, are vehicles for social commentary—another way to make us aware of what's going on around us, and to make us think. I know that's not how they are widely held by those who don't read or watch them, but that's largely what they are for me, at least the Marvel variety.
But even so, stories and movies should not be made for the sake of making a movie that is led by this group or includes this kind of character. Rather, they should be made because there's an awesome story to be told.
I hope that with the movies slated to come out next year and the following in the MCU's Phase Four, that Marvel Studios doesn't jump the shark or end up scraping the bottom of the barrel by simply appeasing to different segments of society. I hope these next movies lay the foundation and build up to another incredible crescendo like the first 22 did, regardless of who may predominantly be in them. As it is, they're going to be following their own tough act because the bar has been set pretty high.
Something Up Their Sleeve?
Fortunately, with the acquisition of Marvel properties that Fox has developed (ie Fantastic Four and X-Men), along with continuing to work with Sony on Spider-Man, there is an opportunity to inject the MCU with more characters that fans know and truly love, rather than reaching deep into the Marvel anthology for characters that have never really had a lasting impact in primary roles.
Hopefully, the MCU will continue to be able to avoid the pitfalls that segmentation will bring, so that it doesn't go the way of the Marvel television and Netflix shows (Agents of Shield, The Gifted, Cloak & Dagger, Jessica Jones, Daredevil, The Punisher, Iron Fist, Luke Cage, Inhumans, and Runaways), all of which are either currently cancelled, in limbo, or heading into what is supposed to be their final season because they didn't satisfy with ratings.
Otherwise, the best 11 years of MCU will be behind us. I might be around in 40 years for the next go around, but I would much rather that the action and adventure continue now, and maintain the highest of quality and standards, rather than make movies for the sake of making movies. In my estimation, that can only lead to jumping the shark.
Image source—Marvel Unlimited