Hello steemians,
Thank you for all your comments, today i've upvoted and quote two comments from asaj and jasonmunapasee: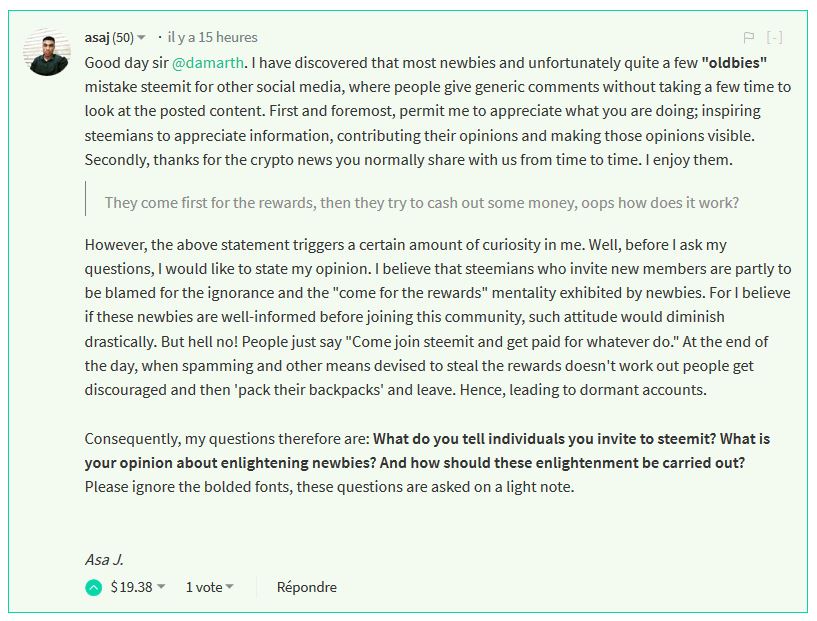 What do you tell individuals you invite to steemit? from asaj
Social media and steemit are all about communication, it is a vast and complicated subject and i will only share some of my thoughts to stay focus on the main idea.
When i want to introduce steemit to someone i try to adapt my speech to the audience.
What we say or write doesn't have the same impacts depending on the interlocutor ,his state of mind, the context, the moment choosen to share our thoughts.
The words we employ are so tactical and critical, facial expression decoding, voice tone employed and obviously what part of the information you highlight in your speech.
When we think about it it is so complicated to communicate, it represents the main challenge and source of human lack of understanding creating so many conflicts between us.
It is an art to be able to vehiculate and articulate our thoughts, is it possible to master this art, what are the limits? How could we invent new channels of communication? How could we perfect our communication?...
I think it's all about adaptation, be conscious of the state of mind of our interlocutor, read how the person react to our speech, learn what aspects of our communication impact him the most and follow the flow of the conversation as naturally as possible.
We have to connect ourself to the audience and try to synchronize our brains to create a free channel of communication.
When you introduce steemit to someone according to the interlocutor interest, he will ask you differents questions and prefer to talk about different aspects of the platform.
For example, if you introduce steemit to your grand mother not technology oriented for sure you will skip almost all technical part of the platform unless she ask you questions about it.
A tech savvy persons will probably like to understand understand how it works, somebody in need of quick money and a bit greedy will ask you how much he can expect to win, how fast and could he trick the system to maximize profits.
An economist will ask you many questions about who buy the tokens, why? what are the rewards? how it is distributed? How the ecosystem is viable...
You understood my point, communication is an adaptative art almost impossible to master.
When we post on steemit and we speak to large audience, there is no way to really control how our words will impact each person.
Maybe we change lifes of some person and don't even know or anticipated such reactions. It is out of control!
Communication is the invisible link between humans brains network.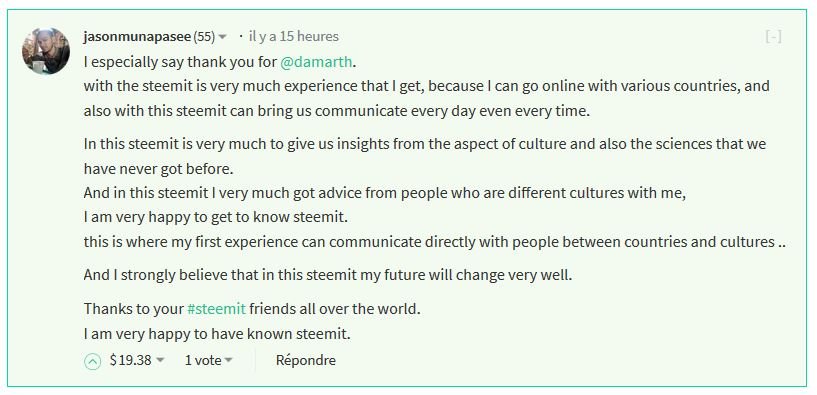 this is where my first experience can communicate directly with people between countries and cultures .. from jasonmunapasee
I am so glad to have read your comments because it sparked a crazy idea into my mind.
We know blockchain is immutable in theory once you post on steemit it stay visible forever.
Such pressure to write anything!
My mistakes, my weakness, my biased reasoning... all visible for eternity?!
In fact this is great because steemit open a new and novel way to communicate, if we desire to!
Imagine steemit and blockchain break boundaries between generation and we are now able to learn from the past to create a better futur.
What privilege it could be to return back to a "share my thoughts" particular post from 200 years ago and still continue to keep the discussion going from generation to generation.
In share your toughts post, don't hesitate to comments each others, debate, contradict, share knowledge and keep the discussion going, pop in anytime you like on any subject, feel free to communicate, ideas, passion, reasoning, share it to create a multi generational communication bridge.
Havea great day from whatever era you are :)