Last night I got home from work a little after 8 pm local time after an eleven hour day.
Since I did quite a bit of driving, I had time to think about a few possibilities for a post. I'd pretty much settled on a topic that I thought I could write in an hour or so, since I didn't really want to launch into anything major, end up wrapping up closer to midnight than not, when I was already kind of tired from the long day.
I came into my home office, sat down at the desk and noticed that GINABot had a few notifications. At first glance, they looked like upvotes on my latest post on Tuesday. I thought, cool, since it's not unheard of for upvotes to come in the next day after a post, but not something that happens so often it's expected.
Then, I got to looking at the who and how much and realized that these were not upvotes at all, but downvotes. Several of them, one right after another, some of them probably the same person, a couple of others, maybe some likeminded folk.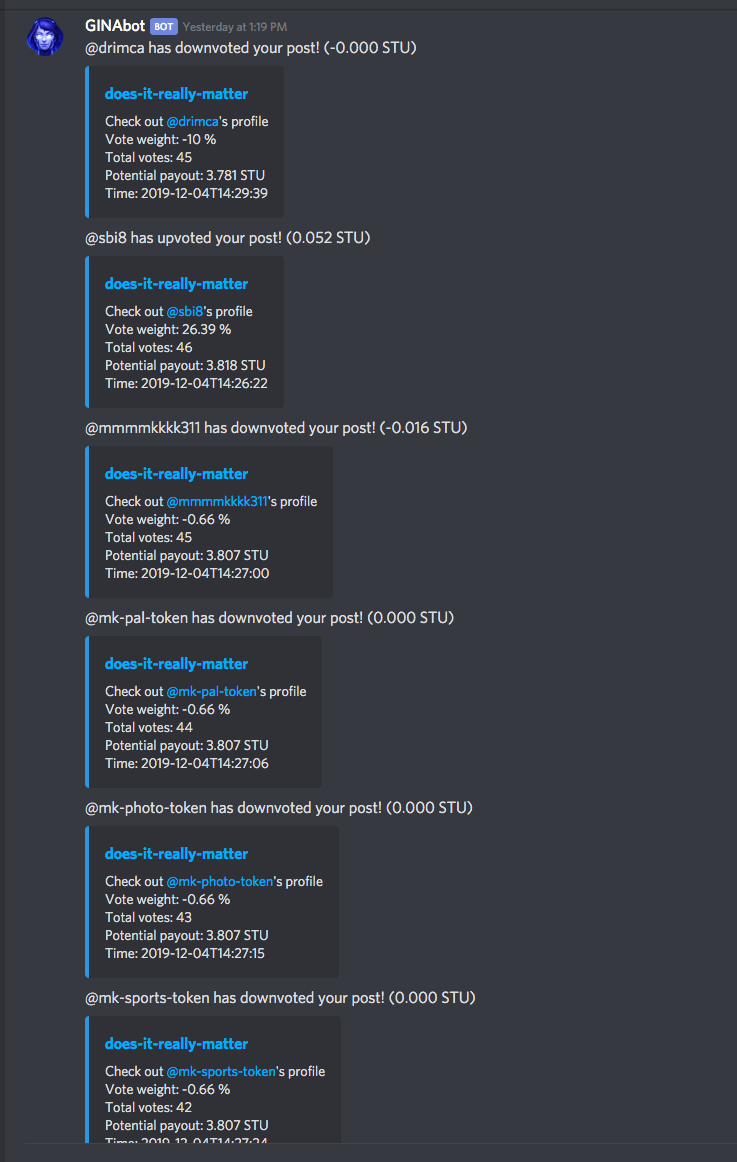 I thought, Okay, that's a first. Multiple at a time. Must have struck a chord, finally.
The post the downvotes came on was, potentially controversial, if someone wanted to make it that. I wasn't really trying to stir anything up, but the way things can work here, you start making some observations, you start wondering about all the contradictory things that happen, and it's tough to determine who's right, wrong, on the level or just blowing smoke.
If, I supposed, anyone read the post and took exception to my writing about the contradictions, then, there could be downvotes.
However, as I delved a little deeper, I recognized the largest downvoter, and saw that he/she had a few more accounts downvoting, too. I also saw that the downvotes were less than 1% each.
This was now the second post I'd been downvoted on by this individual in recent days. The first time, I hadn't ever seen them before, so I wondered if maybe they were a part of the Steemit Defense League and their group of anklebiters (my name for downvoters that can't really do much damage with rewards or reputation, but there they are, randomly hitting posts because of their righteous cause to defend Steem—or is it Steemit—from, well, essentially everyone, I guess).
So, I went to their blog page to look them up. This is what it says:

I have to admit, I was a little ruffled when I saw that. And it's not because I'm big into SBI, either. Because I'm not.
In fact, the opposite was true. But not for the reasons this user was concerned about. I'm just not a fan of universal basic income. Whether this version of it it abuses the reward pool, or unhinges the cosmic alignment of the universe, or anything else, I don't know.
However, SBI has been everywhere. It's given out for certain placements on the Engagement League ran by @abh12345. It was the prize for @foodfightfriday's weekly contest (now they have a sponsor and give out STEEM). Between the two, and some others since SBI came into existence, I've been awarded or been given SBI.
At first, I declined. It felt awkward, seemed unappreciative (by me—I'm not sure how the others truly felt about it), and I even went as far to request someone at SBI to just give them to someone else if I should get them. Well, that proved not to be a very practical solution because then they would either have to figure out someone else to give it to, refund money, or something, which would be a pain.
In short, the SBI would be sent my way now and then, and after a while I gave up trying to redirect it.
Since that time, I see the upvote here and there. I'm not even sure it happens every time. As I said, I'm not into it, so I don't keep track.
Now, this user, their alt accounts and maybe a couple others were autodownvoting posts that SBI upvotes.
Can you see my issue with this? I hope so. I'll spell it out.
I'm not a fan of SBI.

I don't sponsor anyone for SBI.

I don't delegate to SBI.

I've rejected SBI in the past, potentially looking ungrateful in the process.

I only get SBI because it's been everywhere and I stopped trying to decline it.

It seems sporadic to me anyway, which is perfectly fine, and therefore, doesn't seem like anything to be concerned about, at least on my posts. If these upvotes on my posts are contributing to some kind of blackhole now created in the reward pool, the contribution is pretty small. I was going to say infinitesimal, but maybe it's slightly larger than that, and my vocabulary doesn't seem to have a ready word for slightly more than infinitesimal at the moment.
To Be Clear
My beef is not with SBI. Live and let live. I don't think it's the best way to go, but you know what, I understand the intent, and I applaud anyone who genuinely wants to help people, which I believe has been the case from what I know about the folks who have been sponsoring them on my behalf.
My beef isn't with dowvoting as a concept, either. I understand why some people think it's essential. I just think the execution of it, in too many cases, leaves a lot to be desired, because there's really no rules to it. And, too often, when someone is unhappy about being downvoted, for whatever reason, the general answer is, Well, it's not yours until payout, which is absolutely true, but we're all human beings, with feelings, with our own expectations, or own sense of quality and not, good and bad, right and wrong, etc.
More times than not, that leads to misunderstanding, confusion, negative emotions, and all of that tends to turn people off.
My beef isn't with autovoting per se, lest that be misunderstood. I prefer manual curation, believe it offers the most to post, author and thus the platform, because it goes beyond a set percentage vote every time. It tends to reward better posts, and it tends to lead to more engagement.
However, I understand that people want to reward folks who, by and large, publish up to their standard of what quality is. They don't have time to read everything, because, well, they have lives. So, I get it, now more than ever since I'm working.
I did mention the eleven hour day, right? That was preceded by two nine-plus hour days. Not complaining about the hours, just means less time on STEEM, and more tired when I'm trying to be coherent.
And you know what, my beef isn't really with this particular user. Even if I feel like they're approaching it wrong, and, that they themselves, by virtue of running a bidbot, have done some things many others weren't very happy about, and probably took flack for it, and would therefore be a little more sensitive to what others were doing since they thought they were perfectly within their rights.
So, Do You Even Have A Beef?
I don't know.
But I got derailed last night. I was going to post and I didn't. No one else's fault but mine. I'm a big boy. I can handle downvotes. It's reality until someone decides to not make it reality, which doesn't seem to be anytime soon, since there's also a post floating out there positing making downvotes anonymous, so, guess what, we won't have all these problems with downvoting.
Just for the record, at first blush, it doesn't sound like a good idea. I wanted to be clear on that.
I guess the main thing is, I don't like collateral damage. If you've got a beef with someone, great. Confine it to them. Leave everyone else out of it. I can't condemn anyone for doing things they genuinely think are beneficial, especially for others. But I can't condone actions that hit everyone every time, just because of receiving unsolicited SBI, or commenting on a post, or daring to agree with someone's unpopular opinion (even though you might vehemently oppose the next one).
This blind upvoting or downvoting is more detrimental than the cause they purport to fight or draw attention to, not because the cause is always unjust (they might be perfectly warranted), but because they don't seem to care about the consequences of their actions. Maybe that's not how they see it, which is also a problem.
I can only wish that life was either black or white, good or bad, etc. While I believe those hard and fast areas exist, I also know there's plenty of nuance, and more tactful ways of going about things. Using a bulldozer isn't one of them.
So, @mmmmkkkk311, et al, keep downvoting my posts that get hit by SBI, along with everyone elses. Keep thinking you're doing what's best for you, the reward pool and the blockchain.
I'm not going to try to remember to opt out of your autodownvoting every time I post or comment. Or whatever other solution you think I should do to negate what you're doing. Beyond the time it took to write this post, it's not worth it to me.
For what it is actually worth, I felt like I should draw attention to it, on my terms, on my own turf.
Do with it as you will.
Images source—GINABot on Discord, Steemit