Hello friends of Steemit. I want to make a call by this means to all foundations, communities and users who want to collaborate for a cause of utmost urgency. Genesis Torres is the wife of a boy who calls me a mother although I am not his mother, I appreciate him very much for being a very noble and good boy, his name is Carlos Calderón. They have two beautiful children of very young age, she is barely 29 years old and she was diagnosed with fibroadenoma in her right breast so she must be operated urgently.
Hola amigos de Steemit. Quiero hacer un llamado por este medio a todas las fundaciones, comunidades y usuarios que quieran colaborar para una causa de suma urgencia. Génesis Torres es la esposa de un chico que me llama mamá aunque no soy su madre, lo aprecio mucho por ser un chico muy noble y bueno, se llama Carlos Calderón. Tienen dos lindos niños de muy corta edad, ella apenas tiene 29 años y se le diagnosticó fibroadenoma en el seno derecho por lo que debe ser operada de urgencia.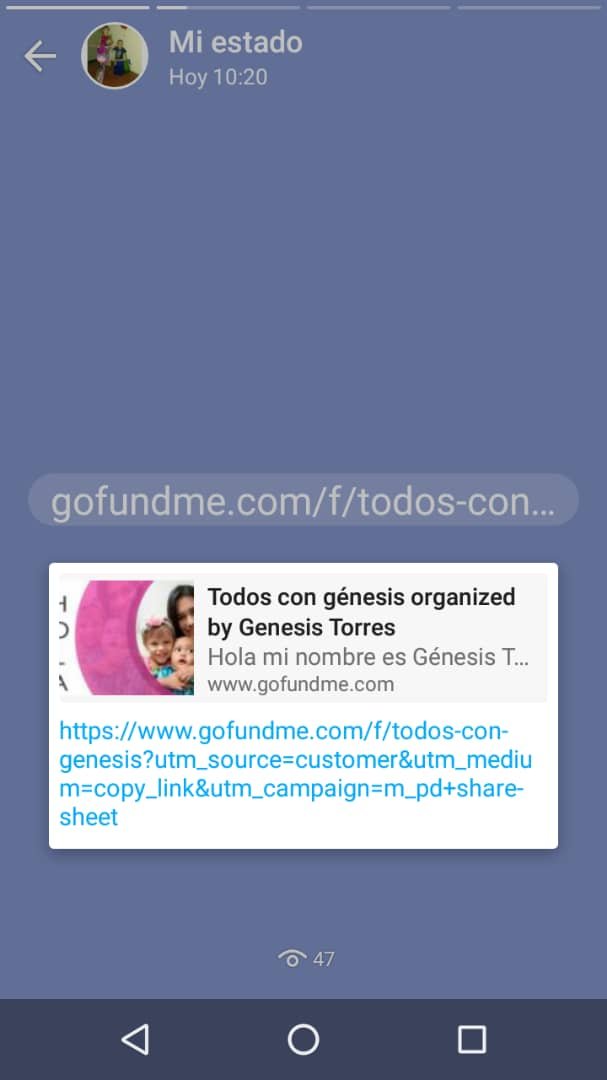 The GoFundMe Foundation is campaigning to raise funds in dollars for its operation but anyone can make a donation through the BOD bank account in Venezuela and she changes them to dollars, since you know that due to the country's problems all Private health centers are charging in that currency, public hospitals do not have the necessary conditions to receive patients for operation since the operating rooms are infected.
La Fundación GoFundMe está haciendo una campaña para recolectar fondos en dólares para su operación pero cualquiera puede hacer un donativo mediante la cuenta del banco BOD en Venezuela y ella los cambia a dólares, ya que ustedes saben que debido a la problemática de el país todos los centros privados de salud están cobrando en esa divisa, los hospitales públicos no tienen las condiciones necesarias para recibir pacientes para operación ya que los quirófanos están infectados.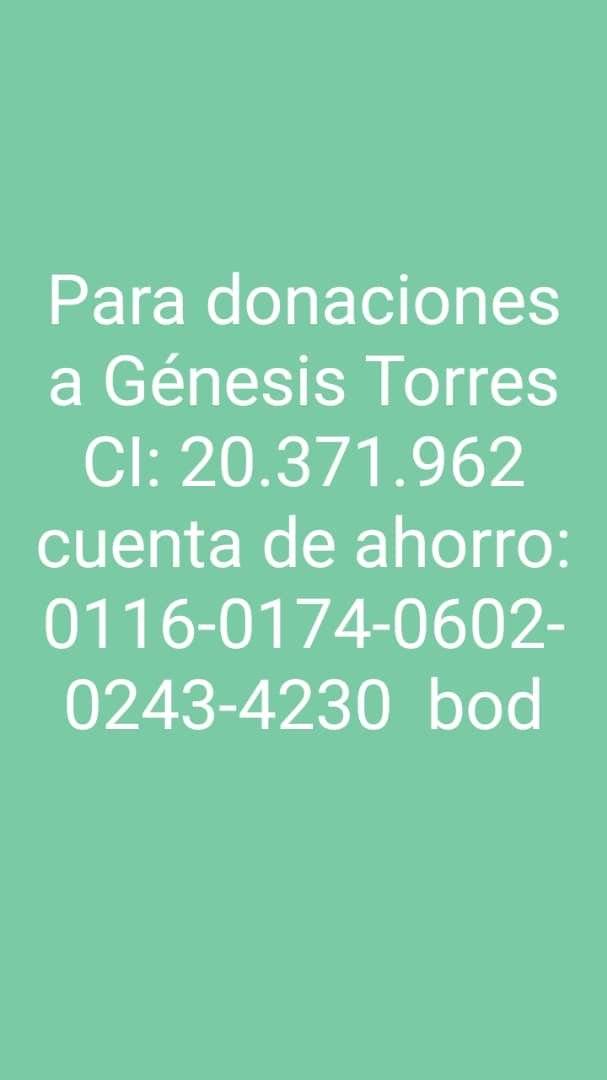 The donations on the Go FundMe page are easy to make, you just have to click on the link and click on the DONATE button and fill in the requirements that you are asked for and you can also read all the history of Genesis on that page.
Los donativos en la página de Go FundMe son fáciles de hacer, solo debes dar clic en el link y darle al botón de DONAR y llenar los requisitos que te piden y también puedes leer todo el hstorial de Génesis en esa página.
https://www.gofundme.com/f/todos-con-genesis
I look forward to your generous donations and may God multiply them.
Espero sus generosas donaciones y que Dios les multiplique.