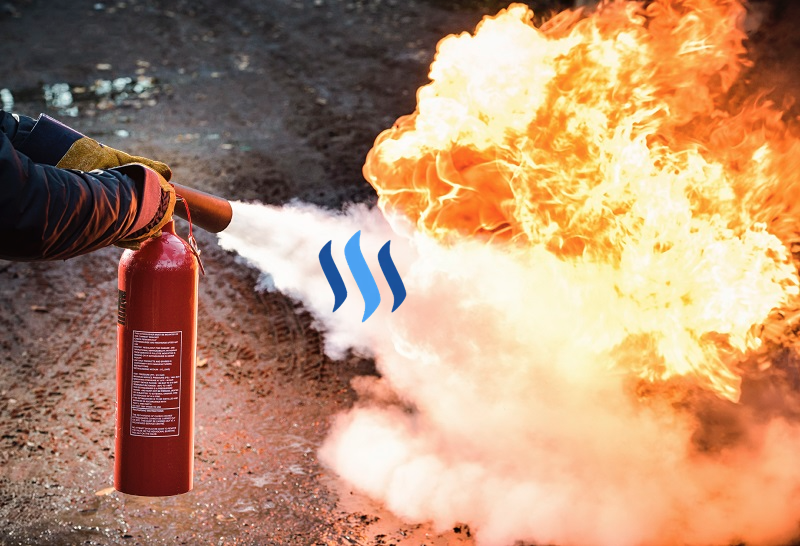 Disappointment:
When you put your heart and sweat into building a fitness community for the second time that virtually nobody gives a sh*t about, the joy eventually erodes away.
That's the power of the "best crypto community" for you, demotivating me to cancel my SteemFest trip and drop Steem for a while... and certainly not invest.
It's not spite. It's reality. Why on earth would I want to keep investing my time, effort and emotions on a "blockchain" where the majority of the people with influence focus on taking care of themselves on the upper rung?
Heck, the most egregiously selfish Steemians on earth are now deemed heroes for voting after the EIP, some out of necessity. FFS.
Maybe I'm just that twisted to think what I was trying to build again had real value.
Maybe the real demand is a fitness app that automatically rewards people for taking steps in their day. That's worth plenty of delegation and hype right? Everyone will post and support that cause because they get some tokens for... walking around. Hats off to those who took true "exercise walks" for that though.
Alternatively, to manually upvote a daily post for a genuine budding community with more substantial exercise and supportive engagement/coaching, or the Steemians participating... what a waste of Steem Power, right?
---
Reality:
After 51 days, I'm ending my daily fitness challenge again due to this abysmal support. I've always felt that talk is cheap and that actions are where the true value is, but talk and ROI are what people seem to appreciate most in my 2+ years of experience. I can't pretend anymore. There's too large of a gap in my values and what a larger community seems to value.
I never expected a lot of people to partake in my recent challenge in a bear market, but I did think that more people would see the value in the selfless mission to occasionally show some support with comments or votes. Was it flashy "NewSteem" marketing hype that gave me false hope, the EIP, or the inroads I thought I made with likeminded individuals who may have cared even in the slightest about my success here? Apparently not. At large, virtually nobody cared.
If someone tried once or twice to do some reps, or even half of them, that'd have meant a lot. It's the message that sends and it helps the people in the group feel like they're part of something special to keep them motivated. The same goes with voting, if you're not the physical type.
Regarding the excruciating lack of votes for a community health initiative with a quality mission and genuine engagement that improves others, I can't understand how blind or indifferent people can be.
When I ran this challenge in the past over 158 consecutive days, so many people were disappointed when I needed to stop it for family reasons. The engagement was much higher, but the community voting was just as terrible -- if not worse (if that's possible).
Regardless, I powered through for the people with social responsibility to keep them motivated and rewarded with my vote. Many of the participants were solely on Steem just for my challenge and many left after I stopped it.
Since then, many hoped I'd bring it back, so I eventually did with optimism that my expanded network would help carry it this time. Some of those who asked for me to bring it back didn't necessarily follow through on their end once I did, but that's out of my control. All I wanted to do was show I cared and try to give them the platform to improve their health again. If they chose to not take me up on that, oh well.
Alas, the answer after 51 days of my second try to build this was a resounding "we don't care."
Other than auto-votes and the occasional help from a small handful of kind people who got the bigger picture, most of these posts were raking in $0.10-$0.50. Forget the money. I was busting my ass to be a leader and inspire about a topic that actually matters -- and thousands of people neglected my effort like it was garbage. I spent weeks sore as hell from my thousands of reps (most in the middle of the night before bed) in order to be accountable and inspire others. That didn't seem to mean much.
I even tried to approach some people directly who had a passion for fitness and used to blog about it before... and crickets. I won't call them out, but that's quite telling of their true character to me -- not the shiny one in their public posts or videos. It's impossible to find a good excuse not to drop in once or twice in 51 days of consecutive posting if you knew about it.
---
Thank you:
Thanks to the 12 people who contributed with reps, some hardcore on a regular basis, and some who dipped their toes in. Many were very proud of their hard work, shared tips and videos, and generally encouraged those in the group. It helped me push through my reps when I was tired and feeling like nobody cared, so a big thanks to them.
I'm generally comfortable ending the challenge now because I know that most of those who were involved will continue on their own. I'd like to apologize to the few who really benefitted from it and were barely using Steem otherwise (or came back to Steem for this). At some point though, the lack of respect from thousands of others shows me that this isn't the right place for me to do this.
To those who were struggling to meet their reps, keep at it. While my challenge did help you get a jump start, you have everything you need to do it on your own.
Thanks again to the small handful of people who saw the value in what I was trying to do to give my posts some upvotes to show some appreciation and respect. It's not about the vote, it's about the action to vote. I saw and apreciated each and every one.
---
What's Next:
This experience has greatly soured me on Steem when I was already on the brink of shutting down my account. Investing and SteemFest won't be happening. Not a chance. I'll be unplugging quite a bit with no desire for anyone's validation at this point.
On the bright side, I'm in the best shape I've been in ages and know that others have made great gains from their reps. That makes me happy. I'll keep going on my own in real life.
As for my recycling posts, it doesn't feel right to post that I routinely save hundreds of pounds from waste for $2 when someone writes 300 words about why they are or aren't going to SteemFest for $75. Again, the community at large continues to show me that I'm not spending my time and effort wisely here. I'd rather focus 100% in real life where I can make more meaningful gains.
Here was my last fitness challenge post.
**For God's sake, please support @rmsbodybuilding on Steem from time to time for keeping fitness a priority here while rarely getting any recognition.