I have not been a fan of Windows for a very long time. When it went "free" with 11 I knew we were in for some trouble. I don't even know what data Microsoft is collecting and selling but I do know one thing that has stuck with me since a course I took in college where the professor was particularly good when he said "There aint no such thing as a free lunch."
He wasn't referring to lunch in a literal way but just stating that there is no such thing as "free." Everything has to be paid for somehow and if you are using a product at no cost it is because you ARE The product.
I have used various distributions of Linux in the past and I liked them. You were never forced to update anything if you didn't want to. Hell, the distro I was using wouldn't even tell you one was available, you had to go out looking for it and normally it would be for a specific reason.
The only reason why I use Windows is because a few of the programs that I use won't function on Linux without a Windows emulator and those are just such a pain in the ass to use. I'm stuck with Windows and am probably not as worried about that as I should be. I do get really irritated with the update icon pops up in my taskbar because I know that while it is up to me if and when I install this, the computer slows to a damn near halt after a while if I ignore the update. This happened yesterday when my computer completely froze and this is something that hasn't happened in a while. I was forced to do a hard restart and I always hate to do that because of data loss and other potential damage. I was actually in the middle of something when this happened too.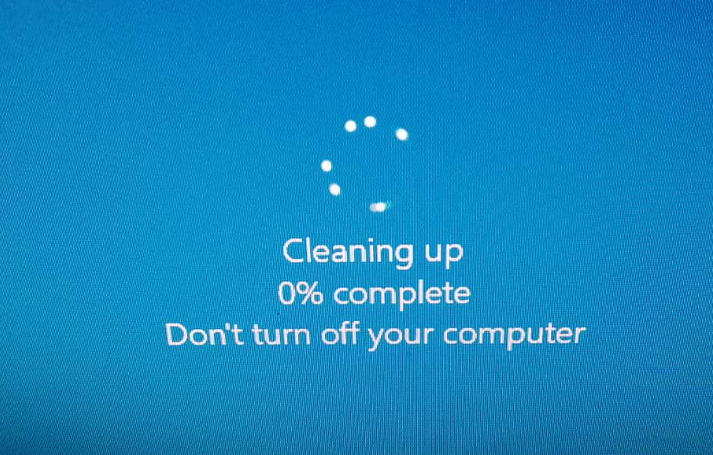 When I did the hard restart Windows assumed that I wanted to do the update as well, which I did not, but then it had various screens that looked like the above for over an hour. I was pressed for time and this kind of mucked up my entire day. I ended up missing a lesson that I was teaching online and this is something that you should never do if you want to keep your job.
I ended up apologizing to both the students and the organization that employs me and then offered to do the lesson at a later time of their choice, for free. So thanks Microsoft! Not only did you irritate me with the never ending wheel of dots spinning on my screen, but now you have cost me $60 also!