"There are a thousand hacking at the branches of evil to one who is striking at the root." - Henry David Thoreau
The Faceless Leviathan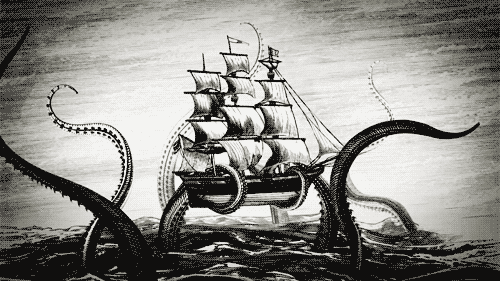 The "Deep State" Distraction
Thanks to the internet, the faceless tyrants who have fiat-financed the facade of a civil society while brutally strip-mining the wealth of the entire population for over a century are finally swimming into sight for the masses. The harbinger of their appearance can be found in the recently popularized term 'the Deep State', but be not misled. The Deep State, corporate propaganda media, globalist NGOs and the military-industrial complex are merely tentacles of the leviathan being dragged into the light.
These appendages are now openly coordinating their actions to carry out their master's monstrous agenda: infiltration, subversion and subjugation of the entire edifice of human civilization. Pick your poison of the marionettes dancing in the corporate propaganda media and one thing remains the same: none of them can actually do anything without being allowed to. They are beholden to an unelected and unaccountable cabal of sociopathic parasites that have - via bribery, blackmail and hit squads - conquered or hollowed out our public institutions.
Sound farfetched? I'm not so sure. It seems to be out in the open if you know where to look. So let's take a look, shall we?
The Debt Dilemma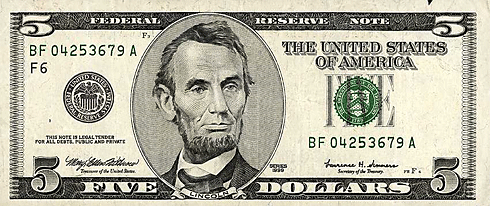 Firstly, what do all individuals and institutions, both public and private, need to operate in the world today? The ability to perform financial transactions using a common means of exchange. All financial transactions in the USA, since abandoning the gold standard, are performed with cash - which takes the form of notes issued by the private central bank named The "Federal Reserve" Bank. This is in your face every day. It is written right there on the dollar bill, the dollar bill is a Federal Reserve Note, which is to say it is a note issued by a private bank.
So, what are notes? From Investopedia we learn, "A note is a legal document that serves as an IOU from a borrower to a creditor. Notes typically obligate the issuer to repay its creditor the principal loan and any interest payments..." So all of those dollar bills in your pocket and their digital representation in your bank account are actually IOUs, _they are debt. All dollars in circulation are actually debt owed to the private "Federal Reserve" bank.
What is "Yours" is Theirs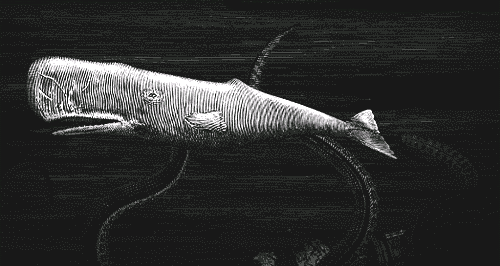 And this is where things start to get really interesting. Investopedia provides us with an important definition for cash: "Cash is also known as money, in physical form... in bank accounts...or any other form of currency... In finance and banking, cash indicates the company's current assets, or any assets that can be turned into cash within one year." That bit about currency in this quote is important because those notes discussed above, known as dollar bills, are a form of currency. Thus dollar bills are considered to be currency, notes and cash, be they in physical or digital form.
This is just the prelude to the following factoid which most people apparently don't know.
Via Investopedia, "When someone opens a bank account and makes a cash deposit, he surrenders legal title to the cash, and it becomes an asset of the bank." What this means is the cash you may think you have in your bank account isn't legally yours. When you deposit your hard earned dollars in the bank, you are actually investing those dollars in the bank. "Your" dollars in the bank really belong to the bank, and ultimately all of the dollars in every bank account are notes owed to the private "Federal Reserve" bank.
Banks agree in their terms of service to provide customers with access to notes in the equal amount of their investment because that investment enables them to generate more debt via fractional reserve lending. But if - for any reason - a bank doesn't like what a customer is making withdrawals for, it can simply deny access to the funds. Customers are only allowed to withdraw or transfer funds, they have no legal right to do so because the contents of their account does not belong to them. By withdrawing cash, the customer is merely being permitted to redistribute debt.
Historical Excursus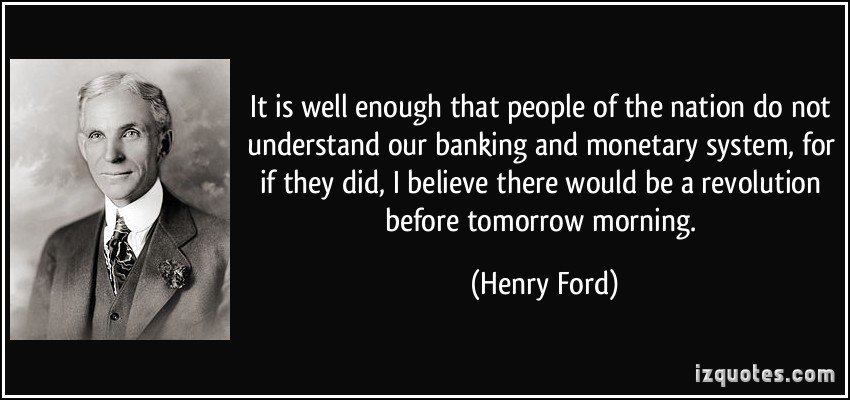 Mayer Amschel Rothschild, patriarch of his dynasty and unquestionably the greatest banker to have ever lived, wisely observed, "Permit me to issue and control the money of a nation, and I care not who makes it laws." He didn't care because the truth of the matter, regardless of what the aristocracy of the time and the voting sheeple of the burgeoning democracies of his time believed, is that he who makes the money has ultimate control of the entire system, up to and including military, diplomatic, intelligence, economic, scientific, political and media operations. All of it. All of it.
It is exactly this recognition that gave the matriarch Gutele, Mayer's wife, grounds to quip: "If my sons did not want wars, there would be none." But they did want wars. By financing all sides of the Napoleonic wars, costing some four million human lives, the house of Rothschild was able to engineer control of the British money supply, to which Nathan Mayer Rothschild, ever his father's son, observed in no uncertain terms, "I care not what puppet is placed upon the throne of England to rule the Empire on which the sun never sets. The man who controls Britain's money supply controls the British Empire, and I control the British money supply."
Having subverted the systems of government in to consolidate power and create an untouchable plutocracy that literally stands above and apart from any legal framework, it would be naively foolish to believe that kind of ruthlessly and selfishly accumulated power would be exercised benevolently for the benefit of the population at large. The ability to create money out of nothing was never the goal of the private central banks, the goal was absolute power and authority for those who control those institutions. This ideology has infected and gained control of all nations that host a private central bank.
The House of Infinite Doors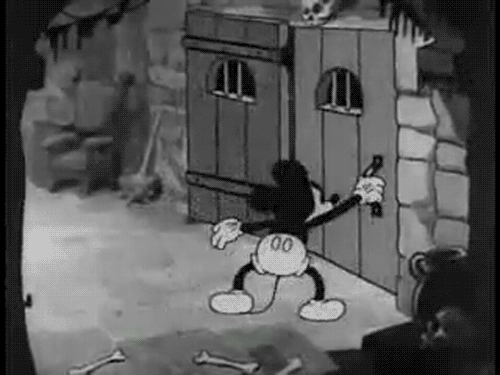 Given banks can change their terms of service pretty much at will, any entity with funds in a bank is only able to transact (i.e. operate) with the bank's permission. That being the case, could the "Deep State", corporate propaganda media, globalist NGOs and the military-industrial complex function without the permission of the banking institutions? Can they pay their henchmen, cronies and advocates without going through the banks or using the notes issued by the private Federal Reserve?
Thus it is worth asking who is really in control. Is there any moral or ethical difference between granting permission and exercising control when the consequence is genocide, the subversion of democratically elected governments or the elimination of personal freedoms? At what point does granting permission become indistinguishable from exercising control? It appears rational to postulate those in control of the banking system, who could eliminate the funding for such actions with a thought and stop such machinations in their tracks, not only permit such atrocities but position themselves to benefit from them.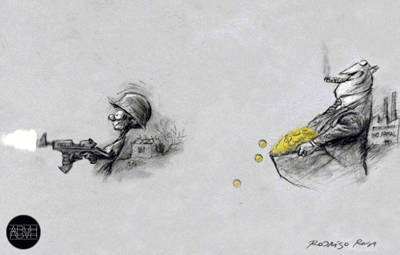 Is it unreasonable to speculate that such bad actors would actively direct such events to intentionally increase their profits and power? With this information in mind, the Deep State, the corporate propaganda media, globalist NGOs and military industrial complex can be seen as tentacles of the private central banks and the globalist monetary institutions, the IMF, the World Bank and the BIS. I for one consider the public representatives of these institutions as privileged marionettes, talking heads doing the dirty duty that their masters have allotted to them.
And all of these seemingly monolithic entities have, working in synchronicity, subjugated the population to the inscrutable agenda of the true leviathan, a cabal of individuals masked behind Escheresque ownership of countless shell companies that in turn own the commercial banks and the private central banks in their turn. Nothing in the modern information age, rigged for absolute surveillance and the utter elimination of privacy is more valuable than anonymity. Coupled with limitless wealth and the ability to impoverish or eliminate opponents with a discreet telephone call guarantees power. It is the new absolutism.
A Highly Efficient Machine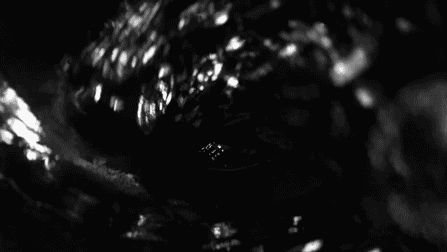 If all of this seems a bit too much to swallow, I totally understand. I would like to think there are competing factions of power at the top of the socioeconomic hierarchy and there very well may be, but I keep coming back to the words of Woodrow Wilson, the 28th president of the United States, under whose watch the private Federal Reserve bank was granted control of the money supply of the United States:
"Some of the biggest men in the United States, in the field of commerce and manufacture, are afraid of something. They know that there is a power somewhere so organized, so subtle, so watchful, so interlocked, so complete, so pervasive, that they had better not speak above their breath when they speak in condemnation of it."
And these lead me to the words of President John F. Kennedy, who attempted to root out the private central bank, who echoed and expanded upon Wilson's sentiment decades later. It is essential to understand that both presidents, as heads of state to the global superpower of the United States, had direct access to information and sources the likes of which it is difficult to imagine. But even they could not or would not identify those they were speaking of, recall the words of JFK: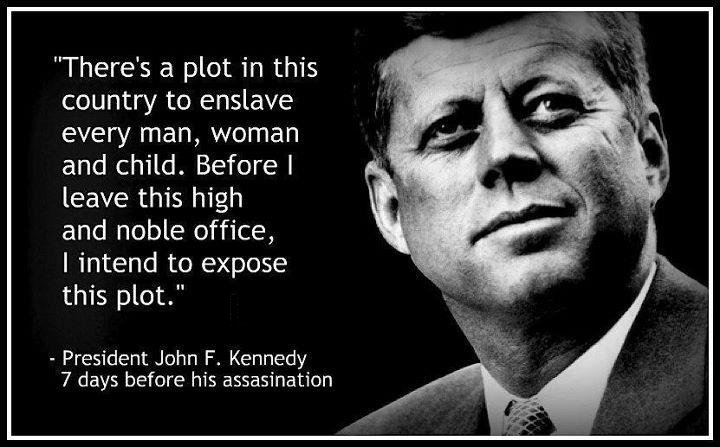 "The very word "secrecy" is repugnant in a free and open society; and we are as a people inherently and historically opposed to secret societies, to secret oaths and to secret proceedings...Our way of life is under attack. Those who make themselves our enemy are advancing around the globe...no war ever posed a greater threat to our security. If you are awaiting a finding of "clear and present danger," then I can only say that the danger has never been more clear and its presence has never been more imminent...
For we are opposed around the world by a monolithic and ruthless conspiracy that relies primarily on covert means for expanding its sphere of influence–on infiltration instead of invasion, on subversion instead of elections, on intimidation instead of free choice, on guerrillas by night instead of armies by day. It is a system which has conscripted vast human and material resources into the building of a tightly knit, highly efficient machine that combines military, diplomatic, intelligence, economic, scientific and political operations. Its preparations are concealed, not published. Its mistakes are buried, not headlined. Its dissenters are silenced, not praised. No expenditure is questioned, no rumor is printed, no secret is revealed."
It is possible that both Woodrow Wilson and JFK were referencing the faceless leviathan that wears the private central banking system and its tentacles as a glove to maintain its iron grip on the monetary system and, by extension, the productivity and wealth-generation of the entire population. But if they couldn't tell us who wears that glove, who can? Who are the faceless and unnamed men at the bottom of the rabbit hole who wield the controlling interest in this Bloody Wonderland of debt and death we are condemned to inhabit by their hubris? Will we ever know?
...



.
.
.
Shot with a golden arrow,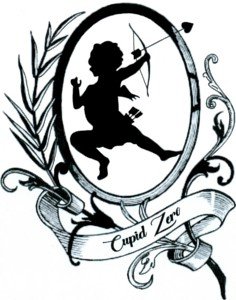 Cupid Zero
.
I consider requests to write on a topic of your choice.
.
Don't forget to upvote, follow and resteem! Comments always appreciated.
.
Support the @informationwar / #informationwar !
.
.
.
.
.
.
.
.
Image sources 1, 2
.
All gifs courtesy of giphy.com
.
.
.
.
.
If you aren't on Steemit, consider encouraging my work with a gift of:
Bitcoin: 1fruAGn9JcKqJJscreUpS2XurfLzksBe8
Litecoin: LQf19ExcdSFDjYj6NktRgzBnJ7NScVgikA
Ethereum: 0xEe3005b1D2D8963a85E1Ca4ff511acCd98A1E29D
.
.
.
tags: conspiracy banking evil deepstate informationwar