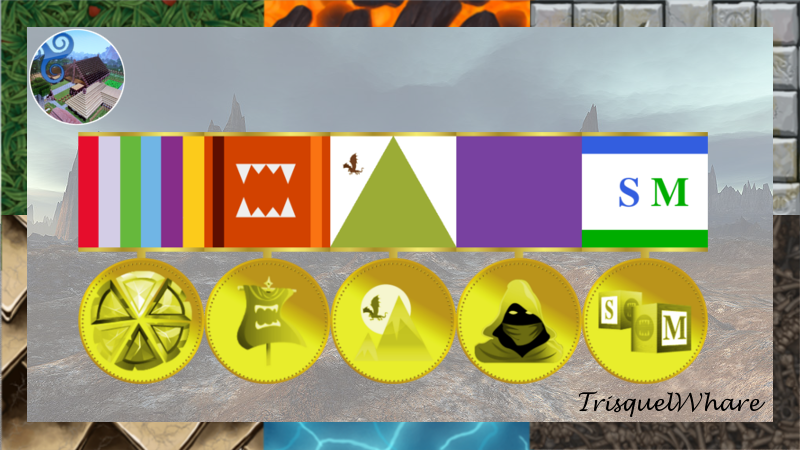 Are you a @SteemMonsters veteran? Have you survived through many different Conflicts  already in the game? Which was your favourite? Which was your least  favourite?
In this contest, I ask you to prove your veteran status in the game, by posting links to some of your battles. All it takes is three links, one for each of three different conflicts  that you have been in. They must all be from the same player account (no alts) and you should post them all in the same reply to this post. All valid entries will go in the draw to win an inexperienced, raw recruit

eta Edition Rare 

Summoner  from my own alt account, which you can then expose it to the rigors of battle, either individually or as part of a levelled card.
🎯 Action(s) Required
To enter this contest, simply post a reply to this post, containing links to three different conflicts  in @SteemMonsters that you have been in. They must all be from the same player account (no alts) and you should post them all in the same reply to this post. They can be from Season 1 or Season 2. To find your past Conflicts, I recommend using the @PeakMonsters "Battlechain" feature.
All correct entries will be considered as equally likely to win, so this isn't a "first correct entry wins" type of contest. The winner will be drawn from among the correct entries.
The Draw
The names of all contest entrants who have submitted a valid and correct entry will be entered into this random name picker from MiniWebTool and a winner will be selected at random.
The winner announcement post will contain a screenshot showing all the names of those who submitted valid and correct entries, along with the random winner selected. If possible, there may also be a video of the draw, depending on technical capability. The draw will not be livestreamed, however, as I already know that this is beyond my current capabilities, sorry.
PLEASE NOTE: At some stage in the future (not just yet though), I will be migrating all of my contests fully to the @Contest-Hero Steem interface. This will mean that in future you may need to be registered on @Contest-Hero to enter these type of contests. I'd recommend registering now in preparation for that day, and you can then give @Contest-Hero a try with this contest. For now I'll still be accepting entries via the SteemIt, SteemPeak, Busy, Partiko, or other Steem interfaces, but this gives you fair warning about intended changes to my contests.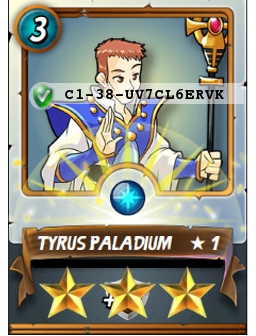 🎁 The Prize
I have one

eta Edition

Tyrus Paladium card to give away as a prize for this competition. This card is verifiable on the Steem blockchain, to make sure that I have it in my collection at present. It is being held in my alt account, @davtomsis, for safe keeping. Here is the list of prizes for this contest...

Tyrus Paladium


Level 1 (ID: C1-38-UV7CL6ERVK)
NOTE: Clicking the link for the card id will take you to the SteemMonsters API, where you can verify that I currently own this card as @davtomsis. Once the prizewinner has been announced and the prize sent out, this link will show the new owner of the card, instead.
📅 The Due Date
Entries for this contest 𝗺𝘂𝘀𝘁 be received within 7 days precisely of the post timestamp on the Steem blockchain. Entries received after that time 𝗺𝗮𝘆 𝗻𝗼𝘁 be eligible for prizes, at the judge's discretion.
All things being equal, prizes should be sent out to the prizewinners within 2 days of the closing of entries. See also the ⛔ Cancellation Policy below.
📋 The Rules
The rules for all contests run by #ContestKings 🦁 guild members are always kept as simple as possible, so that everybody has an equal chance of entering and winning our contests. Please note that the rules below are my own interpretation of the common contest rules used by the #ContestKings 🦁 guild, and therefore do not represent official policy of the guild.
👊 𝑵𝒐 𝑼𝒑𝒗𝒐𝒕𝒆, 𝑵𝒐 𝑹𝒆𝒔𝒕𝒆𝒆𝒎, 𝑵𝒐 𝑭𝒐𝒍𝒍𝒐𝒘 𝑹𝒆𝒒𝒖𝒊𝒓𝒆𝒅!
Only one entry per person please.
The judge's decision is final, and no correspondence shall be entered into.
All prizes are as stated, and are not redeemable for $ˢᵗᵐ, $ˢᵇᵈ, nor any other crypto or fiat currency, nor will any request for substitution of prizes be entertained.
⛔ Cancellation Policy
Contests run by #ContestKings 🦁 guild members should always have guaranteed prizes, and are not dependent on post payout or levels of activity on the contest post. This contest 𝘄𝗶𝗹𝗹 𝗻𝗼𝘁 𝗯𝗲 𝗰𝗮𝗻𝗰𝗲𝗹𝗲𝗱 except for unforeseen circumstances, including but not limited to force majeure events, such as outages of the Steem blockchain. Even then, in such circumstances, every effort will be made to complete the contest and send out prizes, well after the fact if need be.
ℹ Additional Information
SteemMonsters+
The Conflict Medals  images which I have created here are remixes of the official icons from the main SteemMonsters website. With that in mind, I am releasing my remixes back to the community under a Creative Commons Public Domain Dedication 1.0 Universal (CC0 1.0) license. This effectively means that I am disclaiming any ownership of them, and the ownership held within the various component parts remains with SteemMonsters themselves. These images can therefore be considered to be part of the wider SteemMonsters+ public collection, as per the SteemMonsters license agreement. You are free to reuse and remix these images as long as your use complies with the SteemMonsters+ terms and conditions.
---










(NOTE: This post is best viewed using SteemPeak.com)
This contest was created on Contest Hero you can view and enter this contest by clicking here