THIS CONTEST HAS BEEN CANCELED DUE TO CHEATING OF SOME CONTESTANTS
Are you ready to win some more Steem Dollars?
We have been giving away hundreds of dollars on our game platform Altcoin Fantasy every week so because we wanted to make an impact on Steemit, so we are extending our giveaways here too!
Altcoin Fantasy is a cryptocurrency simulation trading game where
users learn to trade cryptocurrencies risk free. We aim to give you a
platform to practice, hone and test your skills as a cryptocurrency
trader. Each contest has a different criteria for winning, but the
mission of the game never changes. Win by learning about the different coins.
You start with $100,000 USD virtual cash, and you are free to buy any
cryptocurrency and/or ICO coins you wish. At the end of the contest,
the players with the most net worth will win actual crypto — in this case Steem.
This week we are giving away 20 SBD to 10 people who made the highest referrals to Altcoin Fantasy
Mechanics of the contest:
Follow, Upvote and Resteem (You will be disqualified if you did not do this part)
Sign up on Altcoin Fantasy
Get your referral code from Altcoin Fantasy and leave it on the comments
Refer as many people as you can
How to get Referral Code
Step 1: Click on ACF Points menu on the sidebar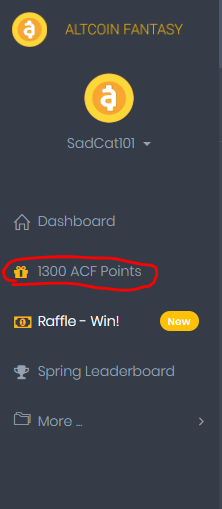 Step 2: Copy your referral code and leave it in the comments section of this post.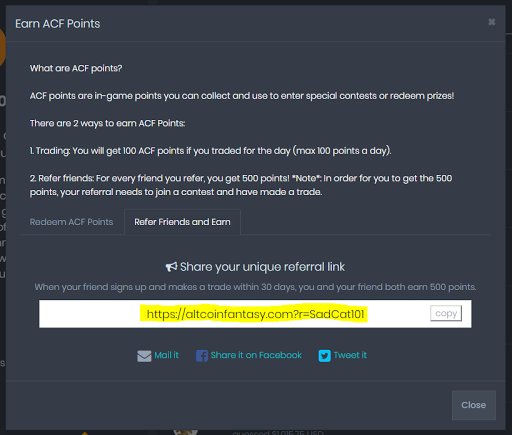 Prizes are as follows:
1st: 6 SBD - 15 referrals
2nd: 4 SBD - 10 to 14 referrals
3rd: 3 SBD - 7 to 9 referrals
4th - 10th: 1 SBD - 1 to 6 referrals
How to get the winners
The referrals must be valid (Signed up using your referral link and has made 1 trade on Altcoin Fantasy)
This post will be updated daily at 6PM PST so that everyone can check their stats.
WE WILL NO LONGER UPDATE THE NUMBER OF REFERRALS ON THIS PAGE SINCE WE HAVE SEEN A NUMBER OF CONTESTANTS CHEATING, BECAUSE OF THESE ACTIONS, THIS CONTEST HAS BEEN CANCELED
This giveaway is being sponsored by Altcoin Fantasy. A fantasy crypto trading simulator that helps you learn how to trade crypto without losing any money. Altcoin Fantasy is absolutely free to play and gives you a chance to win actual crypto or $$ just by choosing the best coins to trade with.
Check out our last giveaway here: Altcoin Fantasy 20 Steem Giveaway
Goodluck everyone!
---
There are people who will be disqualified on this contests.
Fake emails (sdfdsfsdf@gmail.com, asdasd@gmail.com, dasdsad@gmail.com) will not be tolerated and will be a form of cheating . We're not idiots and we do check all the referrals.