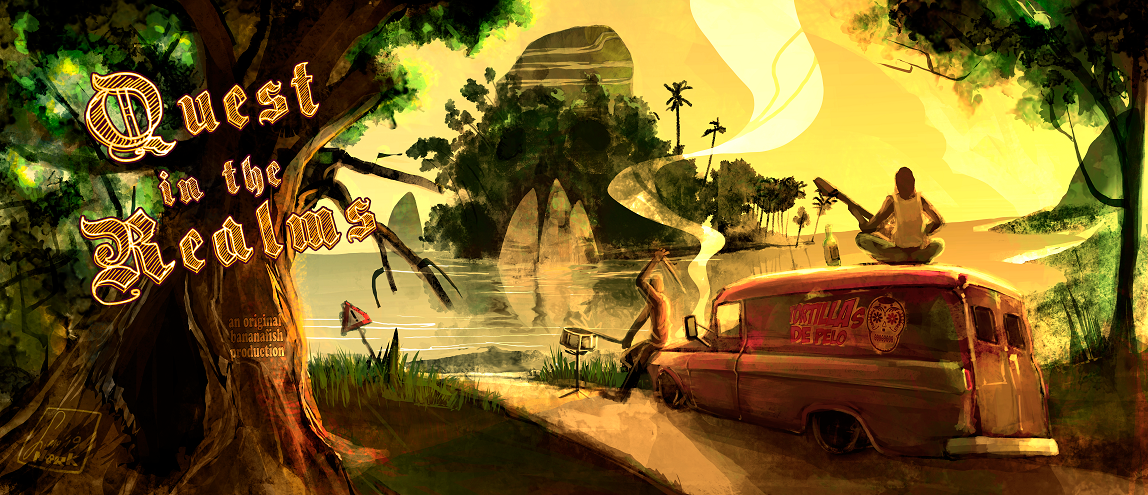 Welcome proud adventurer!


Prepare your backpack, sleeping bag, and whiskey flask: the long-awaited Quest In The Realms starts here!
This is an original Bananafish production. It's a story where, from an episode to another, you will be able to make your own decisions and choose your own path till the final victory!
..or to a grotesque, ignominious end..
QITR is not only a hilarious adventure that will gift you moments of pure fun, but it's also the king of the challenges. You will have to make the right decisions, gather the hints and solve the final riddle.
You will impersonate Mendoza, the charismatic leader of the Tortilla de Pelo punk-rock band. Together with your deranged friends Tres Culos (bassist), Machete (lead guitar), and Tio Billly (drums), you will face all sort of bizarre situations.
But what can we expect at the end of the wild ride, there inside the pot at the end of the rainbow?
Get your boozy old hands on the main 30 STEEM treasure chest + 30 @steembasicincome shares + 10 Steem Monster Beta Booster Packs distributed between all the participants!
Without further ado, let's see how this thingy works in a 3-steps super cool infographic.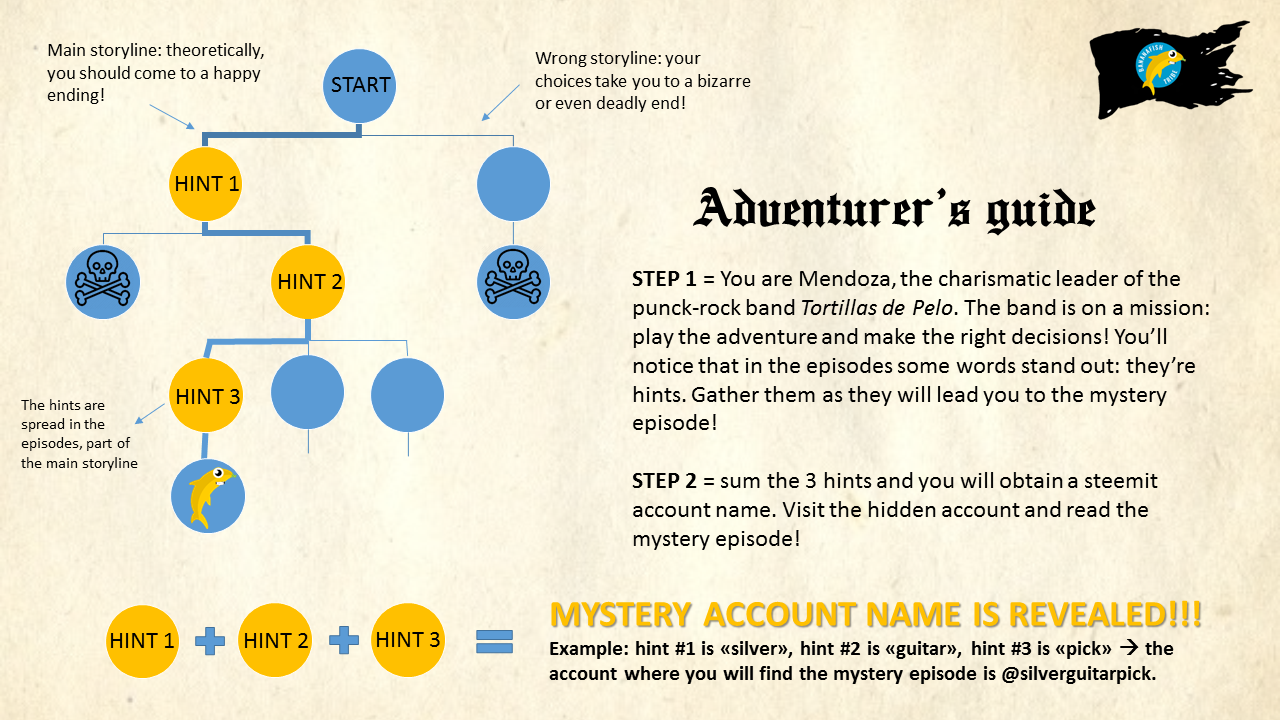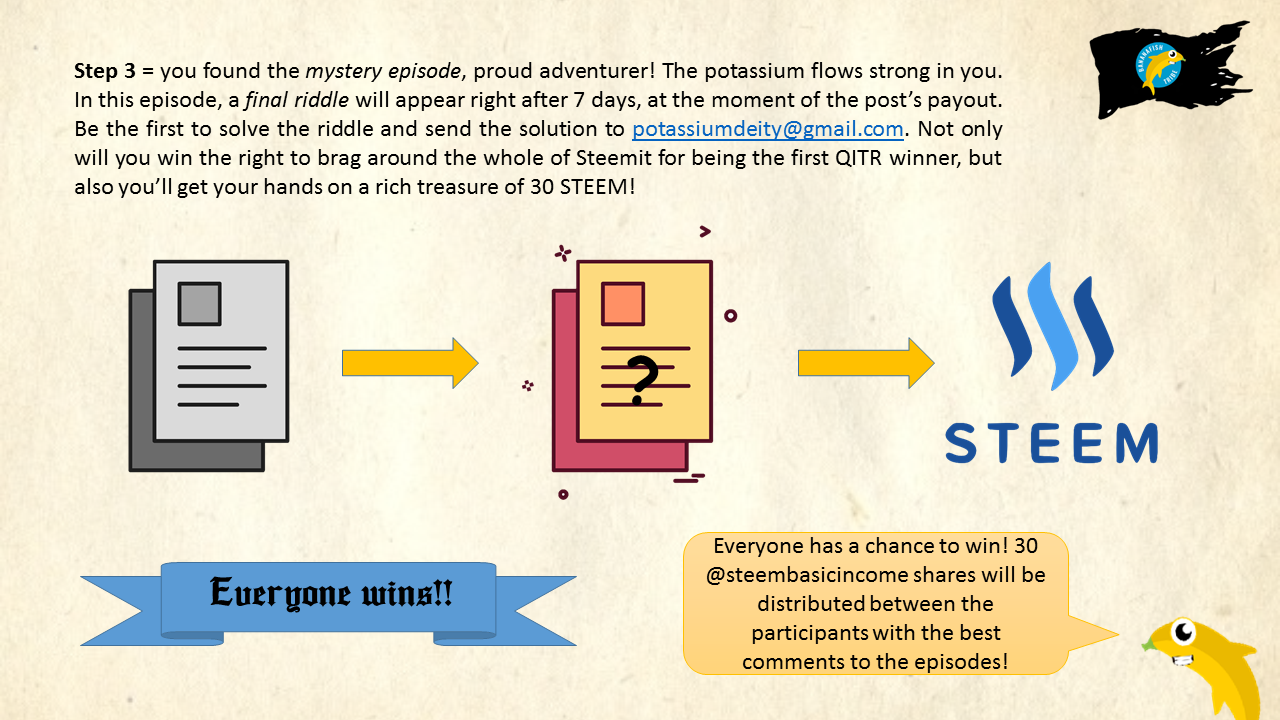 You can see it as one of those multiple-ending books we played with when teenagers, but with the boost of a riddle and a final treasure chest!
How to play
Create your own adventure through the episodes of our multiple endings story.

Find the hints (they are words standing out in some episodes) and the mystery account/episode.

Solve the final mystery riddle and email us the solution to potassiumdeity@gmail.com.

The first one solving the riddle will win 30 STEEM. 30 SBI and 10 @Steemmonsters Beta Booster Packs will be distributed between the participants with the best comments to the episodes.
Also if we don't ask you anything for participating (this is a party for everyone!), the @bananafish - our potassium deity - will bless your adventure and strongly appreciate the following:

I think that, more or less, this is everything you need to know in order to have a chance to survive and steal the treasure! The final riddle will be published after the mystery episode payout, on the 18th of February. The results of the contest will be declared on the 22nd of February.
Oh wait! I was almost forgetting!!
ATTENTION: right now the bananafish gremlins are working frantically to establish the links between the 57 posted episodes. We suggest that you wait for one hour from the post publishing in order to enjoy the best gaming experience.

LEGAL DISCLAIMER: the Quest In The Realms is a pure fiction based work. Everything in the Quest in The Realms is written with a non-offensive and humorous tone. Any similarity to real people, places, and events are merely coincidental and entirely fabricated.
That being said, enjoy the ride and many potassium blessing to you all from your favorite fiction deity the @bananafish!