So Many Ways to Get Madden 19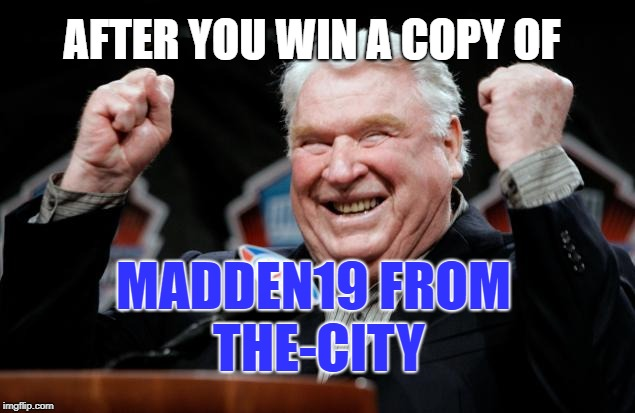 It's time for an epic change to The-City Auctions The auctions will be updated shortly after this post. All 3 auctions will get you a role in The-City) that gives you 💰every 24 hours and a Digital Copy of Madden 19! The best part about The-City Auctions is if you get outbid, you win ETH. There will be no losers in this. Either you will win 💰 and a Digital Copy of Madden, or you will win some ETH. To keep it spicy I'll also be giving away another digital copy to a random entry. The giveaway copy console choice will be subject to availability, but I should have 1 left for each system.
-Only entries that complete all the steps will be valid. All valid entries will receive a 100% Upvote!
-The winner will be drawn in The-CIty
You must message me on Mr. Contest Discord to claim your prize!
Need 💰?
You can purchase 💰 by winning an auction @ The-CIty Auctions . Right now all the auctions are at bottom prices, so you either get a great deal 💰 or win some ETH!
Winner Winner
Congrats @foridulislam21 u won a copy of Madden 19 DM me https://discord.gg/fUKJE6Q)