---
This is my entry for the review contest organised by @monajam. You can find the post here
---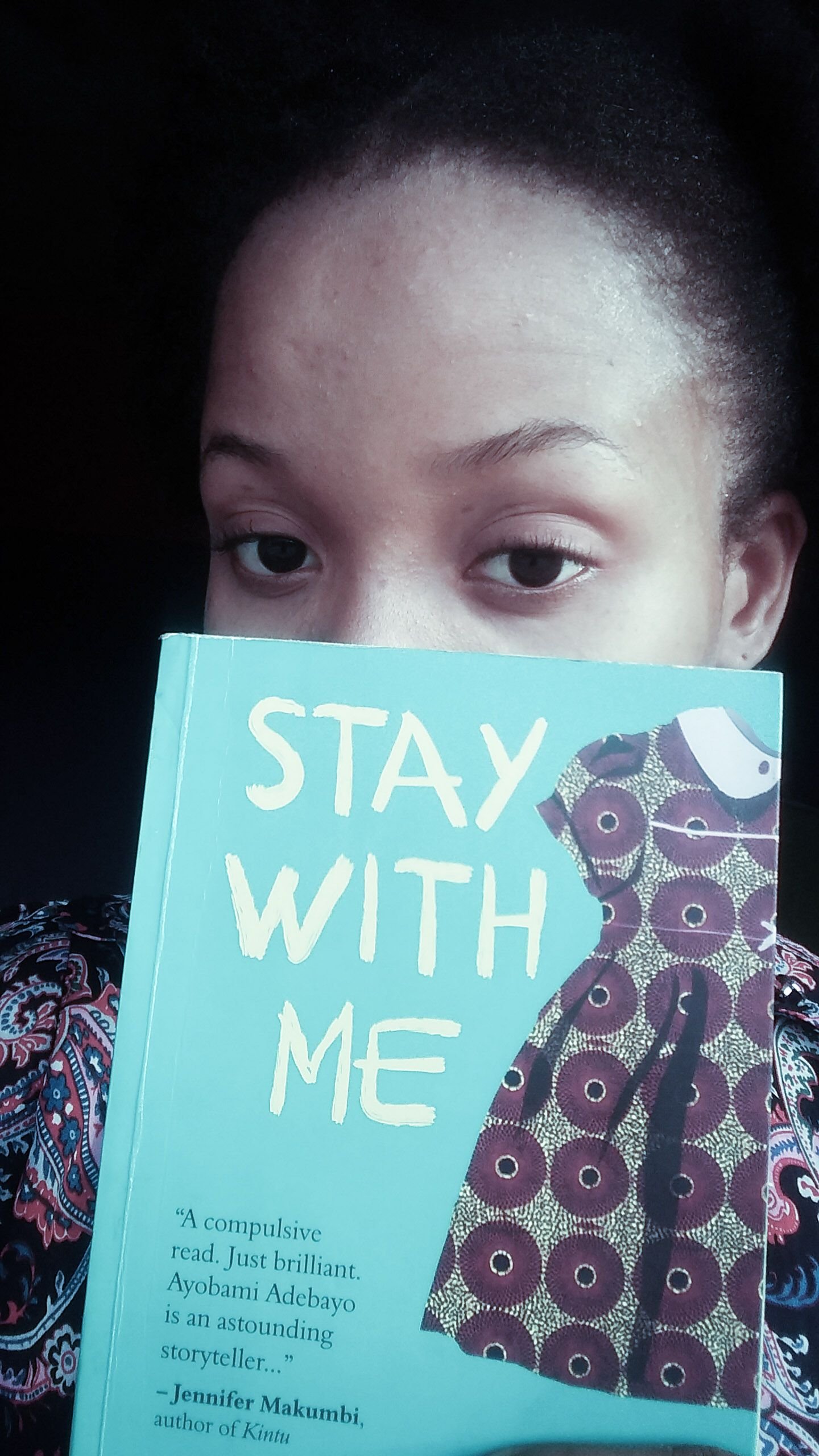 ---
Title: Stay With Me
Author: Ayobami Adebayo
ISBN: 978-978-959-320-0
---
Book Summary
Stay with me is a story of love, family, sacrifice, betrayal, trials and temptations. All these are woven around Yejide, who has to bear the scorn and contempt of being 'labelled barren' in a culture where children are seen as the test of a true woman.
Written in first person's narrative, the story is told from two Point of View, Yejide's, and her husband Akin's, although Yejide's narrative mostly takes the spotlight.
The book is divided into four parts. And it is written with the present interwoven with the past, so that as it all happens, we don't get a grasp of the full story until the end.
It starts off with Yejide going for the burial ceremony of her now estranged husband's father. And in Akin's narrative, there are chippings of the discord within the family. His mom refuses to attend the final rights of her husband, until the condition that her second son Dotun, comes home to attend the burial as a proof that he is still alive.
We don't get to understand that scene until the end.
A flash back takes us two decades back to when they were Yejide and Akin were still married and in search of a child.
Yejide undergoes different procedures to enable her birth children, both orthodox and unorthodox. However, when all efforts prove abortive, and measure taken on the part of her mother-in-law and family relatives to assist her bear no positive impact, She is relegated to the background, and a younger woman is brought to Akin to take as a second wife, this is slyly done by Akin's mother.
The approach was trying to convince Yejide, that no one could replace her, but rather allowing the new wife Funmi birth children to carry on the family name, the children bore could perhaps create a gate way for her own (Yejide's) children to come in.
It was believed then, that children open the gateway for other children to come in.
Yejide tries to be the good wife by bearing all in, and being considerate in extending the lifeline and family name of Akin. She however strengthen her resolve to get pregnant, as that could be the only means of her claiming a foot hold on her family again.
It gets to the point when she suffers
Pseudocyesis (A condition where she forces her mind to believe the existence of what isn't, so that her body exudes the normal symptoms of a pregnant woman) and has to start seeing the psychiatrist. This, however, she finally agrees to, when she carries the fake pregnancy for over eleven months. Shortly after she resigns herself to treatment- as it finally dawns on her that she is about having a mental breakdown, she gets pregnant.
The pregnancy though is not for her husband, his younger brother Dotun is responsible for it.
Everything goes smooth sailing until the night of her daughter's (she gives birth to a girl, and names her Olamide) naming ceremony, when Funmi, the second woman who was brought in to take her place is found dead at the foot of the stairs.
Akin admits to killing her in his narrative, but we don't get to see why until the end.
Olamide dies in her crib few months later, and Yejide becomes a lost woman. She doesn't get over the guilt of what she might have done to prevent or forestall her death, not even when she puts to bed her second child, a boy she names Sesan.
Its takes Yejide sometime to come to terms with the fact that, it is her second chance at motherhood, but she finally does, and she takes on full charge. She looks after him to the border off mollycoddling him, but fate has more cruelty panned out for her as Sesan is diagnosed to be sickled celled. The frequent trips to the hospital starts, and it doesn't stop, until all she can do is hope that he survives.
He doesn't, and another part of her is ripped out.
Her mother-in-law, Akin's mother, comes in with her traditional theory that he is an Abiku (a term believed to be children who come to earth to cause pain to their parents by dying early).All argument to convince her otherwise, and explain the scientific term for the reason behind his death falls on deaf ears, and she is adamant to her beliefs, and insist that the body of the dead baby be marked and flogged, so that its venture into their lives again (incarnation) wouldn't be lost on them.
Akin refuses, but Yejide, already tired and worn out from pain of burying her own babies, has no strength left in her to withstand the coercion of her mother-in-law, and so she gives in.
Her third child is named Rotimi meaning stay with. She is named with the foreboding of impeding death, and as a placation to forestall it, even though she comes into the world unscathed (unaccompanied with the marks that her grandmother is so convinced the next child was wont to come it).
Yejide separates herself for the child, awaiting the dreaded moment, sure her child is going to be taken away from her yet again. She unstrings herself from the child, careful not to form bonds as she is convinced there is nothing left in her again to give.
Her conviction doesn't lessen the pain she feels when the child is pronounced sickle cell. Akin is certain she will survive, but Yejide on the other hand prepares herself for the worse, Rotimi's death.
Their home starts to fall apart when Akin catches Dotun in bed with his wife, and he beats Dotun till he loses consciousness and is admitted into the hospital. The reaction he gets from his wife is not what he had expected, her scornful stares and her unabashed countenance. The separation starts then, as she moves out of their bedroom, and stops speaking to him.
Unknowing to him, Yejide has discovered everything he tried to hide from her. Dotun had unwittedly disclosed it, thinking she was already aware.
He knew he was impotent but lied to her, made her face all she did with his relatives and never for once confided in her. He had authored the plan that her brother seduce her into giving birth.
After the incident, and his recovery in the hospital, Dotun makes to reconcile with his brother, but Akin would have none of it.
According to him, Dotun had defiled him, by going behind his back after their deal was broken to sleep with his wife.
Dotun next contact with him is done through a correspondence, telling him he has left the continent.
He travels without informing anyone- not his wife, his children or his mother. His Motther, not believing what she was told, is certain Akin had found a way to get rid of his brother.
Told in tandem with the on goings of Nigeria's 1980 political turbulence, Akin travels to Lagos (western Nigeria)with his daughter to continue his treatment, while Yejide is attending a wedding in the Bauchi (northern Nigeria).
Prior, all attempts at reconciliation with his wife is nulled, as she refuses to indulge him in the possibility of a win back.
Rotimi has an attack whilst in the hostel room she is lodged with Akin, and a military action is going on the streets (cars are being burnt, and everything in sight is being shot at), so that Akin is trapped, with an unconscious or probably dead baby. He calls Yejide to ask for advice or directions on how to handle the situation, as he has no idea what to do.
She gives up everything, certain the dreaded moment has befallen her, certain Rotimi is going to die like the others.
She picks up her belongings and leaves, not to be heard from again.
Well, until the present, fifteen years after when she has to face Akin again.
Nothing prepares her for the surprise she meets.
---
Thoughts
The story for me was a bit slow, but then again I think that's the way it was intended; to lead you by hand deep into the story, and keep you guessing until the end. At first, I assumed it was just the conventional tale of a childless woman, or a modern retell of the epic The Joys of Motherhood by Emecheta, and the end would be predictable, because obviously there were things happening in the book that you didn't need to think deep to figure out. For example, right from when she got pregnant, I knew it wasn't Akin responsible for it, because I already figured out the fault had to come from him.
The only problem I seemed to have with the book was how alike their voices sounded (I literally had to read seconds into the chapter, to decipher who was narrating), this could be attributed to the POV the book was written it though.
However, I really loved how unexpected and emotional the ending was.
---
Likes
I love how typical Nigerian the characters were. I love that proverbs, and folk tales were incorporated into the book, giving off some type of nostalgia to when we were all growing up (well, I).
---
Conclusion
Emotion laden, and very well written, Stay With Me would leave you tear ridden, and running back the pages to reconcile what you've missed before.
---
Would I recommend this book to someone?
Sure I would.
---
Ratings?
4 out of five stars.
---

---