Hello Steemians. Welcome to the episode #6 of our favorite contest — Show Us Your Witnesses Weekly Contest. Please note that participation in this contest is once. No one who had participated before will be allowed to participate again; otherwise, the essence of this contest is defeated.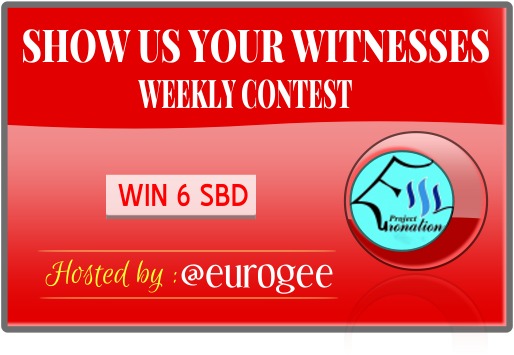 Inactive witnesses for episode #6
Inactive witnesses are any witnesses between 1st to 100th position who are not actively producing blocks at the time of composing the current episode. It does not mean they will remain inactive indefinitely. For this episode, those whom we found to be inactive include:
@wackou @roadscape @complexring @datasecuritynode @steempty @bitcoiner @bacchist @witness.svk @arhag @au1nethyb1 @theprophet0 @cyrano.witness @kushed @tdv.witness @blueorgy @picokernel @steem-id and @steemitboard
Voting inactive witnesses attracts outright disqualification since they are not active at the time of composition of this contest.

Aim of the contest
The aims of this contest, amongst other things, are to:
To increase witness voting consciousness of steemians as well their knowledge of the roles witnesses play in ensuring stable ecosystem.
This contest is targeted at ensuring continuous increase in the witness voting engagement rate occasionally published by @lukestokes. This is currently put at 31.56%

Witness votes delivered episode by episode

Total witness votes delivered since inception
747

Announcing the results of the episode #5
We had a total of 6 contestants in the 5th episode.
It was found during the routine analysis of this contest that @darnhiel took part in the episode #4 and so stand disqualified. Again, @ranjith35 voted two inactive witnesses @bhuz and @therealwolf against the rules of this contest and hence stand disqualified.
The judges of this contest remains @ogoowinner @smyle @destinysaid and yours truly @eurogee.
Based on the joint decision of the judges, the winners of this contest are as follows:
@quality-dev polled 80 valid votes to emerge second runner-up winning 1SBD!
@blacktitan polled 100 valid votes to emerge first runner-up winning 2SBD!!
@alanwalker0 polled 143 valid votes to emerge winner winning 3SBD!!!
Congratulations!!!!

Episode #6 of the contest
We will be neutral regarding your choice of witnesses to vote. We do not canvass for votes for particular witness. This contest is for you to select witnesses and cast your votes for them.
How to vote for witnesses
Click this link in the page that opens, you will see a list of top 50 witnesses. If your choice witnesses are among the 50, click on the corresponding upvote icon to vote. If they are not among the top 50, scroll down and you will see a box similar to the below image. Type in the name of your choice witness and vote.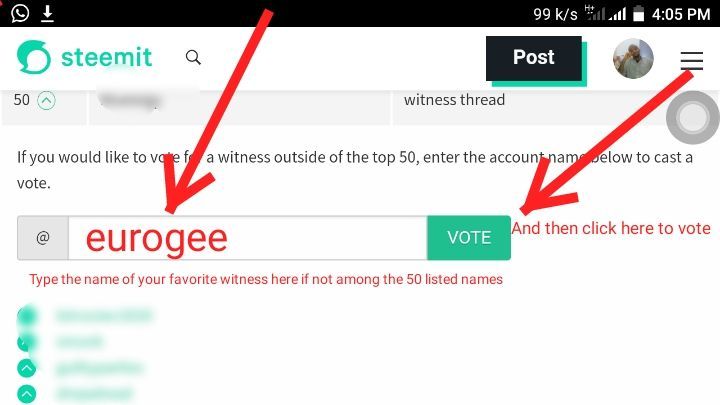 The rule of the contest & how to submit your entry
You must RESTEEM this contest to reach wider audience.

You must vote for at least 20 witnesses (you can vote for the maximum 30 allowed witnesses if you have reasons to).

Visit https://steemd.com/@urusername(substitute @urusername with your Steemit username). Scroll down and you will see the all the list of all the witnesses you voted for. Screenshot/snapshot it.

In not more than 60 words, state the roles witnesses play in sustaining steem blockchain as a reply comment to this contest article; and upload the screenshot/snapshot of your chosen witnesses under your comment.

Invite your friends to come and upvote your comment.

All your chosen witnesses must be active at the time of choosing them.

Voting proxies attract outright disqualification.

This contest comes to an end on Sunday 29th 2018 at exactly 3.30pm +1 GMT. Result follows thereafter.

Entry with popular vote wins but participant must have demonstrated to have good grasp of witness concept in steem blockchain.

Proudly powered by @sndbox

@euronation is a team of people with common goals and desires. The team was created with the intention to create awareness around Steem ecosystem, getting new members on board the program, nurturing as well as mentoring towards excellence and helping them to find strong footing in the program. We guide new members on the ethos of Steemit, how they can be creative and come up with amazing ideas and impact the community at large.
The Team Is Made Up Of These Erudite Steemians:
@eurogee @edith4angelseu @smyle @sweetestglo-eu @drigweeu @dray91eu @jeaniepearl @adoore-eu
Join us on Telegram and whatsaap through the below links:
Telegram
whatsaap