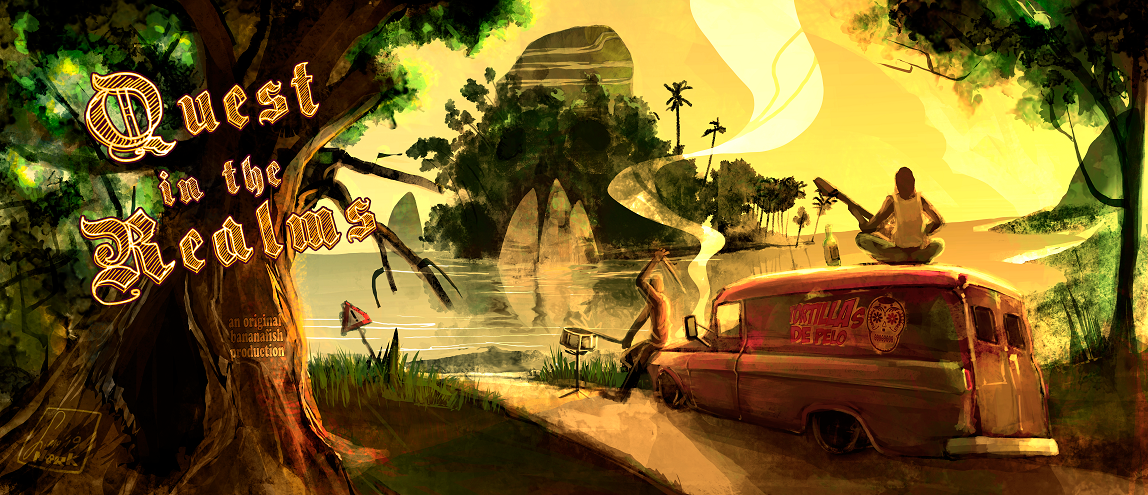 Look who's there, a wandering adventurer looking for the Bananafish treasure! This episode is part of the interactive story/treasure hunt called "Quest In The Realms". If you landed on this page because you're trying to solve the mystery, don't hesitate and keep delving in the story. If you came here through random loitering, what are you waiting for!?

2


Coprolites are fossils but those that you see being thrown in the direction of Machete are surely softer. Your lead guitarist is now dangerously swaying back and forth in a post-comatose-fully-alcoholic dance, right at the stage's edge. It's time for the guitar solo, but it looks like the only sound he's capable of extruding from his Stratocaster is an unreal caterwauling.
Somehow, you manage to recover from the incredulous state in which Machete's performance threw you. The Association of Coprolites Hunters might soon switch to throwing real fossils, making you all nostalgic for the softer materials. It's time for a plan B.
Your eyes meet those of Tio. There's no need to talk. With a hundred-times tested maneuver, your voice steals the show and the drum's sudden hammering helps to divert the public's attention from Machete to you. Tres understands and follows with a bass riff, assuming his typical charismatic pose. You see that the whole A.O.C.H. crew starts to put back in their ample pockets the unconventional weapons.
The remaining part of the concert flows tranquilly which, for the Tortilla's standard, means that everything happens without any major crime being committed.
You come to the end of your last song, Social Media Onanism, when a face stands out from the crowd and stings you like the spike of a rambling rose. It belongs a woman in a long black leather vest.
The song's lyrics end and now all you can think about is finishing as soon as possible to invite that woman behind the stage to immerse yourself in her smoldering charm. However, while the applauses (and some dark brown stones) fill the air, you see the mysterious woman throwing one last alluring glance at you and leaving the concert. It's not even an option. You need to follow this charismatic fan.
Teased, you follow her in the city alleys, but a certain point, you lose sight of her.
There are three roads she could have taken. The first leads to a retirement home for metalheads, the second leads to a Ceylonese laundromat, and the last leads to a guitar shop that looks abandoned. Which one do you choose?